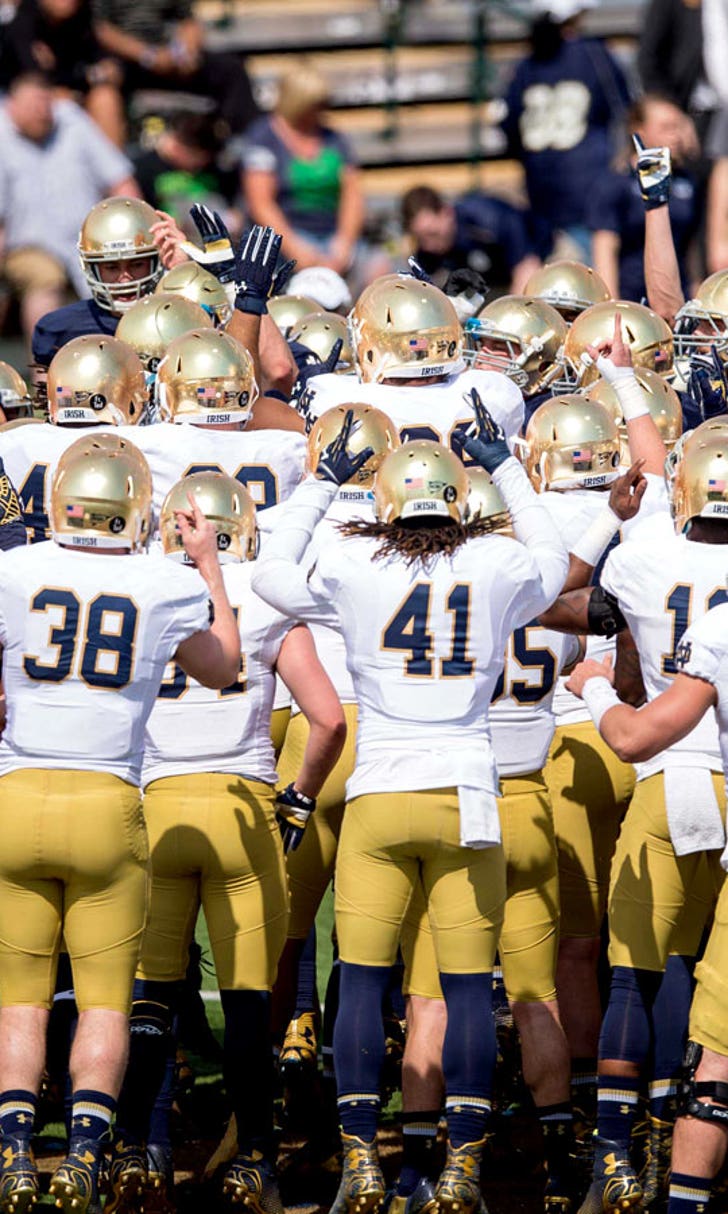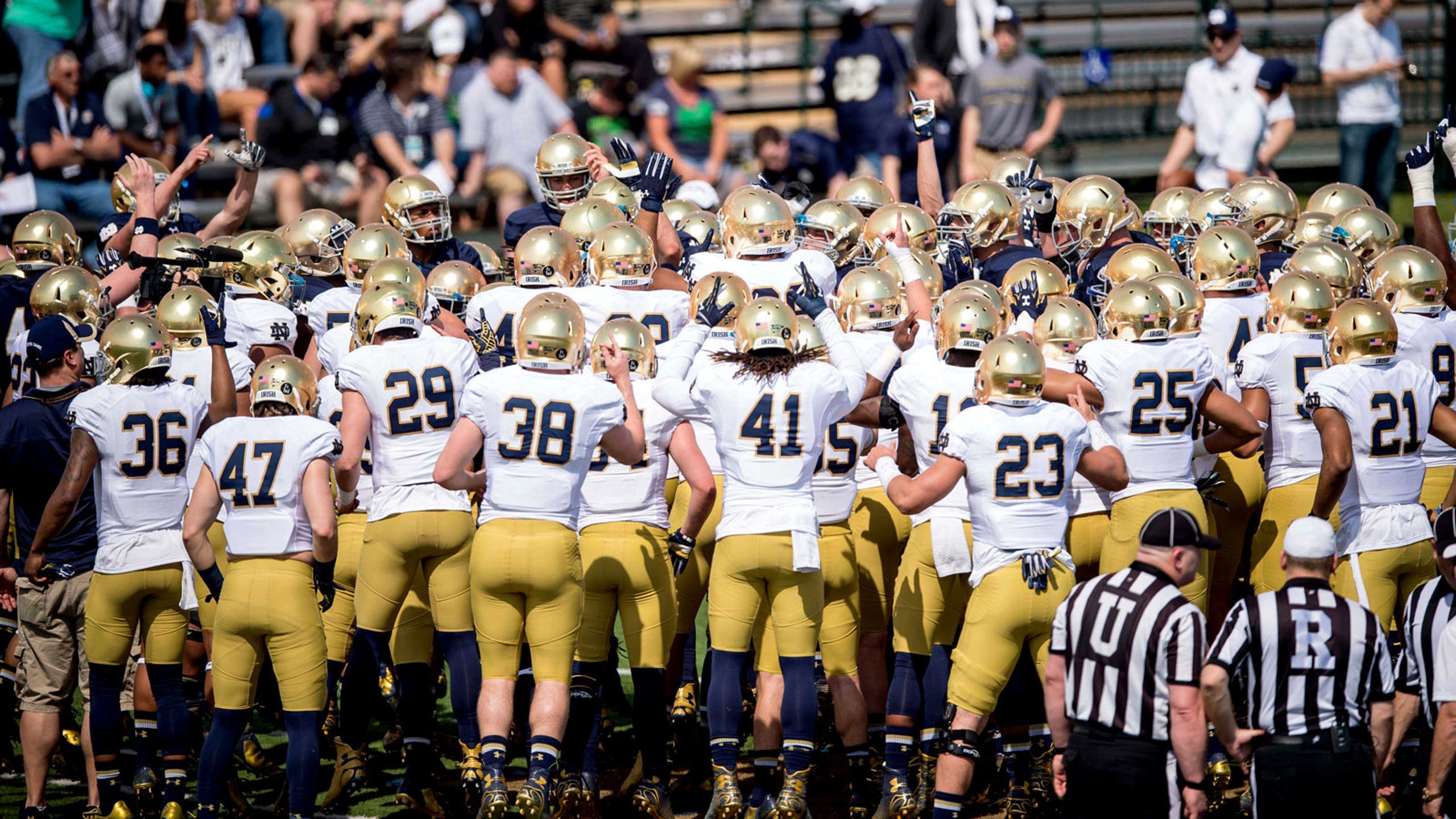 Notre Dame takeaways: Deep on difference-makers & special athletes
BY Bruce Feldman • August 20, 2015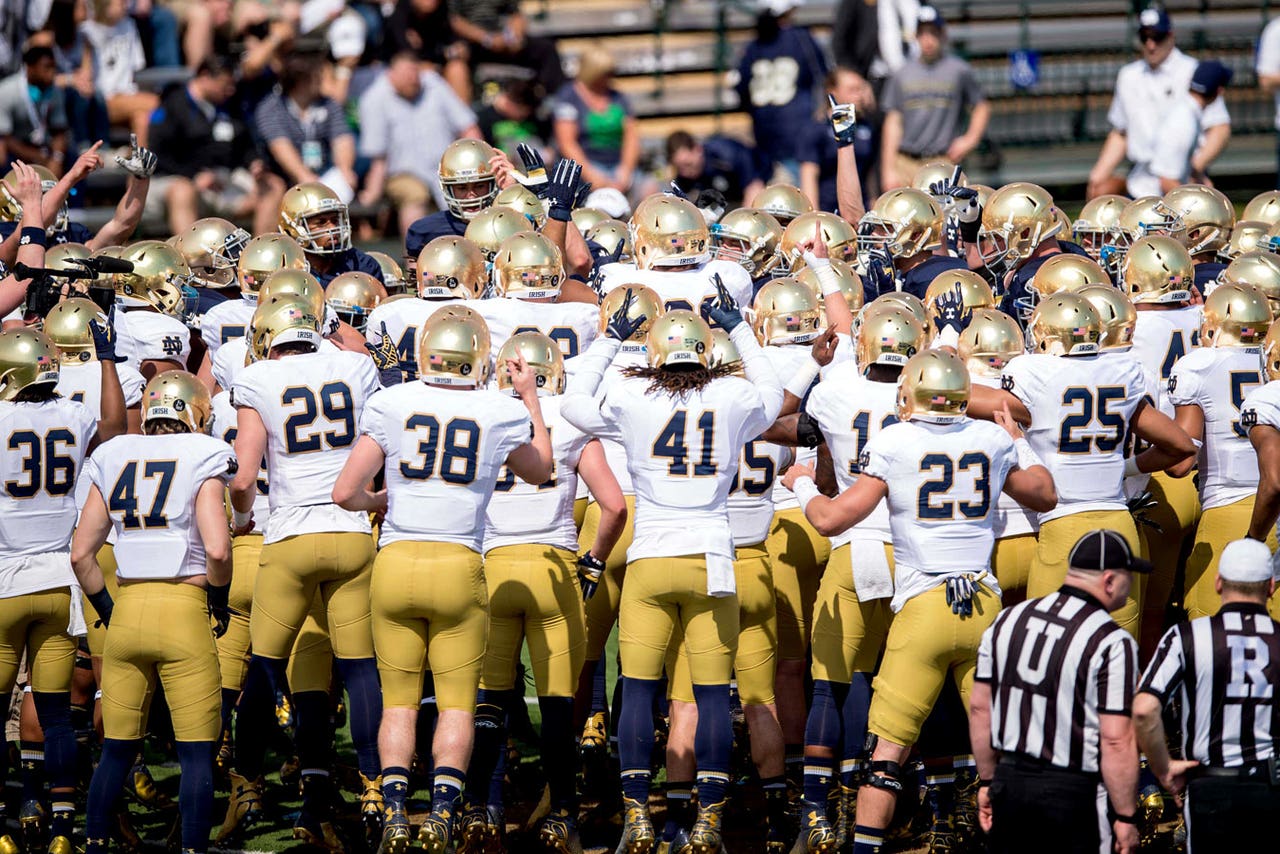 SOUTH BEND, Ind. --€" One of the most intriguing teams entering the college football season is Notre Dame. The Irish fizzled last season after a fast start, going 8-5 after being rocked by a run of injuries, especially on defense. But they have everybody back (plus their top DB KeiVarae Russell, who missed all of last season because of academic issues, also returns). The pivotal QB spot is a question mark. Malik Zaire doesn't have much experience, but he started the bowl game and led ND to a win over an LSU team that had one of the best defenses in the SEC.
This week I visited Notre Dame, and here are some takeaways from that trip:
DEEP ON DIFFERENCE-MAKERS
Brian Kelly talked about this team's strong group of leaders. I've spoken to several NFL personnel folks this offseason who say this is by far the best crop of difference-maker talent the Irish have had in decades. I asked Kelly on Tuesday to compare the 2015 team to his team from three years ago that went undefeated in the regular season and played for the BCS title, getting thumped by Alabama.
Kelly told me this is "a faster team. It's a more athletic team," he said. "We're deeper at virtually all positions across the board, both on the offensive line and the defensive line. Maybe we don't have singularly one superstar here or there, but the depth of the group is a whole different football team than that group.
"That was a unique group in that they knew how to win, had great leadership -- look, winning teams have a special group of guys that find ways to win, and that group did.
"But this is, from an athletic standpoint, and from a physical prowess standpoint, a deeper football team."
WIDEOUTS WHO'LL WOW US
As I've mentioned before, the Irish have special athletes at left tackle (Ronnie Stanley); linebacker (Jaylon Smith); and DB (Russell). What I think is the most overlooked aspect of this team's athleticism is at wideout. It would seem to be hard for a Notre Dame player to be underrated, but junior WR Will Fuller is. He had a huge 2014, catching 76 passes for 1,094 yards and 15 TDs, with 51 of those catches going for a first down or a TD. 
New OC Mike Sanford told me he was surprised to see just how dynamic a receiver Fuller truly is.
"He's not that big, but man, he can fly," an NFL scout told me. "He's breaking ankles on double moves."
Chris Brown (39 catches last season) came to ND as a top sprinter and the best triple jumper in the history of the state of South Carolina. "He's about 6-2 and is a really long kid who catches it well," said one scout.
Also keep an eye on these three second-generation receivers:
--Torii Hunter Jr., a 6-foot, 195-pound junior (and son of son MLB veteran Torii Hunter): "If he had to, he could play all the positions," Kelly said. "He could play X, Z and W. He's probably our most versatile receiver, in that he has the ability to work inside and out from the slot position because of his elusiveness. He's going to play a lot. You'll hear a lot about him this year. He's had a very good camp."
--Corey Robinson, a 6-5, 215-pound junior (and son of NBA great David Robinson). A prime red zone target, Robinson had 40 catches and five TDs in 2014: "He's going to get a lot of bracket coverage, a lot of seven, eight across, zone coverage, and he's going to have to work the back end line. That's where he's going to have to live this year. I don't think anybody's going to play him man-to-man coverage," Kelly said. "They'd be crazy if they did."
--C.J. Sanders, a 5-8, 185-pound freshman (and son of former NFL WR Chris Sanders). Sanders was quite the actor growing up. He played little Ray Charles in the great movie "Ray" starring Jamie Foxx. Little Sanders has been quite the gem this month, according to some of his coaches.
--One other big WR to remember is Equanimeous St. Brown, a 6-4, 205-pounder. Kelly and strength coach Paul Longo said they have been especially impressed by Brown since his arrival.
I asked Todd Lyght, ND's new cornerback coach, for his perspective on the group, as compared with his time at ND in the late '80s. (Back then it was Rocket Ismail, tight end Derek Brown and a ridiculously deep group of RBs):
"The receivers are definitely much bigger in size, and the speed is similar," he said. "We have fast guys now, but the difference in size for the wide receivers is what has become more popular. If you look at the NFL, there are a lot of power forwards playing wide receiver, small forwards playing wide receiver, that's where the game is moving to. The bigger, faster guys you get on the football field, the more success they'll have, so that's the way the game is going with a lot of different positions. Even in the secondary, specifically the cornerback position, because if you don't get bigger and longer at cornerback, those 50-50 balls become 60-40 balls, 70-30 balls; you don't give yourself a chance if you line up small."
DRILLING DOWN
Kelly also raved about the impact Lyght, a former Irish All-American DB, has had on the team's one-on-one WR vs. DB drills.
"I love the way our one-on-ones have gone," Kelly said. "It's been the best since I've been coaching, no matter where I've been. Our one-on-ones have been better than anywhere because there is constant teaching and coaching going on."
One of the biggest benefactors of that has been Russell, who had been quite rusty, Kelly pointed out: "KeiVarae has gotten so much better. There was a little too much clutching and grabbing, and I think a lot of that was when you're out of pads for a year, you can't duplicate by jumping on boxes. It looks good on video, but you've got to play the game. You've got to put pads on, and you've got to get out there. And he is a different player than he was when he got in here because he wasn't that good. We were running past him, and he was holding us and grabbing us. Now you can start to see him, his technique is coming back, his discipline is coming back, and it's nice to see."
THE RISE OF RONNIE STANLEY
Ronnie Stanley, the 6-6, 321-pound left tackle who has a very good chance to be Notre Dame's first top 10 NFL Draft pick in more than 20 years, has improved a lot this offseason, both in the weight room and as a leader. "Physically he's athletically off the charts for his size," Kelly said. "He's long, athletic, has the ability to move his feet -- now bring the strength element into it. He's so much stronger, and then has a great understanding of the game of football. But now there's the (added) leadership component. I love where he is on that end. I think he's grown so much maturity-wise. I think the players have a great amount of respect for him, and when he talks, people listen."
Strength coach Paul Longo, who has been with Brian Kelly for years, evoked the name of another one of their old proteges, perennial Pro Bowl LT Joe Stanley, a guy who ran a 4.79 40 and vertical-jumped 32 inches weighing 306 pounds at the combine. "Ronnie reminds me of Joe with how good his feet are in a five-yard box (area) and in terms of his balance and ability to recover."
D-LINE DEVELOPMENTS
The Irish D-line took a big hit when 315-pound senior NT Jarron Jones was lost for the season last week to injury. However, two big bodies that have really come on of late are 290-pound Isaac Rochell, who Longo said is 10 pounds heavier than last year but also has much improved stamina, and 6-6, 305-pound freshman Jerry Tillery. "He's long, but he's also very flexible and can really run, and he has a nose for the football," defensive line coach Keith Gilmore said.
STILL AWAITING WORD
The status of former blue-chip recruit Ishaq Williams, a DE, is still very much in doubt. Williams was one of the players caught up in the academic dishonesty mess from last summer. His appeal remains pending.
"He had just finished getting his information in," Kelly said. "He had to write an appeal. His part had appeal that he had to personally put together as well. That's been completed. That has been sent off to the NCAA, so now that goes through the process of them looking at his appeal."
THE SITUATION UNDER CENTER
The elephant in the room with Notre Dame in 2015 is whether the Irish can get efficient quarterback play out of Malik Zaire. Kelly spent a good bit of time Tuesday talking about the junior's mechanics and what they've done with him.
"He gets a little big, gets the ball stuck behind him a little bit. It's just repetition," Kelly said. "I think he's already made some really good progress. Ball placement, touch, things like that that were not really part of what he did, he was always throwing the fastball and never really changing speeds at all.
"These young quarterbacks get rated by their strength of arm. ... You should really rate them by touch passes and ball placements and Level 2 balls. Then you really get the sense of the full picture. And those were the things he needed to work on, and he's made great progress on those touch passes and those ball-placement kind of issues, because he was just a rear-it-up-and-rip-it guy. He's come so far from that. I think Mike (Sanford) has made really good progress with him in a short period of time. He throws it pretty good. He could throw it better. He's a sophomore. He's going to be around here a few more years. I think he could be a top, elite thrower of the football because his mechanics are not far off. He's a bit of an overstrider. But he's so strong. He's got such a strong base, and he doesn't have a lot of dropping of the football and big wind up, things that worry you a lot. We've just got to cut down on his base a little bit. So he's on track to being better and better each and every week."
Keep in mind this is Zaire's third QB coach at Notre Dame in three years.
"Coach Sanford is a guy that's been more specific than other coaches," the charismatic junior said. "We've been more keen on finding out how we are going to get better every day and the steps we're going to take every day to get better. It's helpful because the day-to-day work isn't so broad. It's much more specific and set out each day. The step-by-step (approach) has helped us grow as a unit."
Zaire's personality is almost the complete opposite of Everett Golson, who was much more laid-back and soft-spoken. Zaire said a big point of emphasis for him this season is not get ahead of himself and not overthink things: "I was trying to do too much. I was overthinking."
He told me he's fostered relationships with "just about every great QB that's been through here.
"I've worked out with Brady Quinn. I have a good relationship with Joe Theismann; Tony Rice; Ron Powlus, who's in the office every day with us; Rick Mirer. It's good to be able to reach out to those guys because they've been in the position and done that. It's helped me shape and develop my path."
Joe Montana?
"I'm still trying to get in contact with him," he said with a big laugh.
LESSONS LEARNED
Notre Dame is one of the football programs that has had Navy SEAL Marcus Luttrell (whose story was told in the movie "Lone Survivor") speak to the team. What did Zaire take away from that?
"It taught me to never, ever complain about anything," Zaire said. "And also taught us about what it means to be a teammate and not just be on a team. It's being on a team because you get a jersey and get to feel like you're a part of something. But being a teammate means you're willing to do whatever it takes for that guy next to you. It's that speech that we had is something we're going to need during the season because we are going to have a lot of adversity hit us."
---