Northwest Missouri State wins 5th Division II title
December 19, 2015

KANSAS CITY, Kan. (AP) Northwest Missouri State overpowered Shepherd for its fifth NCAA Division II title.
Brady Bolles completed 20 of 27 passes for 233 yards and a touchdown to lead Northwest Missouri State to a 34-7 victory Saturday at Sporting Park.
The Bearcats (15-0) used two turnovers and a big play to open a 24-0 first-half lead, then coasted in the second half. Northwest Missouri State had 10 sacks and held Shepherd (13-1) to a championship-game record minus-39 yards rushing and only 97 yards of the total offense.
''I think we had a really good game plan,'' Bearcats coach Adam Dorrel said. ''Shepherd's offense is really predicated on trying to run the football to set up their play-action. We knew it was going to be a challenge to stop their run, but the way we're built, systematically and athletically, our front seven does a great job of stopping the run.''
Northwest Missouri State also won titles in 1998, 1999, 2009 and 2013.
A championship-game record of 16,181 watched the game at the home of Major League Soccer's Sporting Kansas City. The crowd was slanted heavily toward Northwest Missouri, 90 miles away in Maryville.
When Shepherd tried to pass, Northwest Missouri teed off against quarterback Jeff Ziemba. Defensive end Collin Bevins had four sacks to break the school season record with 15 1/2.
''I didn't have much time,'' Ziemba said. ''They have four big guys and they're great at what they do. They did a great job of mixing up the defenses. That gave us a lot of trouble.''
That was business as usual for the Bearcats.
''We've done a pretty good job all year of putting pressure on the quarterback,'' Bevins said. ''The four doesn't show how good of a day I had. It shows our defensive line and the linebackers, the pressure we're putting on the quarterback.''
The initial pressure came on the first play of the game. Shepherd won the toss and chose to receive the opening kickoff. On the first play from scrimmage, Ziemba bobbled a shotgun snap, and it was recovered by defensive end Cass Weitl on the 5. Two plays later, Jordan Grove ran it in from the 1. The touchdown, at the 14:13 mark, was the quickest non-kick-return score in the championship game since 1974.
''They didn't need any help, and we gave them some,'' Shepherd coach Monte Cater said. ''We couldn't have started any worse than we did. But (Northwest Missouri) is a heck of a football team. We never really could get into any rhythm, and they had a lot to do with that.''
After the opening score, the teams traded several opportunities before Northwest Missouri got a 74-yard pass from Brady Bolles to Grove to set up a first-and-goal from the 6. On third down, Bolles hit Shane Williams with a 1-yard pass for a 14-0 lead. A 30-yard field goal by Simon Mathiesen gave the Bearcats a 17-0 lead with 38 seconds left in the half.
The Bearcats iced it with cornerback Bryce Enyard's 59-yard interception return for a touchdown on Shepherd's next play from scrimmage.
''That was huge,'' Bolles said. ''Any time we can put points on the board without our offense being out there it's big.''
Shepherd got on the board with 9:49 left in the third after recovering a fumbled punt on the Bearcats 32. Two plays later, Ziemba hit receiver Billy Brown with a 21-yard touchdown pass.
---
---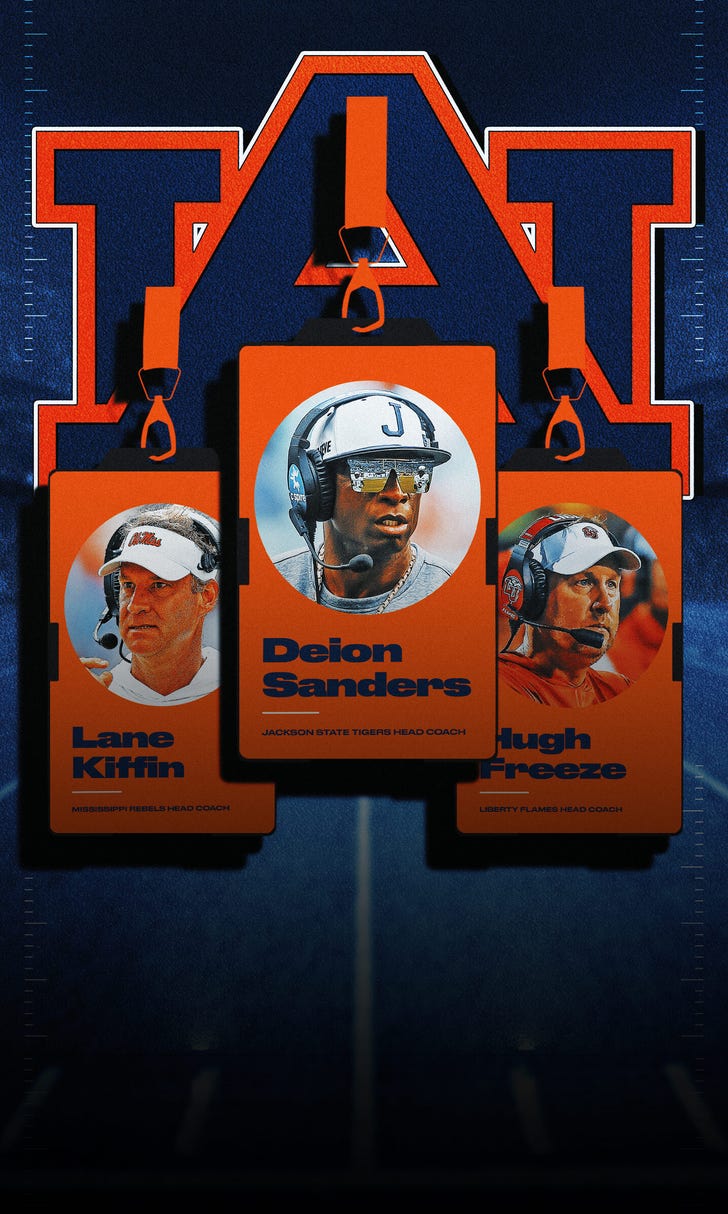 Top Auburn coaching candidates: Deion Sanders, Lane Kiffin, and more