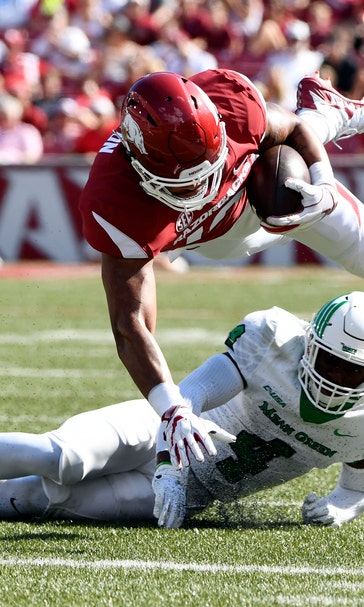 North Texas stuns Arkansas in 44-17 rout
September 15, 2018
FAYETTVILLE, Ark. (AP) — Keegan Brewer knew all-too well there was a good chance his planned bit of punt-return trickery could backfire and leave him completely exposed to a slew of onrushing Southeastern Conference defenders.
The North Texas sophomore kept his cool, though — long enough to have a brief conversation with an Arkansas player on his way to the dramatic 90-yard return for a touchdown.
Brewer's score might have been spectacularly unique, but it was hardly a game-changer for a Mean Green team that collected one highlight after another in a 44-17 win over the Razorbacks on Saturday.
When the carnage was finished, North Texas (3-0) had secured its first win over an SEC opponent in more than 40 years.
And it wasn't even close.
"I don't think it's an upset," North Texas coach Seth Littrell said. "We're very confident as a football team."
Mason Fine threw for 281 yards and a touchdown to lead the Mean Green to their first win in 10 tries against Arkansas (1-2). He also rushed for a touchdown and completed 24 of 45 passes to help North Texas win three straight games to open the season for the first time since 1989.
As good as Fine was, he had plenty of help from a defense that snared six interceptions and had five sacks against its SEC opponent.
And he had Brewer, whose return was an immediate viral hit on social media.
Already ahead 7-0 in the first quarter, Brewer put North Texas up by two scores with his return that started with a bit of cool and trickery.
After a 27-yard punt by Arkansas' Blake Johnson, Brewer calmly caught the ball and walked slowly between Razorbacks defenders Nate Dalton and Grant Morgan. Brewer then sprinted down the left sideline for the touchdown, leaving many in Razorback Stadium wondering if he had called for a fair catch.
An official review showed that he hadn't - with the touchdown staying on the board and the rout well on its way in Fayetteville.
"One of them actually asked me, 'Why didn't they blow the whistle,'" Brewer said. "I didn't say anything ... And as soon as he passed me, I knew it was go time."
For Arkansas, the play was an embarrassing topper on a day full of them.
The defeat is Arkansas' second straight against a non-Power 5 conference team, following last week's defeat at Colorado State.
Cole Kelley started at quarterback for the Razorbacks but was replaced by freshman Connor Noland in the third quarter after throwing his fourth interception of the game. Kelley finished 16-of-35 passing for 185 yards, and he, Noland and freshman John Stephen Jones combined to throw the six interceptions in the loss.
"Disappointed," Morris said. "We took a punch today, especially in the first half ... I think they scored 17 points in 16 plays in the first half and just stunned us right there. We never could rally back."
North Texas entered the game averaging 457.5 yards passing per game, tops in the country. The Conference-USA member Mean Green didn't reach its average through the air on Saturday, but it outgained Arkansas 376-336 in total yardage.
SEEING GREEN
North Texas improved to 5-37 in its history against the SEC with the win, with two of those victories coming via forfeits after losses to Mississippi State in 1976 and 1977. The Mean Green's last on-the-field win over an SEC team was a 21-14 victory at Tennessee in 1975.
HEDLUND AT HOME
Cole Hedlund made all three of his field goals for North Texas, improving him to 10 of 10 on the season. The senior had good reason to feel at home in Razorback Stadium, given that he played at Arkansas last year before moving to the Mean Green as a graduate transfer. "It feels amazing," Hedlund said. "... Playing at my alma mater, it just felt good."
THE TAKEAWAY
These are dark days at Arkansas, which is mired in its worst six-year stretch in more than 70 years. In addition to the immediate concern about whether the Razorbacks can win another game this season - with Tulsa the only non-SEC game remaining on the schedule - Morris is once again left looking for one quarterback to take command of the offense.
UP NEXT
North Texas is at Liberty next week.
The Razorbacks travel to No. 7 Auburn.
---
---