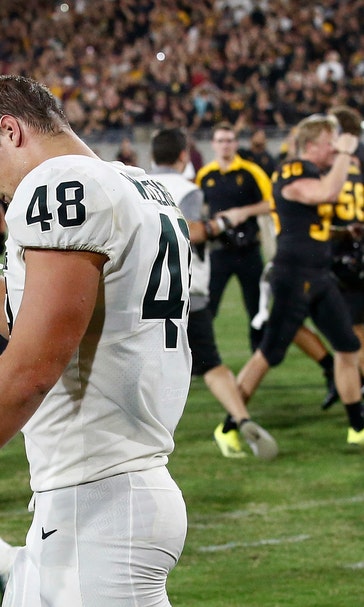 Nonconference losses can prove costly for top Big Ten teams
September 13, 2018
The last two seasons, the Big Ten champion was left out of college football's playoff, in part because it had lost early during the nonconference portion of the schedule.
This year, Michigan State and Michigan are already facing the same possible predicament.
The 25th-ranked Spartans already have a loss after falling 16-13 at Arizona State last weekend. That means if Michigan State wants to be in the national title hunt, its margin for error is slim the rest of the way. The same is true for No. 19 Michigan, which dropped its opener at Notre Dame. This week, the pressure is on No. 4 Ohio State, which faces a tough test against No. 15 TCU.
As much as fans and players look forward to these marquee matchups early in the season, these games present a risk for any program with national title aspirations.
"We definitely have had our share of tough games early," Michigan coach Jim Harbaugh said. "But we just have a mindset of, the schedule's the schedule, and we go out and play 'em."
The first point Harbaugh made when asked about this topic was that scheduling decisions are sometimes made well in advance. If you're weighing whether to agree to a game five years down the road, the playoff implications that season are tough to figure.
Still, any game against a big-name opponent has the potential to be difficult. Ohio State lost at home last September to Baker Mayfield and Oklahoma. The Buckeyes were 11-2 after winning the Big Ten title game, but were passed over for the playoff in favor of one-loss Alabama.
What's the lesson? It's hard to say. If Ohio State had played an easier nonconference schedule and had only one loss, there's still no guarantee the Buckeyes would have made the playoff. Back in 2014, a one-loss Baylor team was left out despite winning the Big 12 — the Bears may have been held back by an uninspiring nonleague schedule.
In four seasons of the playoff, no team with more than one loss has been selected. Ohio State just missed last year. So did Penn State's 2016 team, which lost at Pittsburgh early before winning the Big Ten. The Nittany Lions were 11-2 when the playoff selections were made.
There is no indication that Big Ten teams are going to stop playing tough September clashes. There are still benefits. A rivalry game like Michigan-Notre Dame has enough tradition that fans are probably willing to accept the risk of an early loss. On the other hand, the Penn State-Pitt rivalry, which dates to the 1890s, is going on hiatus after next season.
Playing marquee opponents can help a program's exposure. Michigan State had a home-and-home series with Oregon in 2014 and 2015, and there's no telling how much the trip west helped the Spartans in recruiting. Michigan State lost in 2014 to Marcus Mariota and the Ducks in a matchup of top-10 teams, but the Spartans were still in the hunt for the playoff until their Big Ten title bid fell short.
"We were playing pretty well and probably would have made the playoffs had we beaten Ohio State that year. We didn't," Michigan State coach Mark Dantonio said. "We lost two. I think two is the magic number probably for most people, not one."
From 2014-16, Wisconsin opened the season against LSU, Alabama and then LSU again, winning just one of those three games. Last year, the Badgers started with victories over Utah State, Florida Atlantic and BYU, and they were still undefeated before losing to Ohio State in the Big Ten title game.
Still, coach Paul Chryst endorsed the idea of taking the more challenging path.
"When you do get those chances for the big nonconference games, I think they're great for your players," he said. "What I also believe is that if you're going to be a team that's in the national picture, then playing those games is good."
It is certainly possible to overcome an early loss. In 2014, Ohio State was on the ropes after a home loss to Virginia Tech in the second game of the season. The Buckeyes regrouped and ran the table in the Big Ten, making the playoff and then winning the national title.
This year, though, the prospect of going unbeaten in the Big Ten seems tougher. The league had five teams ranked in the top 14 to start the season — plus there's the fact that Big Ten teams play nine conference games.
"When you are the playoff committee, how do you compare apples to apples and oranges to oranges if one conference is playing eight games, or multiple conferences are playing eight games, and multiple conferences are playing nine games? Some conferences play I-AA opponents and other conferences don't," Penn State coach James Franklin said. "I think one of the most important things that we could do for college football in the playoff era is to have a level playing field, and make sure that all the conferences are playing under similar rules."
Of course, it's impossible for all 130 FBS teams to play completely equivalent schedules, and that's something the playoff committee has to take into account. The Big Ten teams who schedule tough opponents early will simply have to win those games — or face a tough road back into national title contention.
"Our goals are always to compete for a championship in November — a Big Ten championship — and to do that you need to play well in September and October and get in the game, so that you're in basically a four-game playoff-type situation as you go through November," Dantonio said. "Get to the championship game, win that, and then think about things beyond that."
---
---