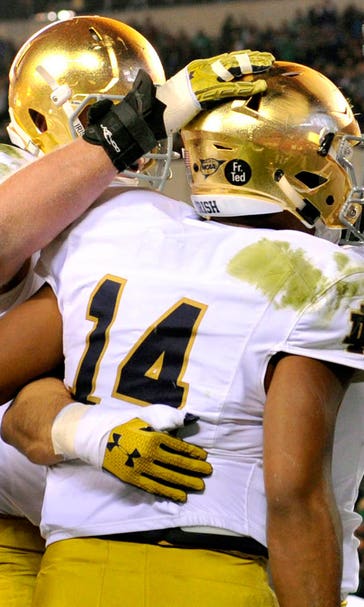 No. 9 Notre Dame survives vs. No. 21 Temple thanks to late TD
October 31, 2015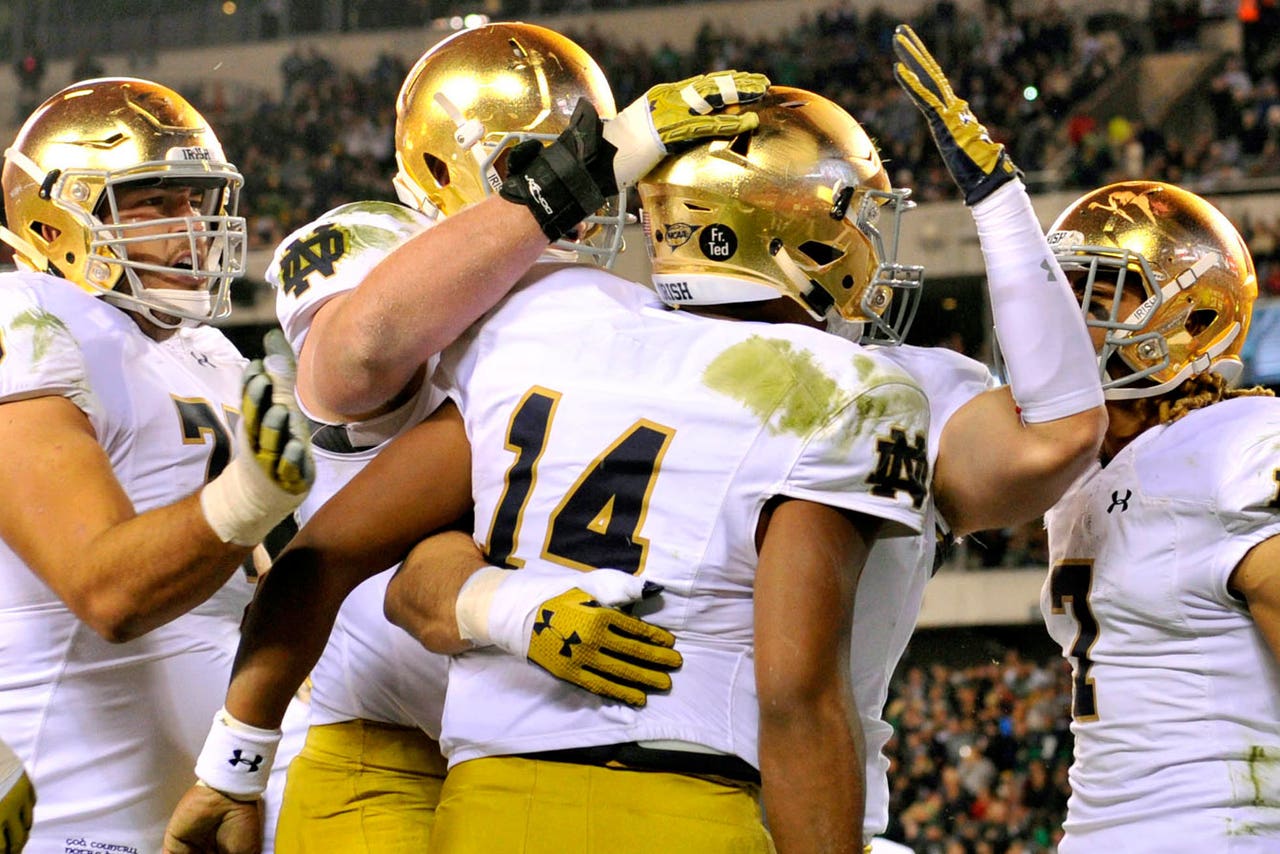 PHILADELPHIA — The biggest football game in Temple history was on the verge of turning into the Owls' greatest victory. DeShone Kizer refused to let Temple make history at Notre Dame's expense.
Kizer hit Will Fuller with a 17-yard touchdown pass with 2:09 left in the game, KeiVarae Russell picked off a pass to end the last threat and No. 9 Notre Dame escaped with a 24-20 victory over No. 21 Temple on Saturday night.
It was the third time this season Kizer has led Notre Dame (7-1) from behind in the fourth quarter, first against Virginia in his memorable debut and then against Southern California.
"It all comes with experience. When you go out there and you do it once or twice, that's how it's going to end up being," said Kizer, the redshirt freshman who took over for the injured Malik Zaire at Virginia. "We know how to go about a fourth-quarter comeback now."
The Owls (7-1) took a 20-17 lead with 4:45 left on a 36-yard field goal by Austin Jones. But Kizer came right back with a long scoring drive, capped by the TD to his star receiver who hails from Philadelphia to make it 24-20.
"They were crowding me and DeShone just threw a perfect ball," said Fuller, who went to Roman Catholic High School.
Then the Notre Dame defense stepped up. Temple's P.J. Walker went deep down the right side, but Russell cut underneath the throw and made a diving pick.
Not until the very last play, when Kizer dropped the ball, picked it up and then threw it away to kill the clock, did the Irish get to celebrate.
Kizer finished with 299 yards passing and a 79-yard touchdown run.
"He got the game ball," Notre Dame coach Brian Kelly said.
The Fighting Irish had chances to distance themselves from the Owls, but four red-zone trips produced only 10 points in the first three quarters against a defense that ranked eighth in the country.
"I knew that those were probably going to put us in a position where it would be a dog fight in the second half," Kelly said.
The Owls entered the fourth quarter down seven. All they could have wanted. After a targeting penalty in the end zone by Notre Dame's Elijah Shumate gave Temple a new set of downs, the Owls got it down to the 1 on fourth down. Coach Matt Rhule decided to go for it and Jahad Thomas made a crisp cut to turn the corner and tie the game at 17 with 10:51 left.
"They had tremendous poise," Rhule said of his players. "I thought they were excited to be there, excited for the moment."
And there it was: Temple, laughingstock for so long, leading the most famous college football team in the world on Halloween night in front of a national television audience. The Owls fans were making noise and dreaming big.
With 5:12 left in the game and Temple in field-goal range, security at Lincoln Financial Field started lining up metal parade barricades behind the end zone to keep the Temple student section from rushing the field.
Soon afterward, Jones' boot gave Temple its first lead of the second half.
A result that just a few years ago would have been unimaginable, Temple beating Notre Dame, was just an Owl stop or two from becoming a reality.
Notre Dame would not let it happen.
Temple came in 7-0 for the first time in school history, playing as a ranked team against a ranked team for the first time ever. This was an unprecedented weekend for college football in Philadelphia. ESPN "GameDay" drew a big and loud crowd to Independence Mall. The Phillie Phanantic was the guest picker, using Lee Corso as his straight man.
At the start, it looked as if Temple wasn't ready for the big stage.
The Irish marched 74 yards on their first drive with Kizer, Fuller and C.J. Prosise doing most of the work against a Temple defense that is the team's strength. Kizer finished with a 4-yard keeper to make it 7-0.
Trouble for Temple? Nope. The Owls settled in and got a field goal and a red-zone interception of Kizer by Praise Martin-Oguike. Temple marched 94 yards for a touchdown, Walker hitting Brandon Shippen from 12 yards out to make it 10-7 with 6:17 left.
A few minutes later, the lead was gone. Several Temple defenders converged on Prosise, but Kizer kept the ball and found a wide-open lane to sprint 79 yards for a touchdown.
Another red-zone interception by Temple, this time by star linebacker Tyler Matakevich on a deflected ball, kept the score 14-10 Irish going into halftime.
---
---