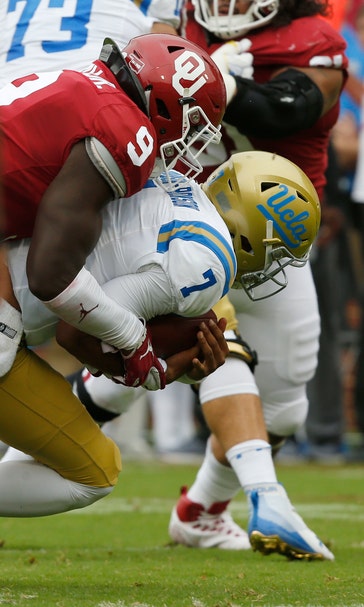 No. 5 Oklahoma learning how to handle Army's triple option
September 21, 2018
NORMAN, Okla. (AP) — It might be strange for longtime college football fans to imagine that Oklahoma's roster is almost completely unfamiliar with the triple option offense.
In the eyes of many, Oklahoma perfected it. The Sooners ran it out of the wishbone formation to win national championships in 1974, 1975 and 1985 under coach Barry Switzer. There are three options per running play — the quarterback, a fullback and a pitch man. The quarterback often determines the ball carrier by reading what the defense does.
The system that dominated college football from the late 1960s into the 1990s is now rarely seen. That made Army's offense difficult to simulate in practice as the fifth-ranked Sooners prepared to host the Black Knights on Saturday.
"It's one of the toughest challenges," Oklahoma coach Lincoln Riley said. "You have to be creative with your roster. That's something we've looked at well ahead of time, even as much as looking at the guys we're bringing in and what they played with in high school and guys that have any experience with it."
Oklahoma has spent extra time and effort planning how to deal with it. The Sooners worked on it one day during the spring and a few days during fall camp before their opener. The Sooners have had their scout team offense practice without a football so the defense can get used to playing specific assignments rather than just going after the ball. Adjusting to cut blocks — blocks in which the player targets a defender's legs — has been an emphasis.
"It's very unique, and it's difficult to transition into more patient react to blocks, try to keep people off of your legs," Oklahoma defensive coordinator Mike Stoops said. "There's a lot there. And their ability to execute so many different variables to the triple option is challenging in a lot of ways."
Oklahoma linebacker Kenneth Murray said it's all about discipline.
"They give you a bunch of different looks to run basically the same type of option," he said. "At the end of the day you've got to be honing on your keys. It's not a game where you can just forget this here and then go run to the ball."
Army has to deal with Oklahoma's improved defense, too. The Sooners were dominant in wins over Florida Atlantic and UCLA, and did enough in last Saturday's 37-27 win over Iowa State .
"Oklahoma is a great team," Army coach Jeff Monken said. "We just want to go down there and compete, hold the ball and put points on the board, be tough and physical and disciplined, show the country what Army football is about. That's the name of the game."
Here are some things to look for when the Sooners host the Black Knights:
HEISMAN HYPE
Oklahoma quarterback Kyler Murray has started generating Heisman buzz the past few weeks. The junior is sixth nationally in passing efficiency and leads the team with 169 yards rushing while replacing last year's Heisman winner, Baker Mayfield.
"He is playing the position at a high level right now," Riley said. "He's playing plenty good enough for us to win, and I think he's going to be wanting to get better. I'm not surprised at all."
KELVIN'S TIME
Kelvin Hopkins Jr. was named Army's starting quarterback after a three-way competition in preseason camp. After a shaky start — Army lost two of five fumbles in its season-opening loss at Duke — Hopkins has been nearly flawless and has added a passing dimension that's been lacking. Army led the nation in rushing last year (362.2) passed for only 361 yards to rank last. Hopkins has thrown for 420 yards already.
"I'm just doing whatever I can," Hopkins said. "Coach always talks about doing your one-eleventh. That's all I'm trying to do — do my part for this team to help us win, do the best job I can."
NO TURNOVERS PLEASE
Monken preaches ball security incessantly, and he's been rewarded. In the last three years, the Black Knights have gone 9-0 when they didn't lose the football. Since Monken took over five years ago, they're 10-4 when they don't lose the ball. Last year's 10-win team lost only five fumbles in more than 800 plays.
HOLLYWOOD TO THE HOUSE
Oklahoma receiver Marquise "Hollywood" Brown has scored a touchdown in five consecutive games. The junior is fifth in the nation with 137.3 yards per game receiving. He leads the nation with four catches of at least 40 yards this season and is tied for first with three receptions with at least 50 yards.
NEW LEAD BACK
Oklahoma running back Trey Sermon is the lead back for the Sooners now that Rodney Anderson is out for the season with a knee injury. Sermon ran for 74 yards and a touchdown on 13 carries against Iowa State last week.
"He's definitely our 'one' right now," Riley said. "I think a little bit is just seeing how he handles the whole deal, which he did a great job of it in the first game against Iowa State. I think he himself was really close — he had some really tough runs for us. He had a couple of long runs."
---
---