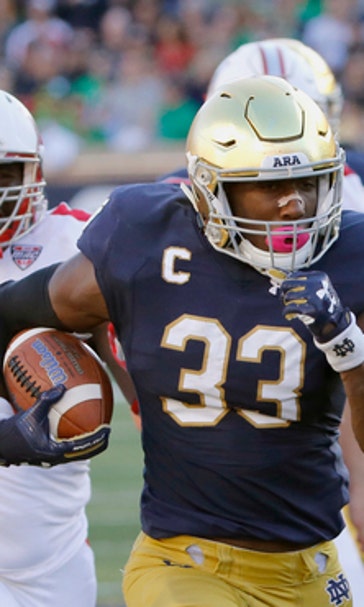 No. 5 Irish, Wake Forest take offense to defensive reunion
November 3, 2017

SOUTH BEND, Ind. (AP) Notre Dame coach Brian Kelly can deal with a game-time reunion of defensive assistants Mike Elko and Clark Lea with their former boss, Wake Forest coach Dave Clawson.
Whether Kelly's fifth-ranked Fighting Irish (7-1, No. 3 CFP) can deal on the field with the explosive Demon Deacons (5-3) is another matter.
The hype for this game has included much talk about how Elko, the first-year defensive coordinator for Kelly, has helped turn the Irish defense into a turnover-causing machine after doing the same thing for Clawson in stops at Wake Forest and Bowling Green.
But the outcome Saturday ultimately could depend on how the two offenses respond to the expected rainy conditions. Kelly is certainly a fan of Wake Forest senior quarterback John Wolford, who threw for career highs in yards (461) and touchdowns (five) in a 42-32 victory over Louisville that featured 625 yards by the Demon Deacons.
''He's a veteran quarterback who has been in their system and taken his lumps and grown,'' Kelly said. ''The tempo, their quarterback and their ability to spread you out and get some guys space to make plays - they did a great job against Louisville.''
Notre Dame has relied heavily on its standout backfield: Josh Adams (1,169 rushing yards) and quarterback Brandon Wimbush (11 rushing touchdowns, 10 passing), who are benefiting from a talented offensive line led by All-America candidates Mike McGlinchey and Quenton Nelson that has produced per game averages of 317.9 rushing yards (sixth nationally).
''It's not every week that you face the caliber of an offensive line that Notre Dame is or the caliber of back that Adams is,'' Clawson said. He hopes his defense, led by senior end Duke Ejiofor (14 tackles for loss, including 6.5 sacks) and with some of Elko's fingerprints still on it, will be up to the task.
Some other things to watch in this game:
NO DORTCH
Wake Forest won't have its best big-play threat for the rest of the season after wide receiver Greg Dortch suffered an abdominal injury that required surgery hours after his school-record four-touchdown performance against Louisville. The Demon Deacons' next man up will be veteran Tabari Hines, who has started 21 games during his career but none this season. Wolford also can look to 6-5 sophomore WR Scotty Washington and senior TE Came Serigne, who has five TDs among his 16 receptions. The Demon Deacons also will be without RB Cade Carney and SS Jessie Bates, after the sophomores also were hurt in the Louisville game.
THE SCOREBOARD
Notre Dame's 35-14 victory over North Carolina State last week was its sixth consecutive victory by 20 or more points. That's something that hasn't occurred in the Notre Dame program since 1966 when Ara Parseghian's Irish did it seven times in a row before the infamous 10-10 tie at Michigan State ended the streak.
COOKING WITH TURNOVERS
Notre Dame has outscored its opponents 101-10 off turnovers this season. The Irish have 18 takeaways (10 fumble recoveries, eight interceptions) while giving up three fumbles and four picks for a turnover margin of 1.38 (seventh nationally). Notre Dame has not turned the ball over at all in four games.
ENEMY INFILTRATORS
Wake Forest leads the nation in tackles for loss, averaging 9.3 a game. Notre Dame is 55th, averaging 6.3 a game. Last week against Louisville, the Demon Deacons collected 11 tackles for loss and had seven sacks of Heisman Trophy-winning quarterback Lamar Jackson.
RANKED HAS PRIVILEGES
Against teams ranked in the AP top 10, Wake Forest is 1-58. The victory came on Oct. 26, 1946, when Wake Forest beat No. 4 Tennessee, 19-6. In the month of November, Wake Forest is 10-48-3 when playing a team with zero or one loss. The last such victory was a 21-14 victory over 7-1 Boston College in 2006.
IRISH-DEACONS
Besides Elko and Lea, who coaches linebackers, Notre Dame's current director of scouting, Bill Rees, served in a similar role at Wake Forest in 2015 and '16. Rees is the father of quarterbacks coach Tommy Rees, who played the position for Kelly's Irish from 2010-13. Wake Forest president Dr. Nathan Hatch was Notre Dame's provost from 1996-2005.
---
AP Sports Writer Joedy McCreary contributed.
---
More AP college football: http://collegefootball.ap.org and http://www.twitter.com/AP-Top25
---
---