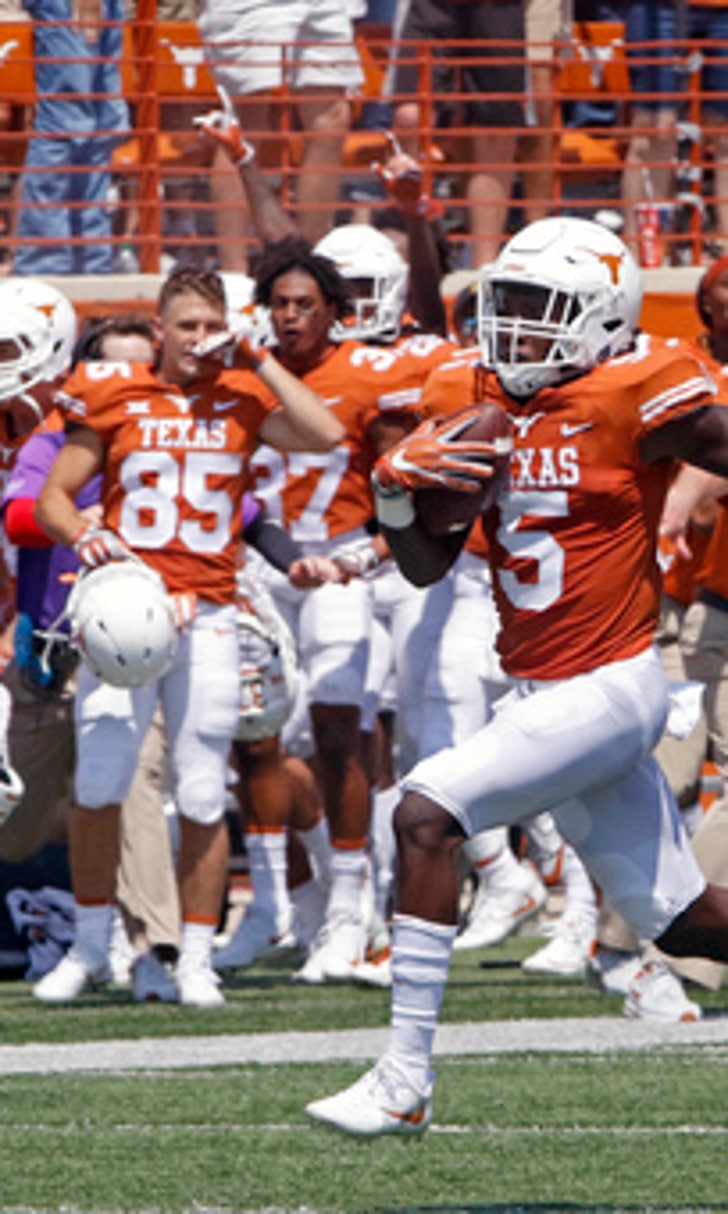 No. 4 USC hosts Texas in early-season meeting of powers
BY AP • September 15, 2017
LOS ANGELES (AP) Clay Helton knows a little something about big-time college football programs struggling to live up to sky-high expectations.
So when the architect of Southern California's return to excellence says he sees imminent signs of the same restoration in Tom Herman and Texas, the Longhorns' fans should take heart. And the No. 4 Trojans (2-0) should be wary of Texas' visit to the Coliseum on Saturday night for a marquee early-season showdown .
Texas (1-1) ''is a team that I think is a ticking time bomb waiting to explode,'' Helton said. ''With each game under Tom Herman, they're going to get better and better. So we can't have a letdown, or we're going to get beat.''
Helton spent several seasons behind the scenes at USC as a stabilizing force in the chaotic coaching tenures of Lane Kiffin and Steve Sarkisian. When Helton unexpectedly got the chance to lead the Trojans two years ago, the longtime assistant swiftly brought maturity and continuity to the talent-laden program, and wins have followed.
The Trojans have won 11 straight games overall, including last season's Rose Bowl. They've also won 11 straight at the Coliseum, where a sellout crowd of 92,348 will greet the Longhorns for the schools' first meeting since Texas claimed the national title in the epic 2006 Rose Bowl .
USC is the solid favorite in this matchup after its 42-24 rout of Stanford last week. Sam Darnold's offense is running exceptionally well, racking up 91 points and 1,144 yards against strong opponents in its first two games.
''To me, he is one of the better quarterbacks in the nation,'' Texas linebacker Naashon Hughes said. ''I'm pretty sure everyone else thinks that, too. He is great in the pocket. I didn't think he could run that well at first, but after watching more film on him, he can move around pretty well. He makes his team better, which is what you ultimately want at quarterback.''
Texas bounced back solidly last week from its embarrassing home loss to Maryland in its season opener, but USC presents a new level of challenge for Herman's first team. With uncertainty at quarterback and questions on defense, the Longhorns will need a quantum leap to pull off the upset in LA.
Here are more things to watch when Texas meets USC in the Coliseum for the first time in 50 years:
QB QUANDARY
Texas quarterback Shane Buechele missed last week's game with a sore shoulder, but returned to practice this week. Freshman Sam Ehlinger got his first career start and victory against San Jose State, but USC presents a larger challenge for an inexperienced passer. Former starter Jerrod Heard is now a receiver, but also could be a factor as a ball-carrier.
TEXAS TESLA
USC tailback Ronald Jones II is from the Dallas area, and his junior season is off to a phenomenal start. The ''Texas Tesla'' already has 275 yards and five touchdowns on the ground in two games, showcasing his improved physicality along with his usual speed. He has teamed with freshman Stephen Carr to provide a relentless rushing attack in USC's first two games, and Texas' run defense will have to prove its competence.
CROSSED ROOTS
Don't be confused by the accents of these two coaches. Helton grew up in Texas, going to high school in the Houston suburbs before playing quarterback for Herman's old team, the University of Houston. Herman is a product of the Los Angeles suburbs, growing up in Simi Valley and playing receiver at Cal Lutheran in Thousand Oaks.
BALLHAWK HILL
Texas defensive back Holton Hill already has three touchdowns this season on two interception returns and a blocked field goal return, becoming the brightest spot on an otherwise unremarkable defense. With his 6-foot-3, 200-pound frame, Hill is big enough to play with physical receivers and fast enough to stay with speedsters such as USC's Deontay Burnett. Darnold may want to look elsewhere.
FOR KICKS
Both teams have concerns about their placekicking, which is something to keep in mind in a close game. Texas kicker Joshua Rowland is 0 for 3 on field goals, including one blocked kick returned for a touchdown. USC began the season with two kickers after the dismissal of Rose Bowl hero Matt Boermeester, but Michael Brown tore a knee ligament against Stanford, leaving the job in the hands of freshman Chase McGrath.
---
AP Sports Writer Jim Vertuno in Austin, Texas, contributed to this report.
---
More AP college football: www.collegefootball.ap.org and www.twitter.com/AP-Top25
---
---