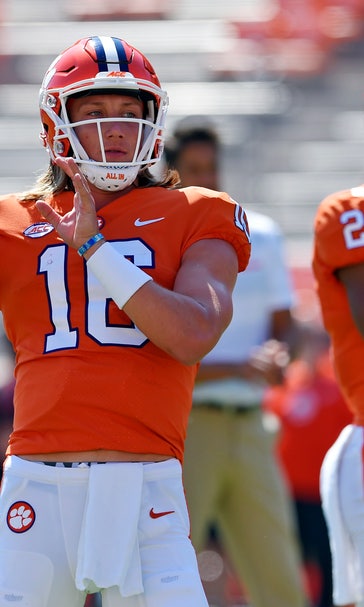 No. 3 Clemson resolves QB situation, Syracuse up next
September 28, 2018
CLEMSON, S.C. (AP) — Clemson has left no doubt about who their starting quarterback is this week. The third-ranked Tigers also have far fewer options behind center.
The Tigers (4-0, 1-0 Atlantic Coast Conference) will cap off a drama-filled week Saturday when they face Syracuse (4-0, 1-0). Trevor Lawrence locked is in as Clemson's starting quarterback after senior Kelly Bryant chose to transfer instead of sitting behind the 6-foot-6 freshman.
Bryant had started all four games this year after helping Clemson capture a third consecutive ACC title and make another College Football Playoff appearance.
The loss of Bryant, who was 16-2 as Clemson's starter, is disappointing, Tigers coach Dabo Swinney said.
"But we have to move forward. We have to rally the troops," he said. "The guys have to do their job."
Especially against the rejuvenated Orange, who are seeking their first 5-0 start since going 11-0-1 in 1987. They're also looking to beat Clemson two straight years, something an unranked team has not done to losing team in the top three in the AP rankings since Washington did it to Southern Cal in 1980 and 1981.
Syracuse outlasted Clemson 27-24 in part when Bryant came out of the game in the second quarter with a concussion and the Tigers offense could not get its big-strike game going.
"Last year was a big win, a natural steppingstone, just to show that we play with these guys and beat them," Orange linebacker Kielan Whitner said. "That instilled some confidence."
Syracuse has gotten tons of confidence off this year's start. The noteworthy win so far was a 30-7 victory over Florida State earlier this month that was never in doubt.
Orange running back Dontae Strickland said his team is coming to Clemson with a similar mindset to last year. "Knocking them off was something big," he said. "We've got to keep it moving this year."
---
---