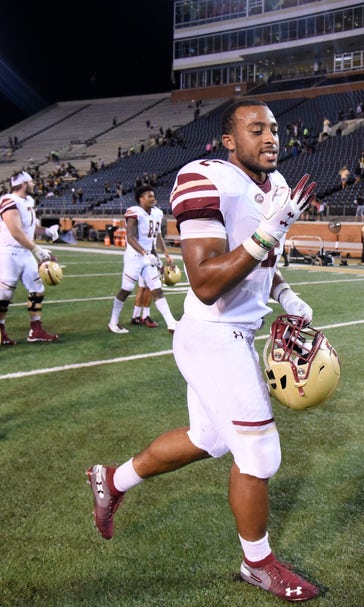 No. 23 BC's visit to Purdue headlines ACC's 4th week
September 20, 2018
Things to watch in the Atlantic Coast Conference in Week 4:
GAME OF THE WEEK
No. 23 Boston College at Purdue. The Eagles (3-0) have climbed into the national rankings for the first time in a decade behind league preseason player of the year AJ Dillon and a passing game that accounted for five long touchdown passes in a victory at Wake Forest. Could there be a letdown? Up next is one final nonconference test at desperate Purdue (0-3), which has three losses by a combined eight points yet still has the nation's No. 19 offense, averaging nearly 521 yards per game.
BEST MATCHUP
No. 3 Clemson's defensive line vs. Georgia Tech's option offense. The Tigers have an embarrassment of riches up front, with the entire defensive line selected to the preseason all-ACC team. Clemson (3-0) has allowed an average of 89 yards rushing, ranking 16th in the nation and second-best in the conference. Not surprisingly, Georgia Tech averages an ACC-best 392 yards on the ground with Paul Johnson's trademark triple-option offense.
INSIDE THE NUMBERS
Wake Forest (2-1) has not allowed an opponent from the Bowl Subdivision to reach the red zone, keeping both Tulane and Boston College outside the 20-yard line. But a closer look at the numbers indicates trouble. The Demon Deacons needed overtime to beat Tulane and gave up 41 points in a home loss to BC. They allowed eight touchdowns of at least 27 yards in those two games, with BC quarterback Anthony Brown throwing five TD passes — including three from 40 or more yards out.
LONG SHOT
North Carolina State (2-0) might have its hands full as a 5-point favorite at Marshall. Both teams are coming off unexpected weekends off, with Hurricane Florence forcing cancellations of last week's games, so there's always the possibility of rust. The Thundering Herd can be tough to beat in Huntington, West Virginia, winning 83 percent of its home games — though only one of those victories has come against a power-conference team. And Marshall still has WR Tyre Brady, a Miami transfer who had 248 yards receiving against N.C. State last year and should test the Wolfpack's rebuilt defense.
IMPACT PLAYER
Look for Duke QB Quentin Harris to put up some big numbers against North Carolina Central of the FCS. Harris looked comfortable in his first career start last week at Baylor , throwing for three touchdowns and adding 83 yards rushing in a 40-27 road victory.
---
---