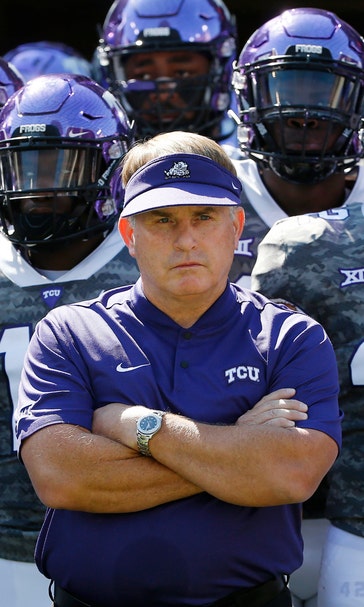 No. 17 TCU focused on Big 12 play after loss to Ohio State
September 18, 2018
FORT WORTH, Texas (AP) — Within minutes after TCU's loss to Ohio State, coach Gary Patterson was asked what he would want people to say about that game should the 17th-ranked Horned Frogs go on to win the Big 12 title and be in consideration for a spot in the College Football Playoff.
"They said that they shouldn't hold it against Washington because they played a really good football team," Patterson said, referring to the No. 10 Huskies' season-opening loss to Auburn in another off-campus game and adding that TCU should get similar credit.
"We've got a lot of good people we've got to play before we get to that point," Patterson said. "So right now, I won't worry about that. If we can get to the first of December, we can have that conversation. But right now, it's Texas."
The Frogs (2-1) play Saturday at Texas, a team they have outscored 153-33 in their only four-game winning in the series since 1935-38 — that was during the era of Sammy Baugh and Heisman Trophy winner Davey O'Brien, and when TCU won its only AP national title.
Patterson says if he could only win one of those games — Ohio State or Texas — he would want it to be the Longhorns. Sure, there is that instate rivalry, and the rare streak on the line. More importantly, it is the Big 12 opener.
"If you don't win conference, don't win games in the conference schedule, it doesn't make any difference," Patterson said Tuesday.
TCU lost 40-28 on Saturday against Ohio State, which trailed 21-13 before scoring three touchdowns in a four-minute span early in the second half to go ahead to stay.
The Buckeyes' first touchdown came on a strip-sack of Shawn Robinson in the first quarter. While that play wasn't challenged or questioned then, replays shows that an Ohio State defender appeared to touch the ball while his feet were out of the end zone before the fumble was recovered for a touchdown. That could have made it a safety instead.
Even after that, the Frogs recovered to go ahead before the quick scoring spurt by Ohio State after halftime.
Washington (2-1) is still a Top 10 team, having rebounded from that 21-16 loss to Auburn with wins over North Dakota and its Pac-12 opener against Utah. And the Tigers (2-1) also remain in the Top 10 after a home loss to LSU on a game-ending field goal last weekend.
TCU is leaving the Dallas-Fort Worth Metroplex to play for the first time this season. The Frogs won their season opener 55-7 at home over FCS team Southern University, before a rainy 30-point win at SMU and the loss against the Buckeyes in the home stadium of the Dallas Cowboys about 20 miles from the TCU campus — and where the Big 12 championship game is played.
"There's a big jump between the first two and the other one (Ohio State), so I think reality's somewhere in between," Patterson said. "We've got to go on the road to a very good Texas team's place, Austin's always tough to play in."
---
---