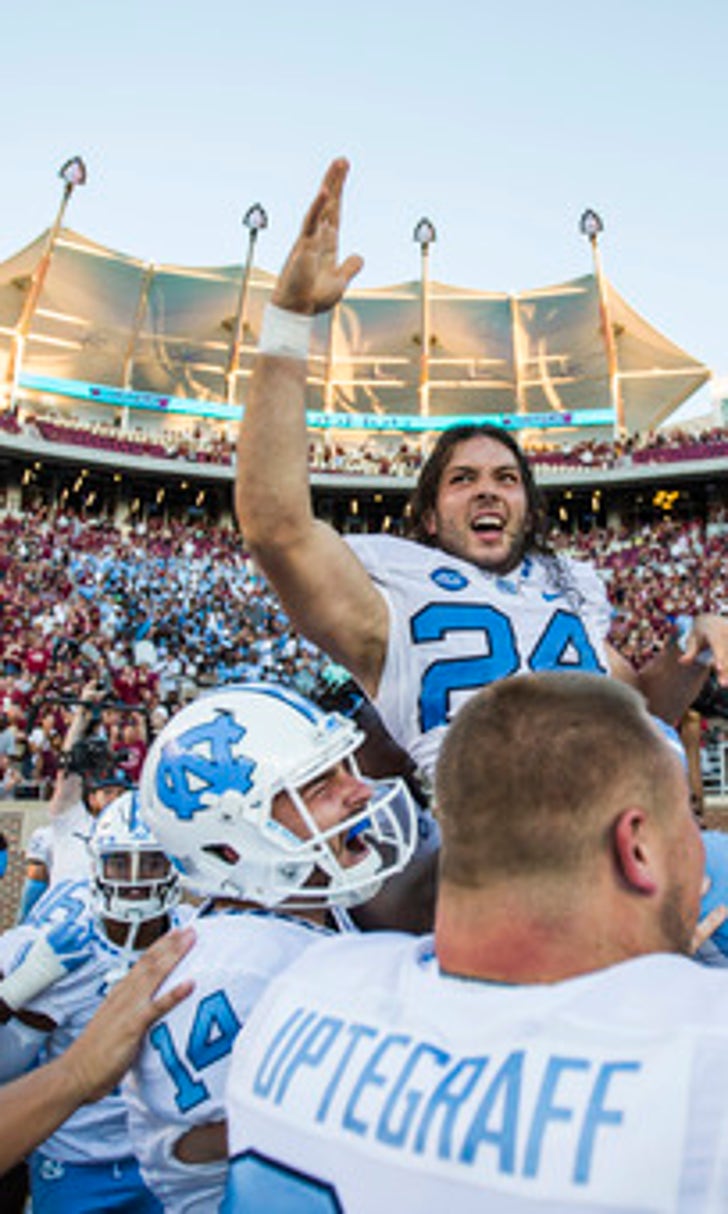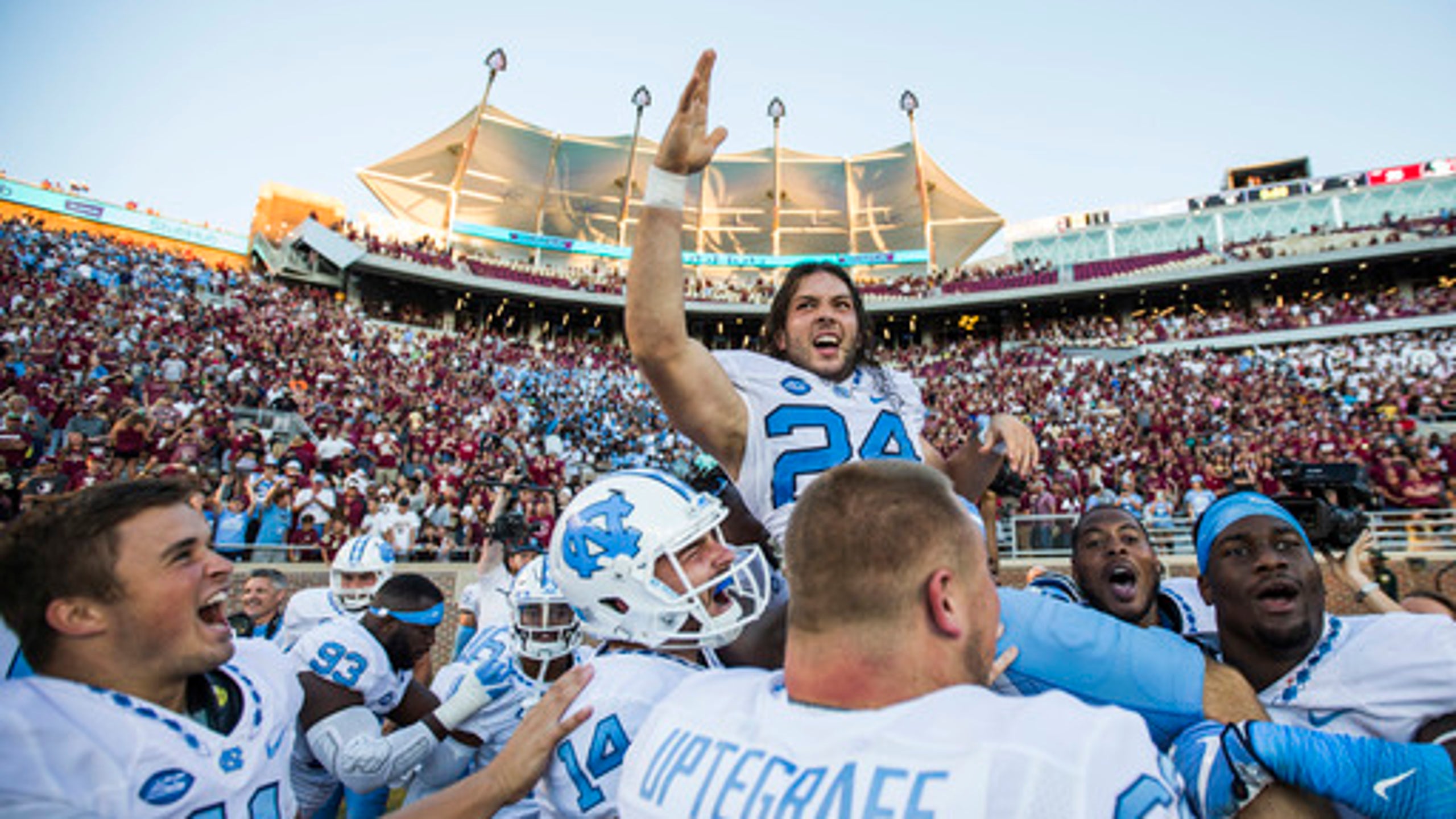 No. 17 Tar Heels carrying momentum from 2 last-second wins
BY foxsports • October 3, 2016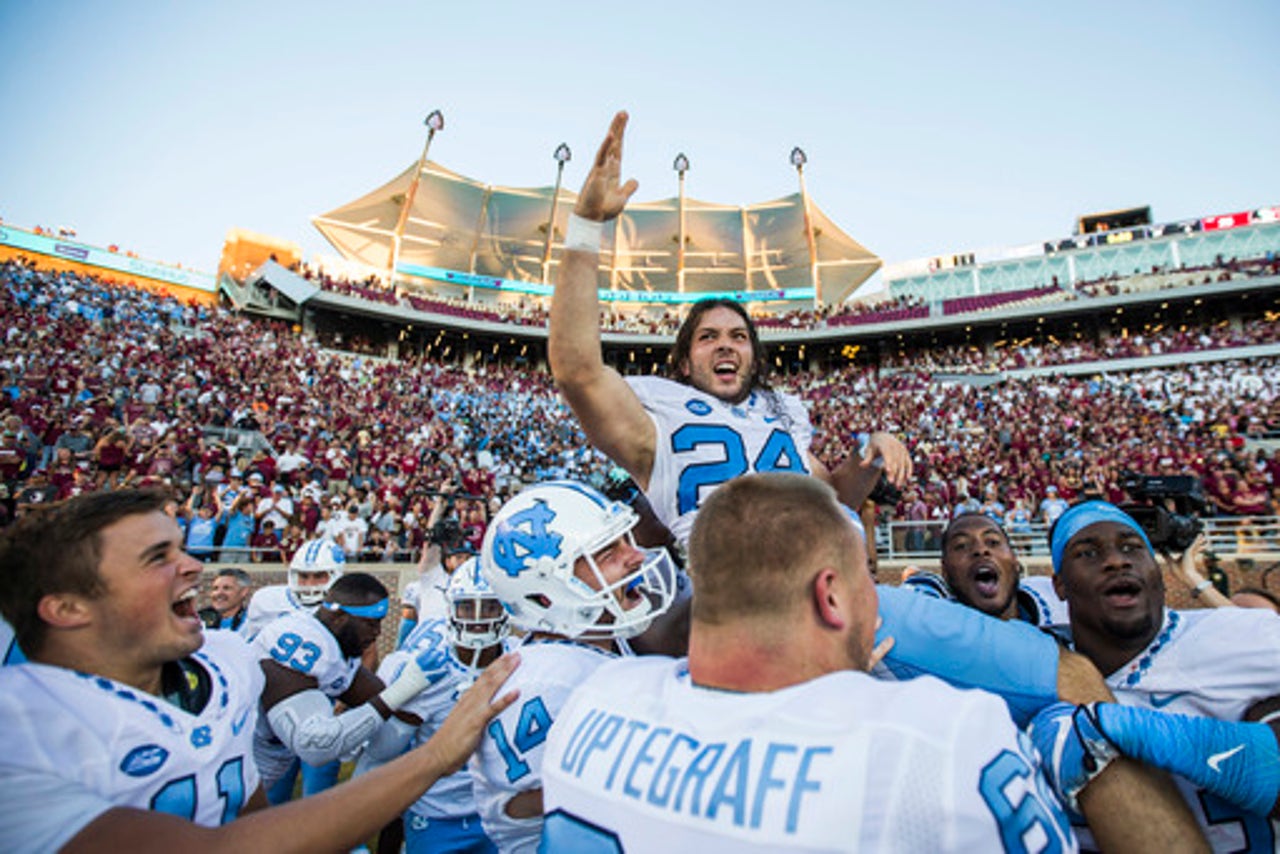 CHAPEL HILL, N.C. (AP) Apparently, North Carolina is quite comfortable in the frenetic final seconds of a close game.
The No. 17 Tar Heels have won their past two games with scores in the last 5 seconds, marking the fifth time in three seasons that they've erased a deficit and won a game with a final-minute score. It's a confidence-building run of success entering Saturday's visit from No. 25 Virginia Tech in a key matchup for the Tar Heels in their bid to repeat as the Atlantic Coast Conference's Coastal Division champion.
''I think you just see what this team's made of,'' quarterback Mitch Trubisky said Monday. ''We keep going back to the word `grit.' I think that's a good word to describe this team and . and how we're never really out of the fight - just keep battling to the last second.
''It's been working out for us and to just keep coming away with wins has been really exciting.''
The Tar Heels (4-1, 2-0 ACC) re-entered the AP Top 25 after a 37-35 win at then-No. 12 Florida State, a game that saw them blow a 21-point lead and fall behind with 23 seconds left. But, armed with two timeouts, the Tar Heels got in position to set up Nick Weiler's 54-yard field goal at the horn to win.
That came a week after Trubisky connected with Bug Howard for a 2-yard score with 2 seconds left in a 37-36 win against Pittsburgh, a throw that capped a 17-play drive and a comeback from 13 down in the last 6 minutes.
It's the first time UNC has won consecutive games by two points or fewer since 1985.
''It shows that they know how to win,'' Hokies running back Sam Rogers said. ''They know how to pull close victories like that one and down to the wire. It's a team that's never going to feel like they're out of a game. So you can never let up on any team, especially North Carolina.''
The roots of that success started in the 2014 season. Current senior T.J. Logan scored a 2-yard touchdown run with 11 seconds left to cap a 75-yard drive in a 48-43 win against Georgia Tech, then scored a 1-yard TD with 50 seconds left in a 40-35 win against Pittsburgh later that year.
Last November, the Tar Heels edged the Hokies 30-27 with a final-play touchdown pass in overtime to clinch the Coastal title in the final home game for longtime Virginia Tech coach Frank Beamer.
The Tar Heels trailed in all of those before the final score. Throw in a 74-yard TD punt return by current Cincinnati Bengals running back Gio Bernard with 13 seconds left to break a tie and beat rival North Carolina State in 2012, and the Tar Heels have six wins on final-minute scores under fifth-year coach Larry Fedora.
Fedora can point to at least one reason for the success: the Tar Heels run a fast-paced spread offense that doesn't have to change anything in how it operates when time gets tight. And that unit practices plenty of end-game scenarios to get ready.
''Our guys think it's just make the routine plays,'' Fedora said. ''We haven't had to make any acrobatic flipping catches or anything. . They know on Wednesday we're going to go against our defense and we're going to have a different situation they have to come up with. I'm going to give it to them right before they go and then they've got to figure it out.
''I've got a new one now: 23 seconds on the clock and two timeouts.''
---
AP Sports Writer Hank Kurz in Richmond, Virginia, contributed to this report.
---
Follow Aaron Beard on Twitter at http://www.twitter.com/aaronbeardap and the AP's college
---