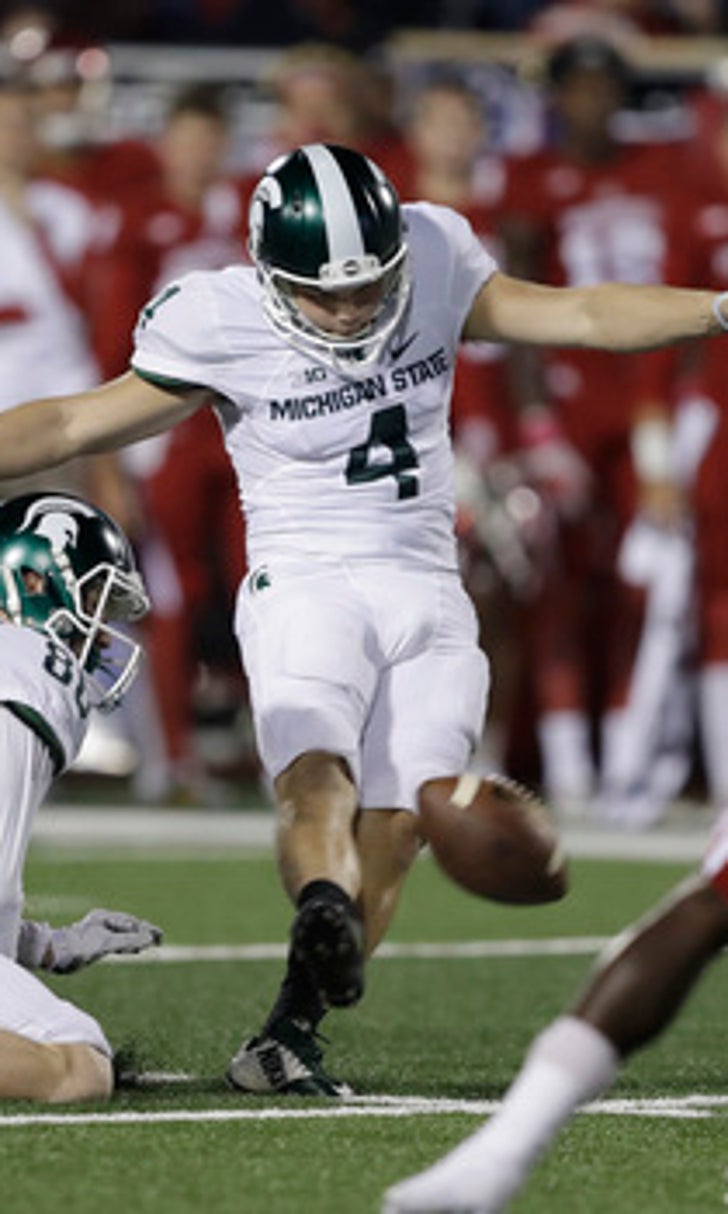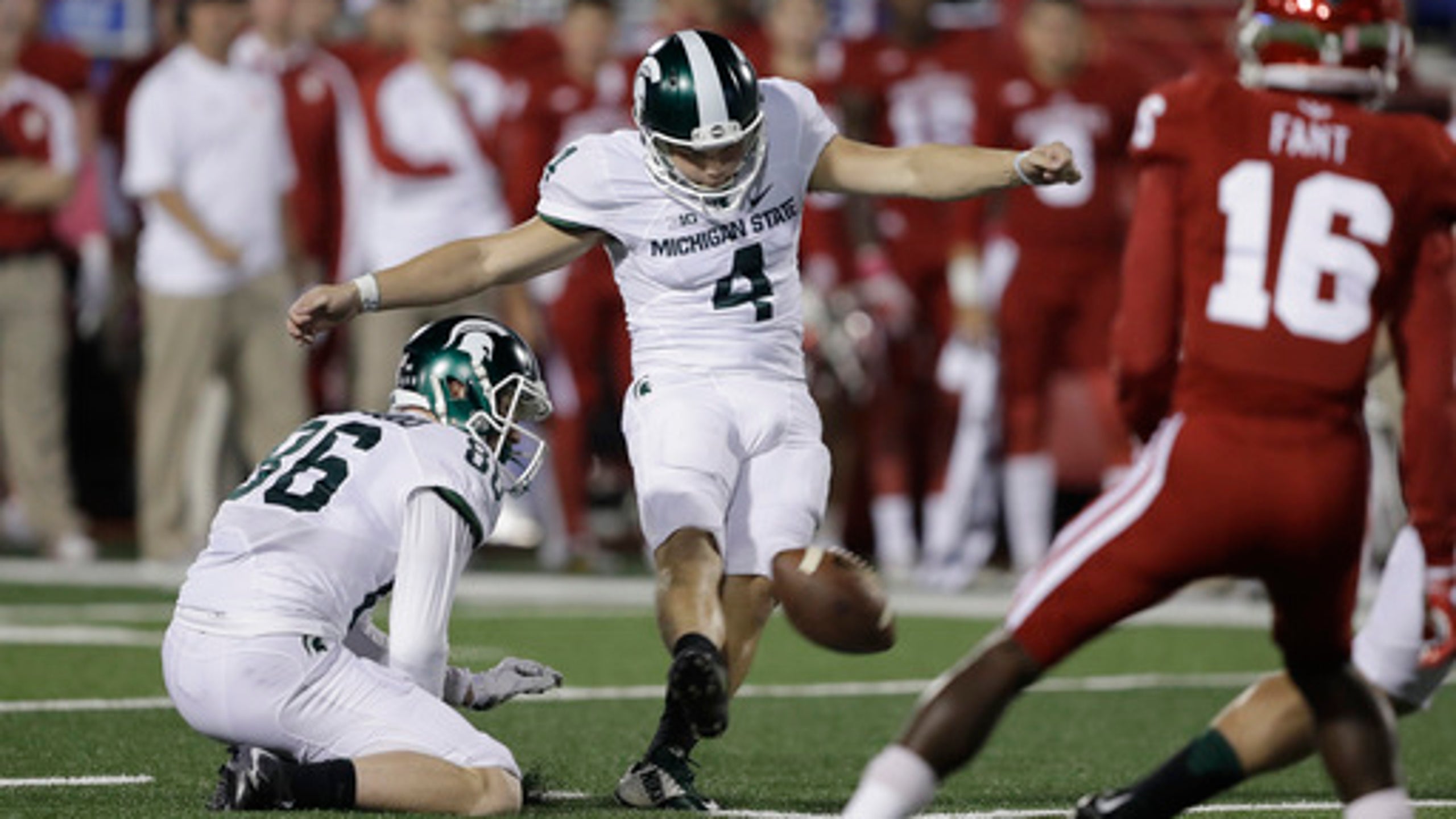 No. 17 Spartans face big, early hole after 2nd straight loss
BY foxsports • October 2, 2016
BLOOMINGTON, Ind. (AP) Suddenly, No. 17 Michigan State finds itself in a heap of trouble.
The Spartans blew a 14-point lead in the final 16 minutes Saturday night, losing the Old Brass Spittoon to Indiana for the first time in a decade. They've lost back-to-back games for the first time since November 2012, and now the defending Big Ten champs must find a way to dig themselves out of this midseason mess.
''Players are competitors, you hope they're competitors and if not then we recruited the wrong guys,'' coach Mark Dantonio said after Saturday's 24-21 overtime loss at Indiana. ''There's a lot of football teams that don't go to the playoffs or win a Big Ten championship, you keep playing and you play yourself into situations on where you want to go.''
It's been a long time since the Spartans (2-2, 0-2 Big Ten) have faced such a predicament.
Over the past three-plus seasons, Michigan State is 38-7, and the Spartans have played in three of the first five conference championship games. Getting back will be tough.
No. 2 Ohio State (4-0, 1-0) and No. 4 Michigan (5-0, 1-0) already have two fewer losses. Maryland (4-0, 1-0) and Indiana (3-1, 1-0) also are unbeaten in conference play, and, incredibly, the Spartans are tied with Rutgers in the division basement.
The standings are only part of the problem.
Quarterback Tyler O'Connor was a solid 21-of-35 passing for 263 yards and three TDs on Saturday but wound up getting sacked on Michigan State's last two plays in overtime. The result: Usually reliable kicker Michael Geiger missed a 49-yard field goal to the left. He also had a makeable field goal blocked in the first quarter.
Defensively, injuries have taken a toll. Michigan State started Saturday's game without starting linebackers Riley Bullough or Jon Reschke, and a parade of defensive players left during the game. While most returned, cornerback Darian Hicks did not after appearing to his hip. Dantonio did not provide a postgame update on the diagnosis.
That's still not all.
The officials called 11 penalties against Michigan State, including a targeting call that led to the ejection of nose tackle Malik McDowell on a touchdown pass, and the leaping penalty on cornerback Drake Martinez that gave the Hoosiers a second chance at the winning score.
It was frustrating for Dantonio to watch again.
''Too many mistakes by us, too many penalties, too many plays we didn't make that would have been great plays, some of them,'' he said.
Dantonio told reporters that if there is going to be a turnaround, it will start with what he does.
But there was plenty of blame to go around.
Receiver Donnie Corley had a defender beaten by two steps for what would have been a 97-yard TD pass early in the third quarter - if the ball hadn't slipped through his hands.
O'Connor wasn't exactly thrilled with his performance, either.
''We took some shots and some were good throws, some weren't as on the money as we'd like them to be,'' O'Connor said. ''But there were definitely plays to be made down there and we have to make them.''
Especially now, with no more margin for error.
''This one's going to sting until we watch it tomorrow,'' O'Connor said. ''That's our job as leaders, to get everyone kind of back and remind everybody what this program is and not to get used to this and this isn't what we're about. Everything that happened, was on us.''
---
Online:
AP college football coverage at www.collegefootball.ap.org
---