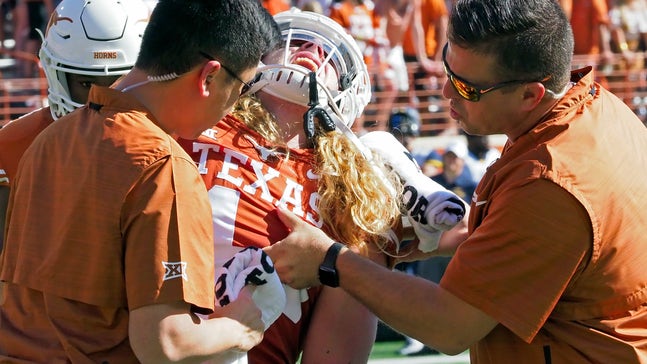 No. 15 Texas hurting on 2-game skid, trip to Texas Tech next
Updated
Mar. 4, 2020 5:36 p.m. ET
AUSTIN, Texas (AP) — The second half of the season has turned sour and painful for No. 15 Texas.
The Longhorns have lost two in a row after a 6-1 start to fall out of first place in the Big 12. They had to endure a flurry of "horns down" signs from West Virginia after giving up the winning touchdown and 2-point conversion with just 16 seconds left on Saturday.
And they are back at practice with a growing list of injuries on defense that could be a big factor in Saturday's visit to Texas Tech (5-4, 3-3 Big 12). Coach Tom Herman listed four key defensive players who are out or questionable for a unit that struggled badly in the two losses.
"We're banged up," Herman said Monday.
Texas (6-3, 4-2) didn't list a depth chart and it's easy to see why. Senior defensive end Breckyn Hager (dislocated elbow), senior cornerback Davante Davis (neck sprain) and senior safety Brandon Jones (ankle) all are considered questionable this week. Sophomore Marquez Bimage, who replaced Hager against West Virginia, has a dislocated shoulder and won't play.
Hager, Davis and Bimage all left the game in the first half. Jones didn't play at all after hurting himself before the game at the team hotel.
Texas had virtually no pass rush against West Virginia. The Longhorns regularly dropped eight into coverage, and had no sacks or quarterback pressures as defensive end Charles Omenihu couldn't get to quarterback Will Grier by himself without Hager drawing attention on the other side.
The secondary that was missing Jones and Davis gave up West Virginia touchdown passes of 60, 33 and 18 yards. Texas allowed a 55-yard touchdown run, too, helped by bad tackling angles. The Mountaineers' 2-point conversion came when linebacker Jeffrey McCulloch, who was lined up to help in pass coverage, broke inside when Grier turned to run. Grier easily trotted to the corner while McCulloch was caught up in a wash of blockers.
"We're playing a bit tentative, for whatever reason is behind it," Herman said. "We haven't cut it loose at times, that's on us to figure out why ... We have to make sure we are playing with a lot more discipline."
Texas' three losses this season have come by a total of nine points. The Longhorns also haven't lost three in a row in two seasons so far under Herman. And Texas hasn't lost at Texas Tech since 2008 when Michael Crabtree's touchdown catch with 1 second left ended Texas' unbeaten streak and cost the Longhorns a shot at the Big 12 championship.
After losing two in a row, Texas needs help to get to this season's league title game. The Longhorns still have a share of second place and could still get there.
"I think we've shown progress," Herman said. "I don't think there's anybody who's watched us the last two years, or watched this program the last five or six, that would argue that we (haven't) made substantial progress."
A longer losing streak would mar a season that saw Texas rocket back into the top 10 for the first time since 2010. Just two weeks ago, Longhorns dared even to dream about an outside shot at the College Football Playoff.
"The big picture is irrelevant. We've got to make progress this week," Herman said.
---
---