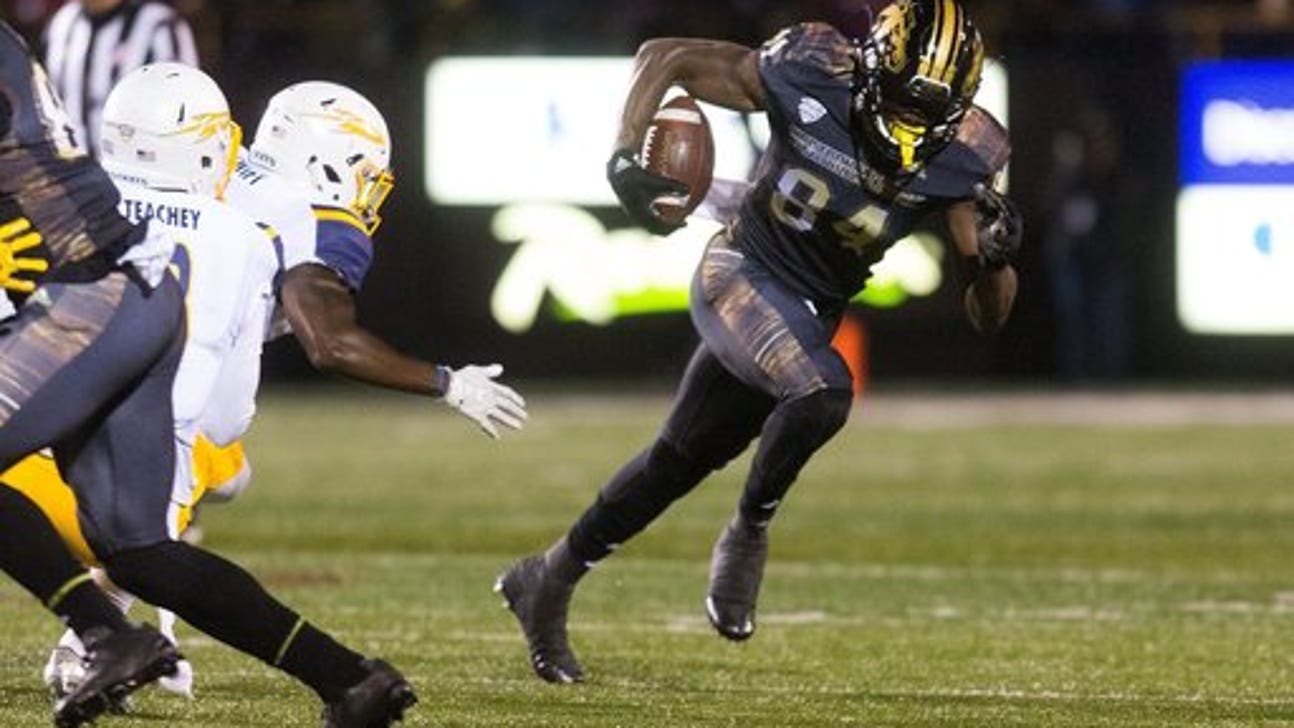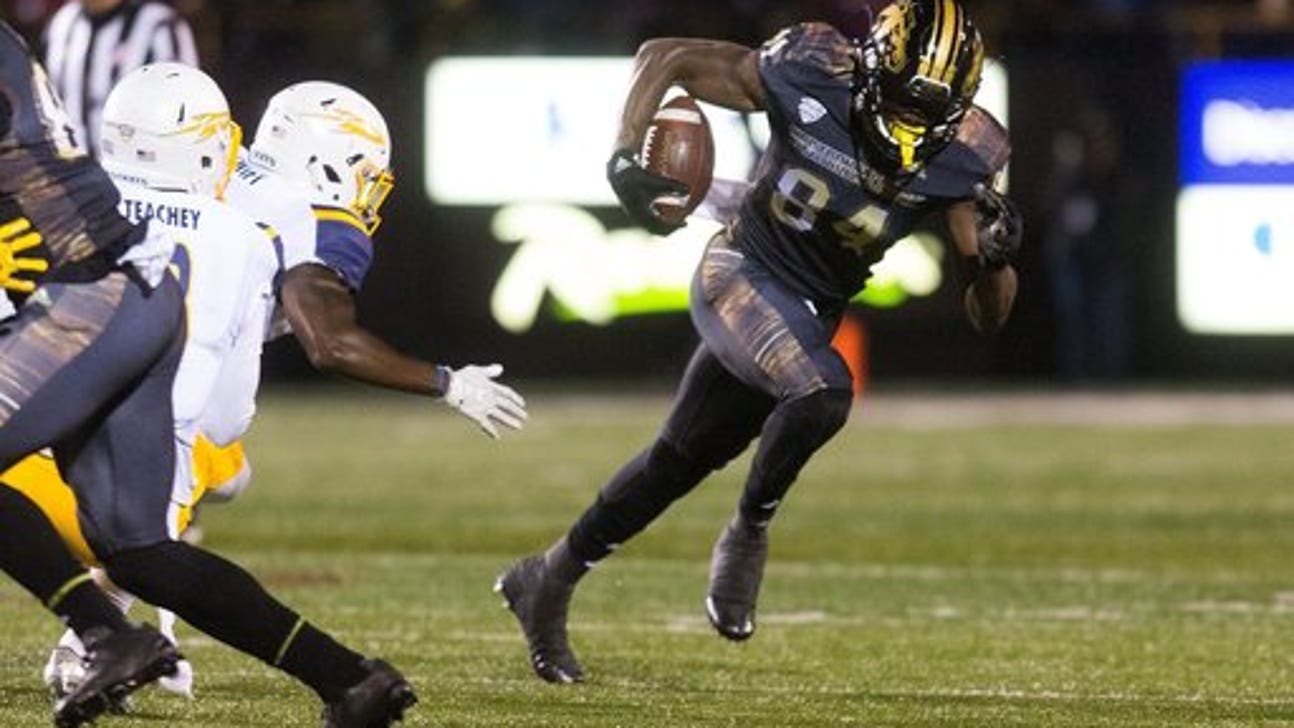 No. 14 WMU still unbeaten after 55-35 rout of Toledo
Published
Nov. 26, 2016 1:46 a.m. ET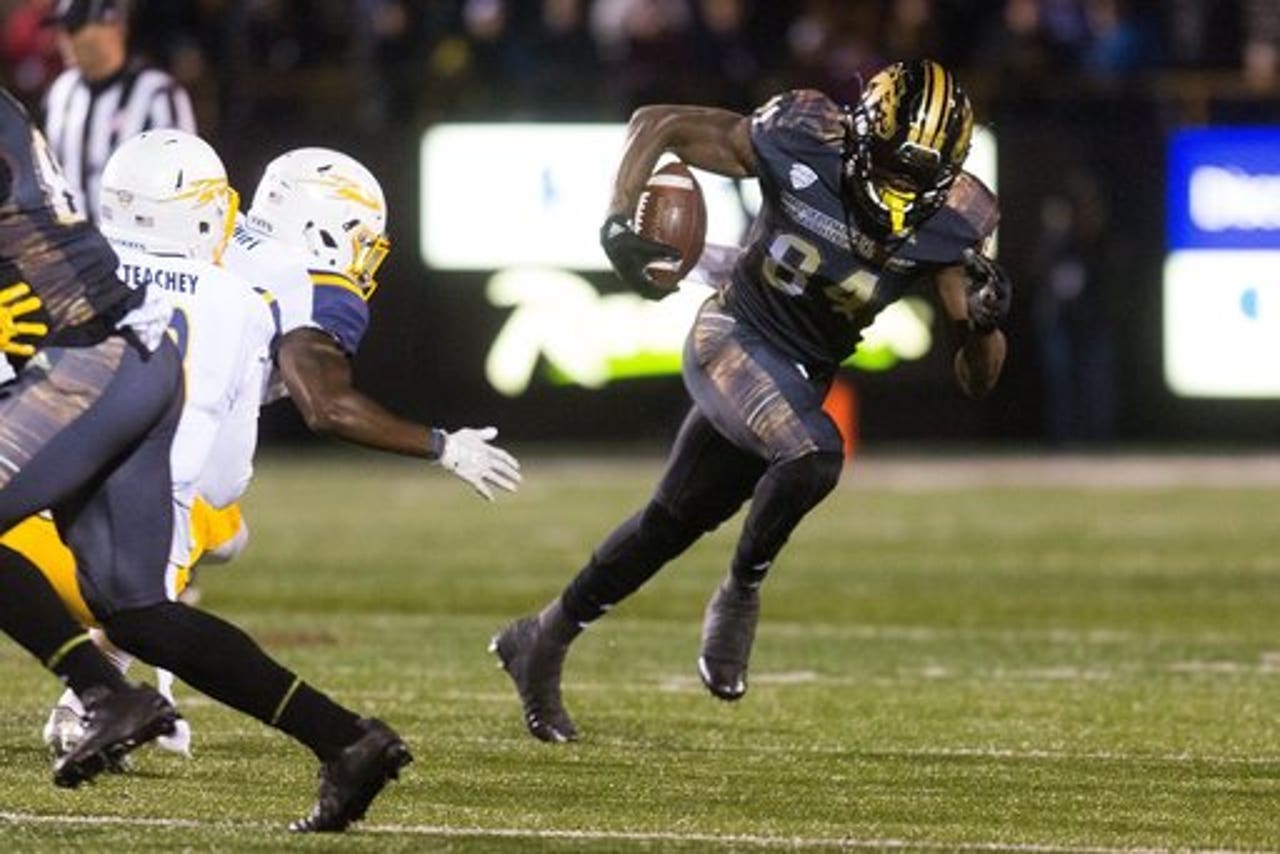 KALAMAZOO, Mich. (AP) After another glorious moment in Western Michigan's remarkable turnaround, P.J. Fleck was happy to look back on his first season with the Broncos, when he managed only one win in 2013 as a rookie coach.
''I'm so thankful for 1-11,'' he said. ''It'll probably be the most memorable year ever in my mind, because failing is growth and we failed more than anybody in the country, but our perspective of failing was way different, and we wouldn't let each other be down.''
The 14th-ranked Broncos have come a long way since then, and on Friday night they capped an undefeated regular season in style, routing Toledo 55-35 to secure a berth next week in the Mid-American Conference championship game. Corey Davis became the career FBS leader in yards receiving, and WMU never trailed, advancing to the league title game for the first time since 2000.
It was a milestone moment for Fleck, who turns 36 on Tuesday. His ''row the boat'' mantra has caught on in a big way at WMU, with fans chanting it and players savoring the chance to play for high stakes as the postseason approaches.
''Those who would stay, we promise you, you would be a champion,'' Fleck said, appropriating Bo Schembechler's old saying at Michigan. ''We're not a full MAC champion yet, but we're a MAC West champion. Those who stay, the 1-11 guys, they all get to leave here a champion.''
The Broncos (12-0, 8-0, No. 21 CFP) scored a defensive touchdown on the first play from scrimmage and eventually broke it open in the third quarter. WMU will face Ohio in the MAC title game in Detroit next Friday night, and it's looking more and more like the Broncos will be playing for a spot in a major bowl.
Kareem Hunt ran for 200 yards and a touchdown for Toledo, but there was only so much he could do after the Rockets (9-3, 6-2) fell way behind in the second half.
Zach Terrell went 19 of 25 for 196 yards and three touchdowns for WMU, and Davis caught eight passes for 81 yards and a TD. Davis broke the career mark of 5,005 yards receiving set by Trevor Insley of Nevada from 1996-99.
Jamauri Bogan also had a big day for WMU, rushing for 198 yards and a TD.
Toledo received the opening kickoff, but Logan Woodside's pass on the first play from scrimmage was intercepted by Asantay Brown, whose 21-yard return gave the Broncos a 7-0 lead.
WMU led 24-14 at halftime, then outscored the Rockets 21-0 in the third quarter.
''It's really hard to run the table in college football and go undefeated as you know,'' Toledo coach Jason Candle said. ''Hats off to their staff and their players for getting that accomplished.''
WMU fans rushed the field after the game in celebration.
''We've come so far, and we've struggled so much,'' Davis said. ''Just to see the smiles on these guys' faces and the fans light up, it's just a blessing.''
THE TAKEAWAY
Toledo: The Rockets have been one of the MAC's most consistently solid teams in recent years, but they haven't made the league title game since 2004. Northern Illinois represented the West Division the past six years, and this season WMU has been dominant, leaving Toledo again on the outside looking in.
WMU: If there was any pressure on the Broncos because of their undefeated record, it didn't show Friday. Against a tough opponent, WMU was simply terrific, winning by the kind of one-sided score that could certainly catch the attention of the playoff committee. The Broncos could go to a New Year's Six bowl if they end up as the top league champion from the Group of Five conferences.
WMU and Alabama are the only FBS teams that are undefeated, and Boise State's loss to Air Force on Friday derailed one major competitor in the race for that top Group of Five spot.
''People can label us, put a number on us. We won't. We're going to define ourselves by how we play,'' Fleck said. ''Everybody else can talk about our program, say what's missing, say all those things, what conference we're in. We're proud to be in the Mid-American Conference, and I would not have it any other way. This is an elite program, elite school, 12-0. There's only two that are undefeated right now, and it's pretty hard to go undefeated.''
POLL IMPLICATIONS
WMU: The Broncos' No. 14 AP ranking is the highest for a MAC team since Ball State was No. 12 in 2008 following a 12-0 start. WMU now has a chance to move up. No. 13 Florida and No. 9 Colorado have tough games this weekend.
INJURY
It wasn't a great fourth quarter for WMU. Linebacker Caleb Bailey was ejected for targeting, and safety Justin Ferguson was taken off on a stretcher with what Fleck described as a gruesome ankle injury. Ferguson, a senior, drew a nice ovation as he was taken off the field in the final home game of the year.
UP NEXT
Toledo: The Rockets will certainly have a chance to go to a bowl. Hunt is now 24 yards shy of the school's career rushing record. Chester Taylor holds the mark of 4,849 yards.
WMU: Somebody is going to win the MAC for the first time in quite a while. The Broncos haven't done it since 1988, and Ohio's last conference title was back in 1968.
---
More AP college football: www.collegefootball.ap.org and https://twitter.com/AP-Top25 .
---
Follow Noah Trister at www.Twitter.com/noahtrister
---