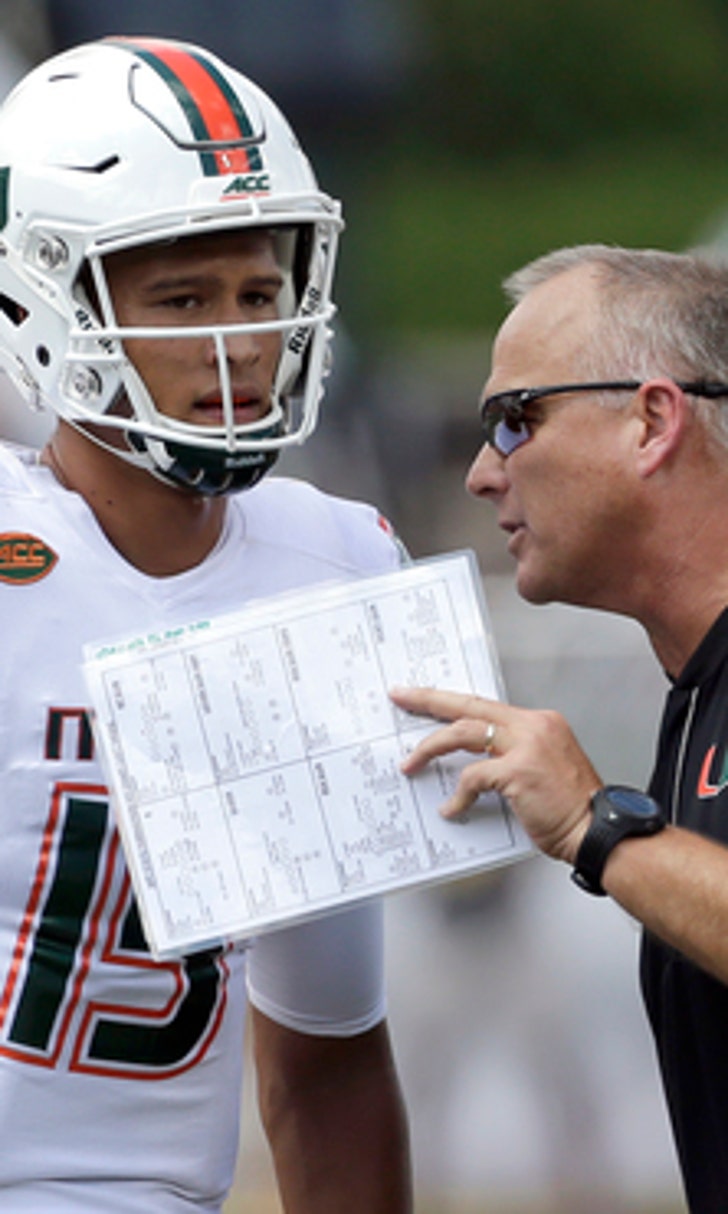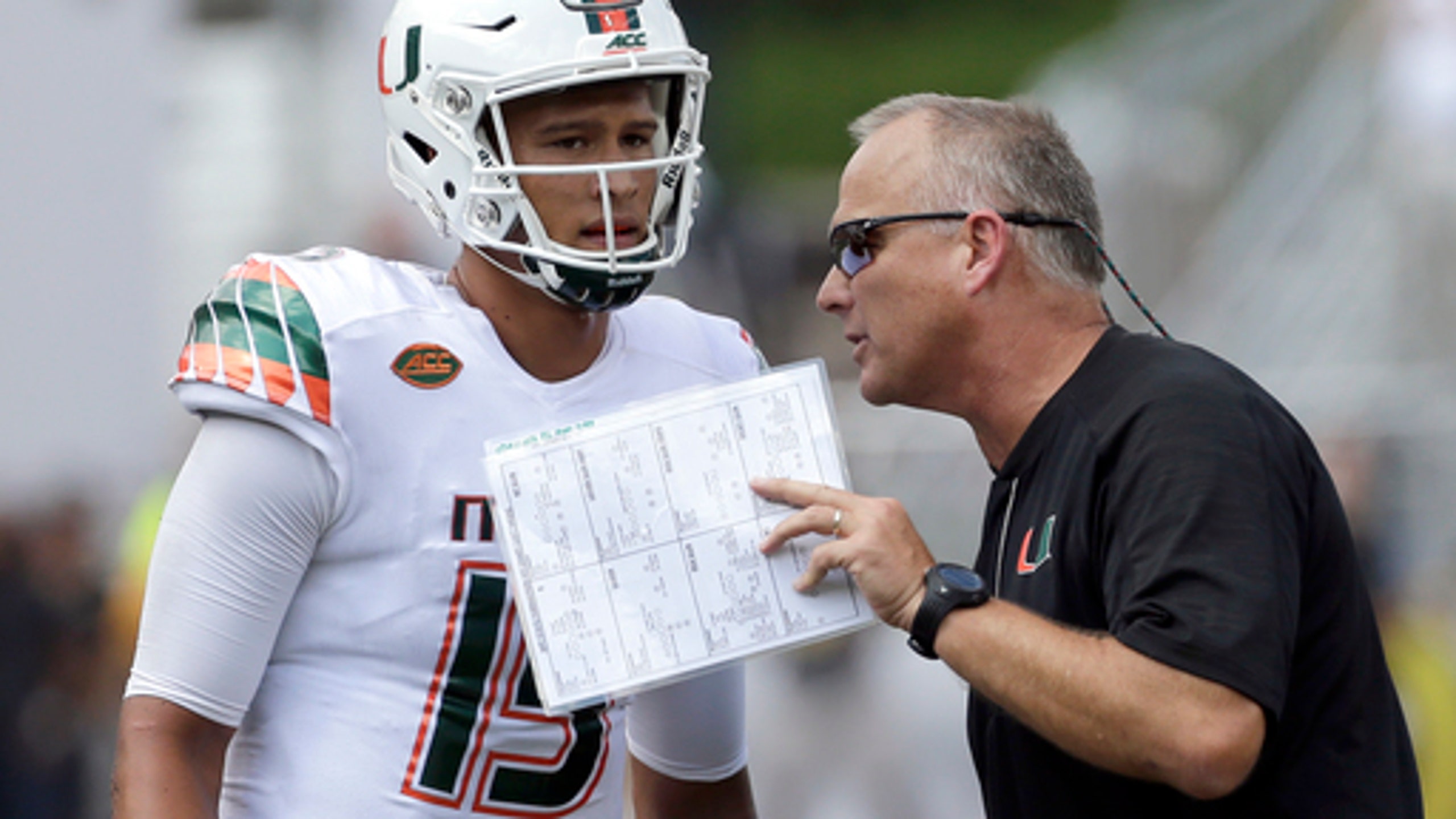 No. 10 Miami awaits shot to end its 6-game slide against FSU
BY foxsports • October 4, 2016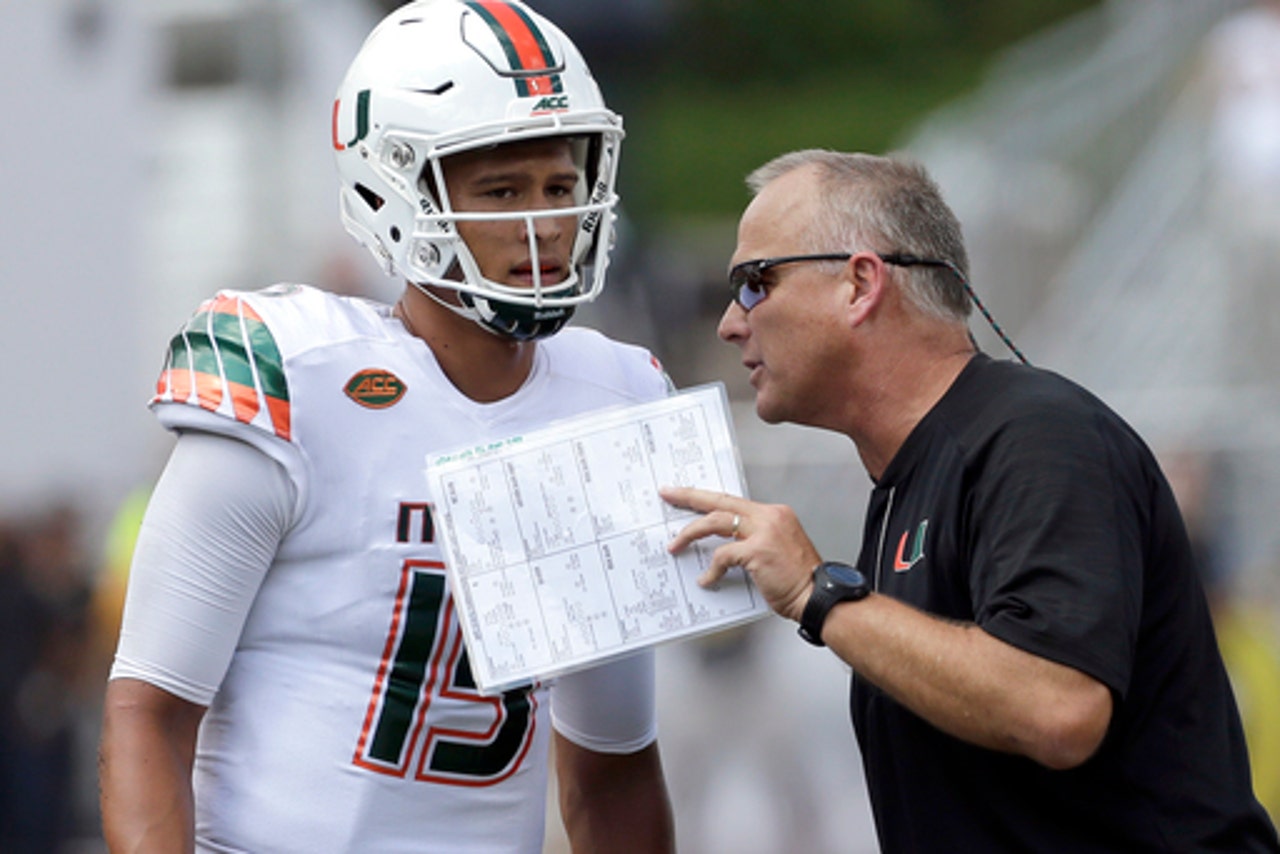 CORAL GABLES, Fla. (AP) Brad Kaaya tries not to think about the last two games against Florida State.
Tries to no avail, that is.
The Miami quarterback still has all the plays that got away from the Hurricanes in those matchups etched in his mind, ones that ultimately meant that his team couldn't close the deal after holding fourth-quarter leads against their archrival.
The next chance for No. 10 Miami (4-0, 1-0 Atlantic Coast Conference) to end what's now a six-game losing streak in the series is Saturday night, when No. 23 Florida State (3-2, 0-2) visits.
''Not being able to finish games,'' Kaaya said in a quiet moment after practice Tuesday. ''It has been a killer for us.''
''Finish'' has been a buzzword all season around the Hurricanes, and it was again Tuesday. Practice on another hot and sundrenched South Florida morning was winding down, sweat-drenched players were getting tired and it was showing in the effort they were giving toward the end of the workout. And someone wasn't happy.
That someone wasn't a coach. It was Kaaya.
''He got on the group a little bit a couple times, just about their focus and execution,'' Miami coach Mark Richt said. ''It was hot, it was late in the practice ... and he let them know a couple of times.''
That's not even close to the first time Kaaya has spoken up.
If he thinks a team meal at a hotel before a game is a little too loud, he lets teammates know and they respond immediately. The Hurricanes rotate captains for each game, but whether he's out at midfield for the coin toss or not - and Kaaya is one of the four Miami players picked for this game - he's the undisputed leader of the locker room.
They can see that even up in Tallahassee.
''He's a lot calmer and more poised,'' Florida State coach Jimbo Fisher said. ''You can see the maturity as he keeps going. He's just growing as a player, a very good player.''
Two years ago at home, Miami led 16-0 in the first half and 26-20 in the fourth quarter before falling 30-26 to eventual national champion Florida State - the final margin in that game being the number of points the Hurricanes squandered with a short missed field goal and a blocked extra point.
Last year in Tallahassee, Miami was down 17-3 early and seemed on the cusp of getting blown out before rallying to take a 24-23 lead in the fourth. But that lead didn't hold up either.
In both games, Dalvin Cook - a Miami native - ran for the go-ahead touchdown for Florida State.
''It's Miami week. It don't get no bigger than this,'' Cook said. ''This is one of the games you came to Florida State (for), to play in this rivalry. We're going to take full advantage of it. when you step in that stadium, man, it's something you can't even explain. It's different.''
That it is, and this time, Kaaya is hoping for a different ending.
He can reel off the plays that got away with ease - including four passes in big moments that were batted away, three at the line of scrimmage - though he wishes he could forget them all.
''They all could have been game-changing plays,'' Kaaya said.
His third taste of this series awaits, and the stakes are high as always in this rivalry.
The Hurricanes have a chance to remain unbeaten in the ACC, end that long drought against the Seminoles, probably push their rival out of the AP Top 25 and hand Florida State its first consecutive losses since 2011.
''There's going to be a lot of excitement and a lot of fans there,'' Miami running back Mark Walton said. ''Don't make this game bigger than it's supposed to be. It's going to be a big game, but don't make it a huge stage for us. We're going to try and go out there and be focused.''
In other words, they're going to try to do exactly what their quarterback is telling them.
''It just resonates with me and a lot of people who were here those last two years,'' Kaaya said. ''It kind of sticks with you. You try not to think about it, but every once in a while you catch yourself thinking about it. It's something that's been a point of emphasis this entire year.''
---