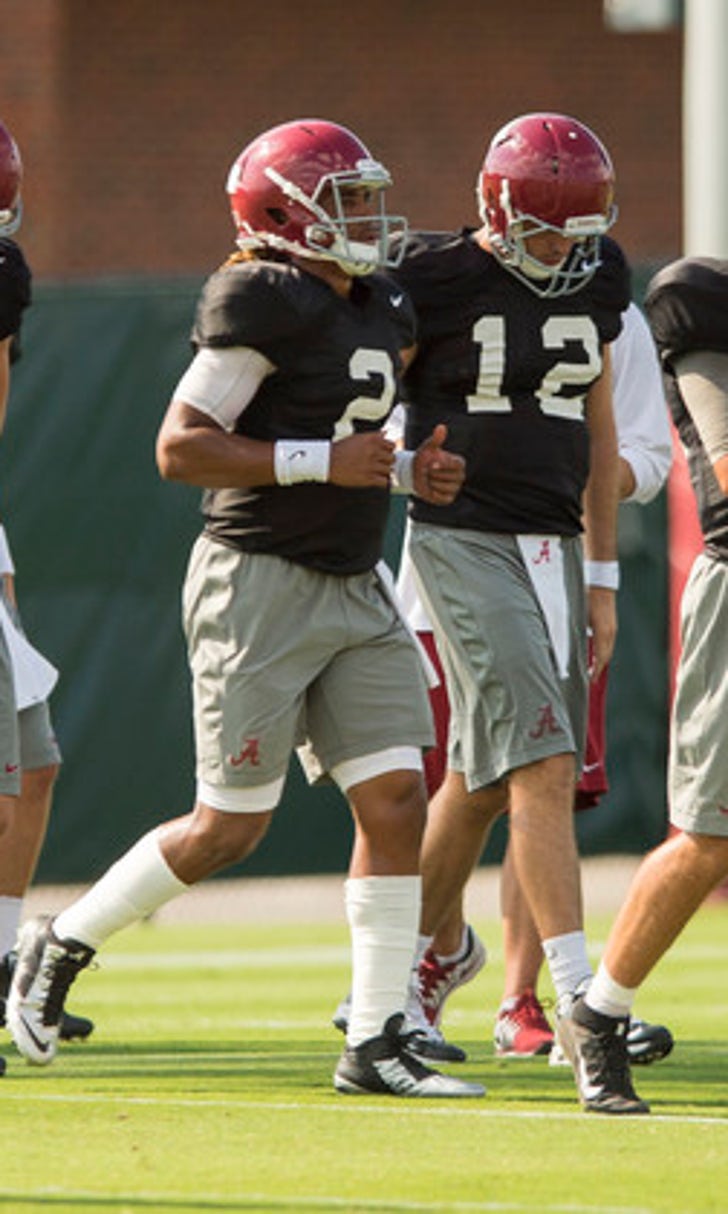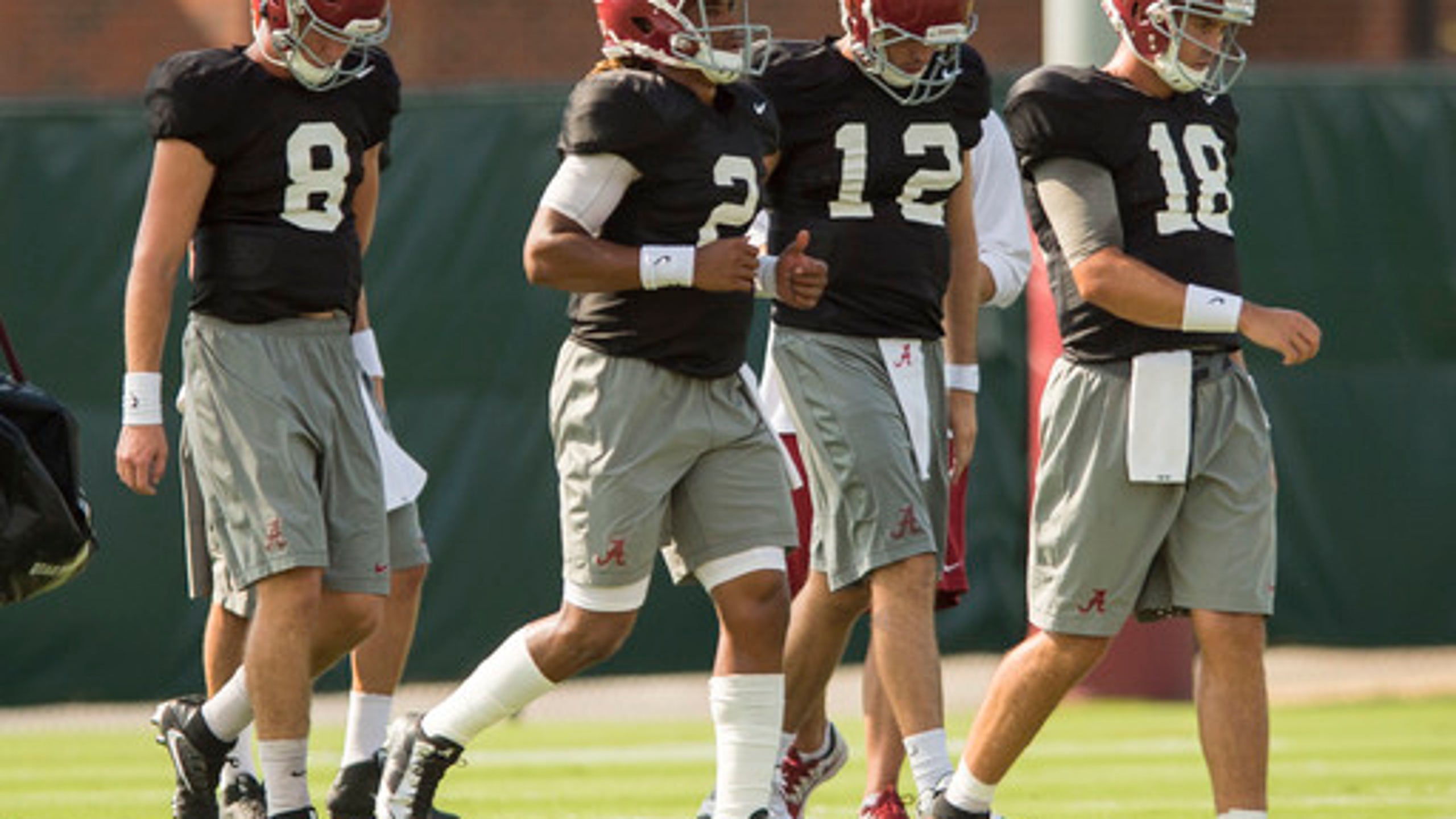 No. 1 Alabama narrows starting QB race down vs. No. 20 USC
BY foxsports • August 29, 2016
TUSCALOOSA, Ala. (AP) Alabama's quarterback competition is down to two candidates for the opener.
The top-ranked Crimson Tide will start either junior Cooper Bateman or redshirt freshman Blake Barnett Saturday night against No. 20 Southern California in Arlington, Texas.
''Cooper Bateman and Blake Barnett are probably the two guys that we're getting ready to play in this game, and that's the way it's going to be for right now,'' Tide coach Nick Saban said on Monday.
Chances are, fans will have to tune in Saturday to see who's going to start and if both will play. It's hardly a new thing for the defending national champions.
Alabama has carried over battles into two straight seasons - at least publicly - and has been to the playoffs both times with one-year starters Blake Sims and Jake Coker.
Freshman Jalen Hurts and sophomore David Cornwell had also vied for the No. 1 spot. Bateman is the only one of the four to make it into a college game, starting the Tide's only loss last season against Mississippi. Sims never relinquished the job.
The 6-foot-5 Barnett arrived as perhaps the most highly rated quarterback prospect Alabama has signed under Saban and has beefed up to 211 pounds since his arrival.
Saban and offensive coordinator Lane Kiffin have gone with the most experienced candidate the past two years, with strong results. Barnett has been through two spring practices after arriving as one of the nation's top quarterback prospects.
Whoever wins the job will have a deep receiving corps led by Calvin Ridley, ArDarius Stewart and tight end O.J. Howard.
''One of the strengths on our team, I feel, is the receivers, and we want to continue to try to have an offense that can create explosive plays through those guys,'' Saban said.
Some coaches prefer a quick quarterback decision so that one guy can start getting the bulk of the practice repetitions with the first-team offense. Saban's OK with waiting to see how they actually perform in a stadium packed with people and a prime-time national TV audience.
He cites a gamer like Rohan Davey, who played for him at LSU.
''I can't tell you how they're going to play in a game, especially the guys that have never played in a game,'' Saban said. ''Cooper has played some in a game here, which I think that experience is certainly a benefit to him, but I don't know how these other guys are going to play in a game. Some guys go into games and they play a lot better.
''Rohan Davey is a guy that I used to go like this (covers eyes) in practice because some days he would throw the ball end over end in practice and then go throw for 400 yards in the game, and I kind of like that, even though it was hard to take sometimes in practice. But you knew the guy was going to play well in the game, because he was a great competitor.''
NOTES: Freshman Jonah Williams, a five-star recruit, is listed as the first-teamer on the depth chart released Monday. Cam Robinson is the only other freshman tackle to start for Saban at Alabama in the opener. ''You wouldn't look at his film and think he was a freshman,'' Tide defensive end Jonathan Allen said. ''He's very experienced. His technique is phenomenal. He knows the playbook as well as any other offensive lineman. He's definitely one of those freshmen who progresses very, very fast.'' ... Ross Piersbacher is moving from center to right guard, while Bradley Bozeman will be snapping the ball. Piersbacher started at left guard last season and was expected to replace first-round pick Ryan Kelly at center. Bozeman started two games at center when Kelly was injured in 2014, then played in every game as a reserve last season.
---