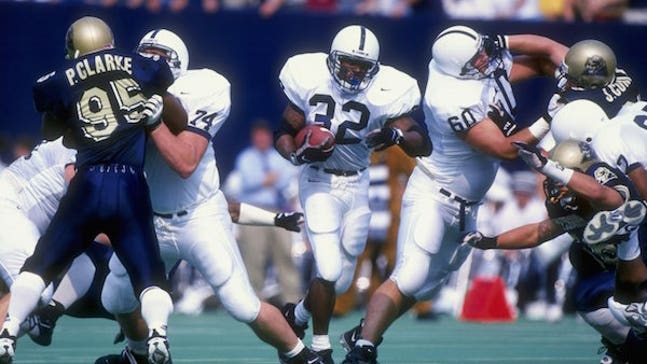 Nine former college football rivalries that need to come back
Published
Jul. 3, 2015 10:12 p.m. EDT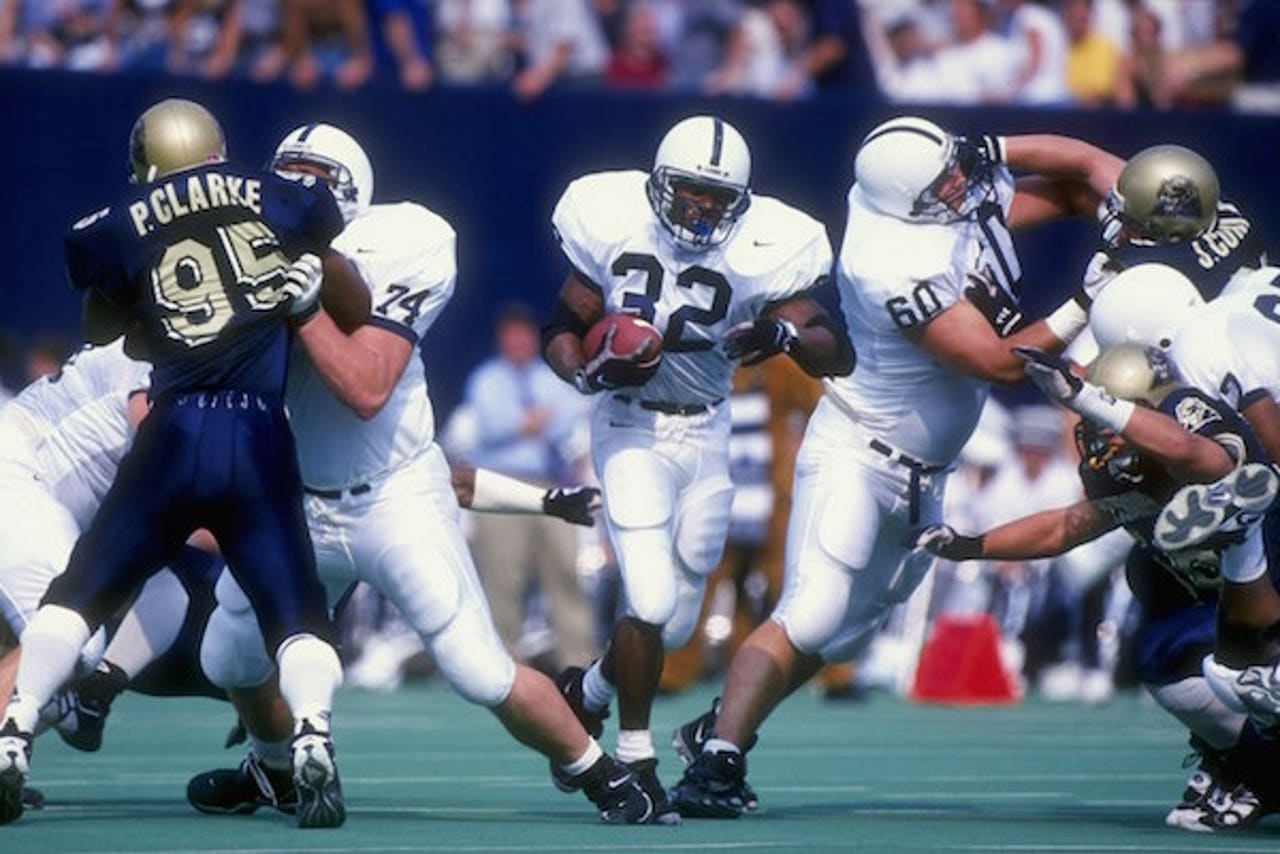 By Daniel Ledbetter
One of the best parts about being a college football fan is a good, old-fashioned rivalry game. Nothing galvanizes a fan base quite the way an inherited hatred felt toward a cross-town/state/border school does.
For teams and coaches, it can be a double-edged sword. A good coach can be run out of town because he couldn't beat his rival. On the other hand, one win can sometimes save an entire season in the eyes of fans and boosters. Nothing takes the sting out of a losing season quite like ruining your rival's national championship aspirations on the last week of the season.
Unfortunately, due to factors beyond the control of fans, some rivalries have fallen by the wayside. Whether it be contractual disputes, conference realignments or any one of a number of other excuses, some of college football's fieriest match-ups have been extinguished in recent years. Below is a ranking of nine former college football rivalries that need to come back.
1. Michigan and Notre Dame
Record – 24–17–1 Michigan
Michigan vs. Notre Dame is one of the oldest rivalries on record, dating back to 1887, even though it hasn't been played every single year. Maybe it's because I grew up in the '90s, but this game always seemed to be of great importance to the national landscape of college football. It was also one of the more exciting match-ups, at least in the early '90s, with multiple comebacks and last-minute wins.
This game isn't completely dead, but there is nothing currently scheduled for the immediate future. Given their history of going on hiatus from time to time, it's certainly possible we'll see this game played again one day. At least it went out with a bang when then-Michigan head coach Brady Hoke called Notre Dame "chicken" for not renewing the rivalry.
It's hard to say exactly why it's over, but it's likely a combination of the Big Ten expansion's effect on Michigan's schedule and whatever you call Notre Dame's relationship to the ACC.
2. Oklahoma and Nebraska
Record – 44-38-3 Oklahoma
When it comes to former college football rivalries, Oklahoma and Nebraska was about as good as it gets. Then the Cornhuskers bolted for the Big Ten, bringing this series to a halt.
To be fair, it hadn't been an annual rivalry since the Big 8 became the Big 12 and the two ended up in separate divisions in 1996. But, back in the day, this was quite the game. They even played in a game that, at the time, was billed as the "Game of the Century" in 1971 when the teams came in ranked No. 1 (Nebraska) and No. 2 (Oklahoma).
Personally, I feel like the real heyday was in the '80s when Tom Osbourne of Nebraska and Barry Switzer of Oklahoma had both of their programs consistently in the national title hunt. There is good news though. This series is set for a short revival in 2021-2022. Mark your calendars.
3. Texas and Texas A&M
Record – 76–37–5 Texas
Yet another victim of the economics of conference realignment, this heated series came to a screeching halt when Texas A&M decided it no longer wished to live in the shadow of big bother Texas and headed off to the greener pastures of the SEC. It's a real shame too because I get the sense that these two schools truly hate each other and still really want a chance to ruin each other's season on an annual basis.
Following Texas A&M's departure from the Big 12, there was even proposed legislation in the Texas State House to require the two teams to play, by law. That certainly is one solution but definitely not the most appropriate use of taxpayer money.
Texas A&M has always really been the little brother in the rivalry, never amounting much success against the Longhorns. Perhaps that made Texas' last-second, game-winning field to win their last match-up a perfect ending (for now). Close but not close enough, Aggies.
4. Florida and Miami
Record – 29–26 Miami
Trophy – Seminole War Canoe
Once an annual match-up to either kick off or end the season, the Florida vs. Miami rivalry began to die out in 1987 when scheduling conflicts caused it to not be renewed. Florida cited SEC regulations requiring them to play eight conference games as the reason for backing away. Some fans and former Miami players say the Gators were scared because of Miami's rise to prominence in the '80s (the players were not kind to the Gators in "The U" ESPN 30 for 30 film on the topic of this game). Considering Miami has won five of the six match-ups since 1987, the lone Gator win being a 2008 Tim Tebow-led beatdown, the Canes and their fans may have a point.
One of the hardest losses in the series for the Gators, and maybe in program history, has to be the incredible 23-point second-half comeback, led by former Gator Brock Berlin, in 2003. Nothing is on the books at the moment, but this rivalry certainly hasn't seen its final game.
5. Pitt and West Virginia
Record – 61–40–3 Pitt
Nickname – The Backyard Brawl
Dating back to 1895, this is one of the older rivalries in all of college football. "The Backyard Brawl" was another casualty of conference realignment with WVU joining the Big 12 and Pitt joining the ACC.
Easily the most memorable of their match-ups in my lifetime has to be the 2007 upset of No. 2 West Virginia at the hands of Pitt, who was a sub-.500 team. The loss ruined West Virginia's otherwise inevitable national championship shot and certainly gave Pitt fans something to be proud of during a rough year.
Personally, I'd like to thank Pitt for doing its part in saving us from what would have been an awful BCS Championship game between WVU and Missouri.
6. Texas and Arkansas
Record – 56–22 Texas
This rivalry is a classic that most fans probably aren't familiar with because it was discontinued a while back in 1991 and hasn't really had a consistent revival since, with two of the five meetings being by chance in bowl games.
In '91, Arkansas left the now defunct Southwestern Conference for the SEC. Texas would later join the Big 12 during its expansion.
The most famous match-up certainly has to be the 1969 "Game of the Century," which pitted No. 1 Texas vs No. 2 Arkansas (that's two "Game of the Centuries" so far if you're keeping track). Texas won the game 15-14, scoring all of its points in a fourth-quarter comeback and was declared the national champion by President Nixon, who was in attendance (and you thought the BCS was wacky). Obviously that did not sit well with a lot of fans, as Texas still had to play Notre Dame in the Cotton Bowl. Lucky for Nixon, Texas won the Cotton Bowl, and he was able to avoid controversy, this time.
7. Pitt and Penn State
Record – 50–42–4 Penn State
Dormant since 2000, this used to be one of the biggest of the former college football rivalries, as it sometimes carried national title implications. Some of the more memorable games came when Dan Marino had Pitt in the national championship conversation. Unfortunately for "Dan the Man," the conversation would include some tough losses to the Nittany Lions.
You won't have to wait long for this one to be revived though, as the teams have agreed to play each other beginning next year (2016) through 2019.
8. Missouri and Kansas
Record – 57-54-9 or 56–55–9 Missouri (depends on which team you ask)
Nickname – The Border War
Trophy – Indian War Drum
Nothing says "I hate you" like actually having fought each other in a war. These two states found each other on opposite sides of the Civil War with Missouri being a slave state and Kansas a free state back in the 1860s, and apparently their relationship has been a little sour ever since. The fighting between the two was rough, and some of that may have carried onto the field.
These teams have actually played the second most games between two rivals in college football, dating all the way back to 1891. There was even a contested result to the 1960 game, which is the reason for the disparity in official records between the two schools. After the game, Kansas was forced to forfeit the win due to a player being declared ineligible after the fact.
The teams discontinued the series following Missouri's move to the SEC.
9. West Virginia and Virginia Tech
Record – 28–22–1 West Virginia
Trophy – The Black Diamond Trophy
This match-up, which ended when Virginia Tech moved to the ACC, began in 1912 but wasn't a fixture on the teams' schedules until 1973. Once Frank Beamer established VT as a consistent top 25 team, the Hookies started to dominate the series, winning nine of the last 12 match-ups.
The good news is the teams are set to resume their rivalry with games schedule in 2017, 2020 and 2021.
More from Gamedayr:
---