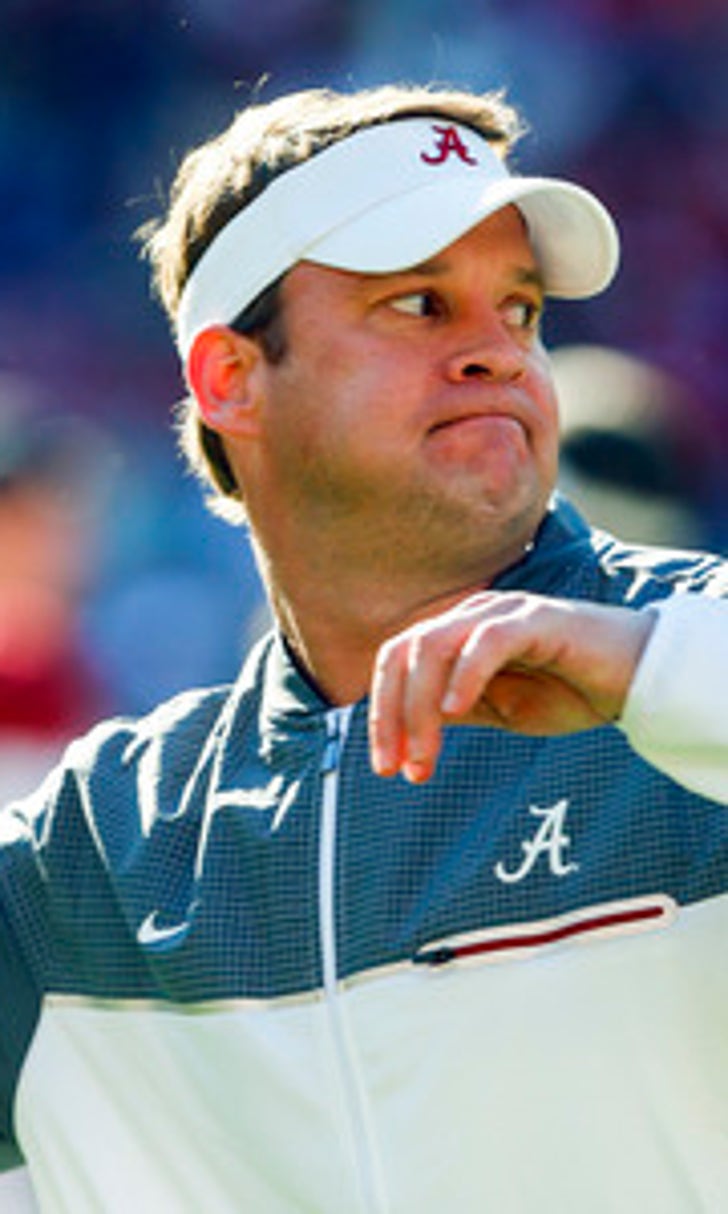 Nick Saban: Lane Kiffin leaving Alabama, going to FAU
BY AP • December 12, 2016
BOCA RATON, Fla. (AP) Lane Kiffin has a chance to help Alabama get to 15 wins this season. And then he's going to take the reins of a program that has won 15 games in the last four years.
Florida Atlantic and Kiffin have agreed in principle on a deal that will make him the school's next head coach. Alabama coach Nick Saban - Kiffin's soon-to-be-former boss - lauded the Owls' move, and said Kiffin will remain with the undefeated and top-ranked Crimson Tide as their offensive coordinator through the College Football Playoff.
''FAU has selected someone that's going to do a great job for them,'' Saban said in Tuscaloosa, Alabama, at a news conference to promote the upcoming Peach Bowl.
Saban was the first person to publicly announce the move; FAU and Kiffin remained mostly silent Monday, even after the news broke. A person with direct knowledge of the talks between Kiffin and the Owls told The Associated Press that he agreed to a five-year contract, speaking condition of anonymity because neither side had discussed terms.
FAU called a Tuesday morning news conference to announce the hire.
''I'm ready to start next season already,'' FAU offensive lineman Matt Murphy tweeted after word of Kiffin's hiring.
A message left for Kiffin was not immediately returned.
''Getting close,'' FAU athletic director Patrick Chun tweeted from the airport in Tuscaloosa on Monday, with a picture that included an Owls visor - Kiffin's preferred headgear.
Soon afterward, a private flight from Tuscaloosa to Boca Raton took off, destined for a runway just a few feet from the Owls' practice fields.
Kiffin has been the offensive coordinator at Alabama for the last three seasons, helping the Crimson Tide win last season's national championship and get back to the CFP field with a 13-0 record so far this year. FAU will be his third collegiate head coaching job, and the first since Southern California fired him five games into the 2013 season.
''Lane's done a phenomenal job for us for the last three years,'' Saban said. ''We appreciate the impact that he's made on this program. We think this is a wonderful opportunity for him to be a head coach again.''
Saban said in recent days that he wanted to help Kiffin get another opportunity to be a head coach. It wasn't clear if Kiffin would have been back at Alabama next season otherwise.
''They've made a great hire,'' Saban said of FAU.
So begins the next chapter for Kiffin, who has been an annual fixture on lists of potential candidates for high-profile coaching jobs. Earlier this fall, he interviewed for the Houston job and was also believed to be a candidate at places such as Oregon and South Florida.
Kiffin interviewed with Houston twice, the school's board of regents chairman told KILT-AM radio in Houston.
''Sure, he's been a head coach and he's been an OK head coach,'' Houston board of regents chairman Tilman Fertitta told KILT-AM in an interview last week, when he called in to discuss how he personally interviewed Kiffin for the Cougars' opening. ''But I can tell you this - it was not a safe hire.''
FAU, which hasn't been to a bowl game since 2008, came to a different conclusion.
FAU and Kiffin had their dialogue intensify late last week, although the pairing seemed somewhat unexpected. Kiffin made $1.4 million this season at Alabama; FAU was paying Charlie Partridge a bit over $500,000 annually when he was fired after his third consecutive 3-9 season.
FAU President John Kelly has wanted to continue raising the school's profile, including on the athletic fronts. And hiring Kiffin is the sort of splashy move that will certainly get the Owls plenty of attention.
''Owl Nation is Soaring High!'' Kelly tweeted on Monday. ''Unbridled Ambition.''
Kiffin lasted 20 games as coach of the Oakland Raiders in 2007 and 2008, going 5-15.
He returned to college ball and was 7-6 in 2009 in his lone season at Tennessee. And he went 28-15 in parts of four seasons at USC.
Kiffin becomes the third marquee coaching hire in the state of Florida in recent weeks. FIU hired former Miami and North Carolina coach Butch Davis in November, and former Louisville and Texas coach Charlie Strong was hired Sunday at South Florida.
They'll all face in-state recruiting battles against Miami coach Mark Richt, Florida State coach Jimbo Fisher, Florida coach Jim McElwain and Central Florida coach Scott Frost.
---
More AP college football: www.collegefootball.ap.org and https://twitter.com/AP-Top25
---
---