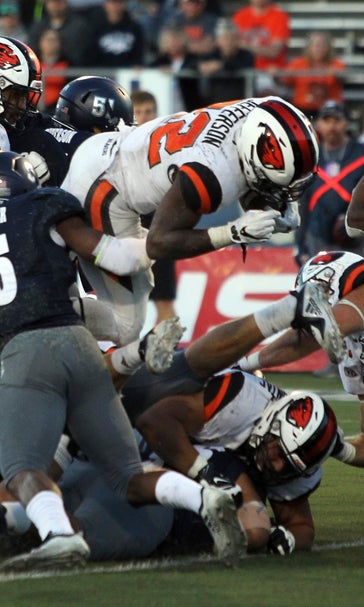 Nevada holds off Oregon State comeback, 37-35
September 16, 2018
RENO, Nev. (AP) — Jordan Choukair lined up for a 33-yard field goal with four seconds left against Nevada on Saturday night with a chance to cap a 23-point Oregon State comeback.
But when the ball passed the goal post, it was Nevada's sideline that erupted as the Wolf Pack held on for a 37-35 victory and grabbed a rare program win against a Power Five school.
"Tonight, we had a whole bunch of guys pouring their heart and soul into that game," Nevada coach Jay Norvell said. "For the coaches, it was like four hours of root canal."
Nevada (2-1) led 30-7 lead with 10:16 left in the second quarter after Asauni Rufus forced Conor Blount to fumble the ball, and Malik Reed picked it up and ran 48 yards for a touchdown. Nevada scored on its first four possessions and the defensive touchdown gave the Wolf Pack a 23-point lead.
After the fumble, Oregon State (1-2) replaced Blount at quarterback with Jake Luton, who left the season opener two weeks ago with a concussion against No. 4 Ohio State.
Oregon State outscored Nevada 28-7 the rest of the way.
Luton finished 23 of 35 for 284 yards passing with one touchdown and one interception. His key target throughout the game, Isaiah Hodgins, caught 14 receptions for 200 yards, both career highs.
"We had a chance," said first-year Beavers coach Jonathan Smith, who was the starting quarterback at Oregon State last time it played Nevada in 1999. "That's a good football team and that's a good offense. We had our chance and we just couldn't take advantage of it."
Nevada's Ty Gangi was 17-of-35 passing for 195 yards and threw two touchdown passes. Toa Taua rushed for 81 yards and one touchdown on 12 carries.
The Beavers dominated Nevada through the air, passing for 459 yards compared to Nevada's 201. But the Wolf Pack's defensive front frustrated the Beavers' offense. Nevada recorded five sacks to Oregon State's one and held the Beavers to two yards rushing per carry.
"I couldn't tell you one stat from this game," Norvell said. "I don't really care. The only thing I care about is the score."
Luton was sidelined with an ankle injury halfway through the fourth quarter, Smith said. Blount re-entered at quarterback and led the final drive of the game to the Nevada 16-yard line before Choukair pulled the last second field goal attempt wide left. Blount finished the game 12-of-20 passing with one touchdown and one interception.
Oregon State's Jermar Jefferson led all rushers with 106 yards on 25 carries.
Nevada wide receiver Brendan O'Leary-Orange was carted off the field on a stretcher in the second half.
"I was very concerned about Brendan O'Leary Orange . I don't have a lot of information on him. He is alert and he is moving, and we are hoping that he has a full recovery and that he is back with us soon," Norvell said.
WINNING FOR HIS BROTHER
Nevada defensive back Berdale Robins had one interception, and said he played Saturday's game for his brother who died a year ago this week. "I talked to my brother and God throughout the day," Robins said.
NEVADA'S SCORING DROUGHT
After scoring on each of its first four possessions and tacking on a defensive touchdown with 10:60 left in the second quarter, the Wolf Pack didn't score again until 9:34 left in the fourth quarter.
CAREER NIGHT FOR ISAIAH HODGINS
Oregon State receiver Isaiah Hodgins caught a career-high 14 receptions for 200 yards. His 14 catches tied the Oregon State single-game record, sharing with Mike Hass and Brandin Cooks.
THE TAKEAWAY
Oregon State: The Beavers' extended their road losing streak to 21 games in a heartbreaking loss at Nevada.
Nevada: The Wolf Pack grabbed a rare win against a Power Five team and held on late against Oregon State.
UP NEXT
Oregon State: The Beavers open Pac-12 Conference play Saturday hosting Arizona. OSU is 8-9-1 in Corvallis against Arizona.
Nevada: The Wolf Pack travels to Toledo on Saturday. Nevada lost to Toledo in Reno last year, 37-24.
---
---