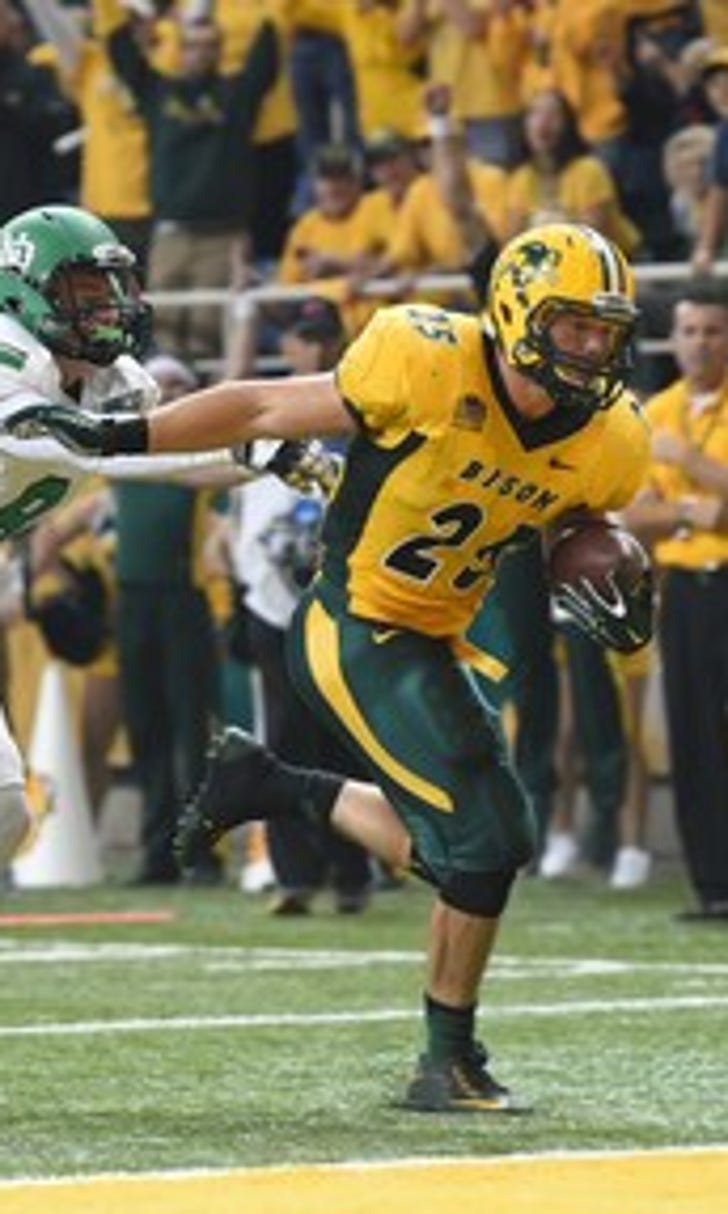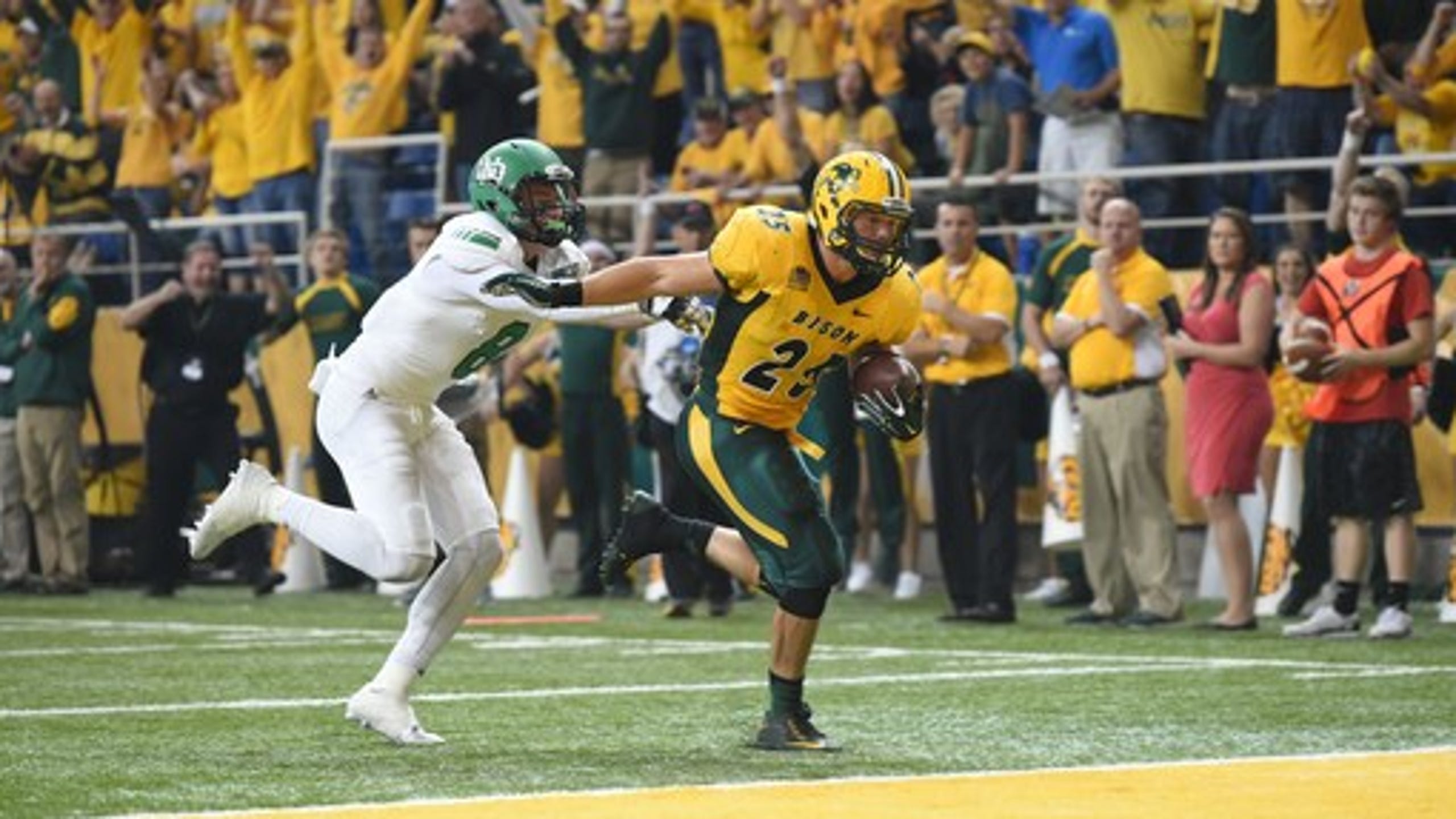 NDSU, Charleston Southern try to keep it normal
BY foxsports • August 26, 2016
(STATS) - It's no longer outlandish to consider a North Dakota State football appearance on national television as, well, normal.
Third-year coach Chris Klieman doesn't believe it's quite reached that level, but the top-ranked and five-time defending national champion Bison are the one FCS team that can treat a game like Saturday night's FCS Kickoff against No. 7 Charleston Southern as just another game.
The Kickoff at the raucous Fargodome and NDSU's third game at Iowa are both being broadcast on ESPN.
"All the exposure's great," Klieman said. "We recruit to it, we talk about it, our incoming kids, kids that we're recruiting, we utilize that because, hey, you can watch us on Aug. 27. I don't care where you're at in the country, you can flip it on and see."
Even if the game wasn't going to draw a million-plus viewers, it would still be a huge early season matchup - the third annual Kickoff which matches two intersectional powers. NDSU lost at Montana 38-35 in last year's game, but the Bison dynasty came back to defeat the Grizzlies in the FCS playoffs on the way to capturing another national title.
NDSU finished 13-2 and atop the STATS FCS Top 25, and Charleston Southern was 10-3 and sixth. Saturday's first meeting between them is the first Kickoff matching two teams in the preseason Top 10.
"We can't allow the moment to be too big," said CSU coach Jamey Chadwell, whose team won the Big South title and reached the national quarterfinals a year ago.
"We've got to get off to a good start and let them know we're there to play. That's the thing we've really worked hard on is to let our guys know, 'You deserve this opportunity, so don't let the moment be too big for you.' If we'll do that, we like our team, too. I like our chances to compete, fight and put ourselves in a position to win."
NDSU has become a staple on ESPN networks, including the many playoff appearances and two visits by the iconic "GameDay" road show, and it regularly draws national media attention. Charleston Southern reached the FCS playoffs for the first time last season and is just gaining national status, although it's come quickly under the successful Chadwell.
While the Bison likely have more of a comfort level playing in the national spotlight, Klieman believes the venue is important as well.
"We haven't played at home for the first game since 2012," Klieman said. "It's hard to prep to go on the road that first game. We assumed we knew what we were going into (at) Montana (with) noise - it was way louder than we thought. We assumed we knew what we were getting into with Iowa State (in 2014) - it just was a different attitude and it was so much hotter. We know the atmosphere we're playing in at Gate City Bank Field."
All six NDSU home games are sold out at the 18,700-seat Fargodome. The Missouri Valley Conference power has gone 48-4 there since 2010.
---=
FCS GAME OF THE WEEK=
The Matchup: No. 7 Charleston Southern (0-0) at No. 1 North Dakota State (0-0)
Kickoff: 7:30 p.m. ET Saturday at the Fargodome
Television: ESPN
Series: First meeting
The Skinny: Who is going to give up the ball? Sure, all teams strive to force turnovers and avoid committing them, but long drives fuel both of these offenses. Last season, NDSU led the FCS in time of possession (36 minutes, 38 seconds), while Charleston Southern ranked first in the Big South and 10th in the nation (33:12).
The visiting Buccaneers are 13-1 in August and September games through coach Jamey Chadwell's first three seasons, including wins in each opening game. Junior QB Kyle Copeland will run the read option, which can rotate running backs with seniors Darius Hammond, Mike Holloway and Ben Robinson (they figure to have fresh legs in the second half). Last season's record-setting defense must remain on the same high level to contain North Dakota State's downhill rushing attack. DE Anthony Ellis (17.5 TFL, seven sacks) is the defensive star and LB Solomon Brown is coming off Big South freshman of the year honors.
NDSU has won 17 straight home openers and 42 straight home games against non-conference opponents. After going 8-0 as a starter while Carson Wentz was injured last season, sophomore QB Easton Stick returns with a great sense of the offense. King Frazier (1,158 yards, 11 TDs) remains the featured running back, but a bigger, stronger Bruce Anderson will gain yards in big chunks as well. The offensive line is without one of its three returning starters, center Austin Kuhnert, because of a two-game NCAA academic suspension. The front seven of the 4-3 defense is experienced, led by MLB Nick DeLuca and DE Greg Menard, but sophomore cornerbacks Jalen Allison and Jaylaan Wimbush are new starters.
Prediction: Former Big South member Coastal Carolina troubled NDSU in the FCS playoffs two years ago, but once NDSU has its power run game going, it should wear down the Charleston Southern defense. North Dakota State, 34-17.
---