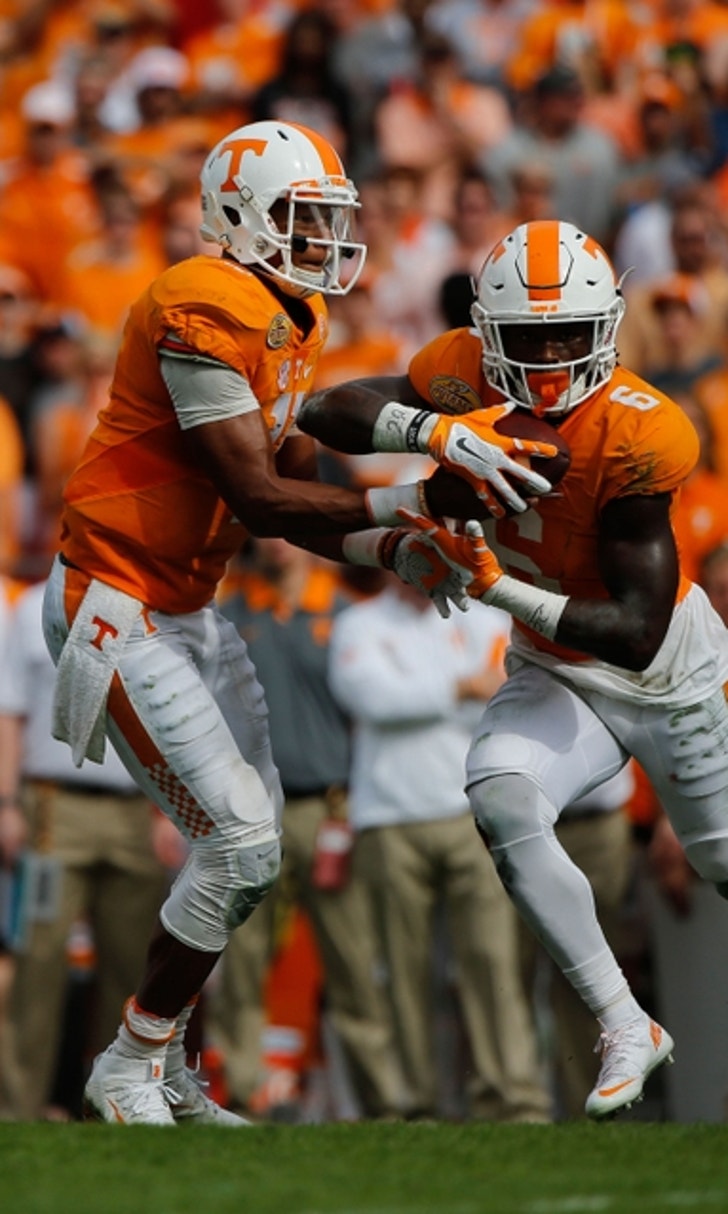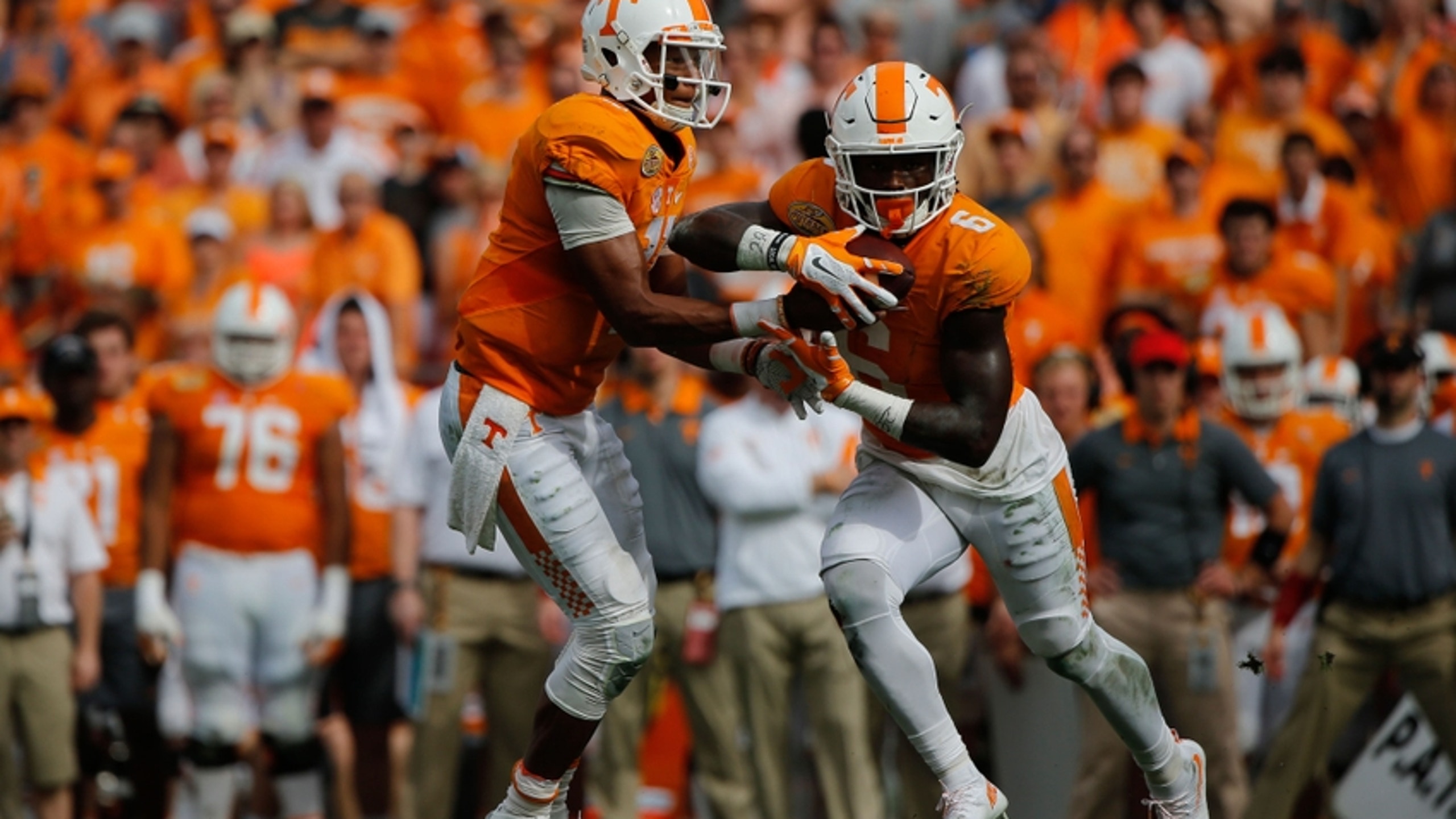 Music City Bowl: 5 Tennessee Vols to Watch for vs Nebraska Cornhuskers
BY Fansided and Caleb Calhoun/FanSided via All for Tennessee • December 28, 2016
Nov 5, 2016; Knoxville, TN, USA; Tennessee Volunteers defensive end Derek Barnett (9) during the second quarter against the Tennessee Tech Golden Eagles at Neyland Stadium. Mandatory Credit: Randy Sartin-USA TODAY Sports
The Music City Bowl features two teams with major injuries to key players. Here are five Tennessee Volunteers to watch for against the Nebraska Cornhuskers.
Just seeing the teams Tennessee and Nebraska play in the Music City Bowl doesn't look right. After all, these are two of the most elite college football programs of all time.
But the Vols and Huskers gave their fans the greatest tease possible this year.
Tennessee jumped out to a 5-0 start under Butch Jones before finishing 8-4. Nebraska jumped to a 7-0 start before finishing 9-3.
Both teams got hit with a slew of injuries that make this Music City Bowl less intriguing.
As AFT writer Tanner Carson pointed out here in his piece on five Cornhuskers to watch for against Tennessee, Nebraska may be without three of its key players in this game.
Meanwhile, Tennessee has been without its top defensive player, Jalen Reeves-Maybin, since the beginning of the year.
They also have two true defensive tackles right now seeing lots of action, and the line has fought injuries all year.
Oh, and there's the mid-season departure of Jalen Hurd.
Taking all of this into account, the Music City Bowl seems very anti-climactic with these two legendary programs.
But it's still a game worth watching, and there are still plenty of Tennessee football players to keep an eye on.
For a few key guys, this is their last game. And they want to make sure they go out with a bang.
Let's take a look at some of them. These are the five Vols to watch for in the Music City Bowl against Nebraska.
Nov 19, 2016; Knoxville, TN, USA; Tennessee Volunteers defensive back Cameron Sutton (23) reacts during the second half against the Missouri Tigers at Neyland Stadium. Tennessee won 63-37. Mandatory Credit: Randy Sartin-USA TODAY Sports
Cameron Sutton
Cornerback, Senior
The Music City Bowl is Cameron Sutton's final game as a Vol, and he's going to be a crucial part of this game after a tumultuous senior season.
The corner can still easily shut down one side of the field, but based on what happened against the Vanderbilt Commodores, he needs more help. Fortunately for him, he will likely be able to take the pass defense into his own hands.
Nebraska doesn't have Jordan Westerkamp in the game at wide receiver, so they only have Stanley Morgan Jr. as a competent receiver to go to (no relation to Vol legend Stanley Morgan).
Add in the fact that backup quarterback Ryker Fyfe is likely to be the starter, and Sutton shadowing Morgan should be all the Vols need to take out the passing game.
Given the fact that Morgan is not that much of a threat at the position to begin with, Sutton should be able to control him.
And he should get an interception in the process.
That makes him a huge part of this game. After a miraculous recovery from injury down the stretch, Sutton has a great chance to finish his senior season with a bang…even if it's not what he envisioned for this year.
Oct 8, 2016; College Station, TX, USA; Texas A&M Aggies defensive lineman Jarrett Johnson (40) and Tennessee Volunteers offensive lineman Brett Kendrick (63) in action during the game at Kyle Field. The Aggies defeat the Volunteers 45-38 in overtime. Mandatory Credit: Jerome Miron-USA TODAY Sports
Brett Kendrick
Offensive Tackle, Junior
The Vols are very thin on the offensive line going into the Music City Bowl with Chance Hall hurt and Venzell Boulware now out.
That's not great news considering they will have their hands full against a very successful Nebraska defense, highlighted by one defensive end: Ross Dzuris.
For the year, Dzuris has racked up five and a half sacks, 43 total tackles, nine tackles for a loss, and a fumble return.
His foe will be the Vols' right tackle, which in this case will likely be Brett Kendrick. Drew Richmond may have settled in as the starting left tackle, so Kendrick will start on the opposite side with less talent but more reliability.
Kendrick has been a major model of consistency for Tennessee football throughout the year. As injuries rattled the entire unit, he managed to start the entire year. Yes, he stayed up front for all 12 games.
And he was at right tackle down the stretch of the season when the Vols racked up record numbers on offense. So he can be trusted to do his job.
But he's really got to step his game up here to contain Dzuris. And he owes that to the Vols' backfield as well, especially the next guy on this list.
Nov 19, 2016; Knoxville, TN, USA; Tennessee Volunteers running back Alvin Kamara (6) runs the ball against the Missouri Tigers during the second half at Neyland Stadium. Tennessee won 63-37. Mandatory Credit: Randy Sartin-USA TODAY Sports
Alvin Kamara
Running Back, Junior
The Cornhuskers showed in their losses to the Iowa Hawkayes and the Ohio State Buckeyes that they can be torched on the ground. In theory, the Vols should be able to do the same thing then in the Music City Bowl due to their elite backfield.
And while John Kelly is one guy who could rack up stats, that task falls mainly with Tennessee's feature back, Alvin Kamara.
Kamara was ridiculously underused again this year but still finished with 565 yards on only 96 carries for an average of just under six yards a carry. He also had nine touchdowns.
Meanwhile, he added 33 receptions for 346 yards and four touchdowns. So he is a do-it-all back out of the backfield.
But he showed that he is capable of breaking 100 yards easily if he just gets enough carries. That has to happen here.
And he could take a few catches out of the backfield as well.
Nebraska's rush defense is extremely vulnerable against elite backfields. And this may be Kamara's last game as a junior. Knowing that, he will want to have an extremely strong finish to the season.
But this junior doesn't have nearly as much riding on this performance as the next junior when it comes to Tennessee legacies.
Oct 8, 2016; College Station, TX, USA; Tennessee Volunteers defensive end Derek Barnett (9) in action during the game against the Texas A&M Aggies at Kyle Field. The Aggies defeat the Volunteers 45-38 in overtime. Mandatory Credit: Jerome Miron-USA TODAY Sports
Derek Barnett
Defensive End, Junior
Derek Barnett finished the regular season with exactly 12 sacks. With that, the junior defensive end tied Reggie White with 32 sacks for the all-time Tennessee football school record.
Everybody in the world knows that Barnett is likely to leave for the NFL Draft after the bowl game. He has absolutely no reason to stay in college given how elite of a pass-rusher he is.
So this game is his last chance to break the school record and stand all alone at No. 1 for the most career sacks in Tennessee football history.
To do that in three years would be an extremely impressive accomplishment. And Barnett deserves it.
After all, he is a playmaker in the best way, and he is also a great leader for the Vols. He has shown great intangibles all year and, despite his NFL Draft stock, did not go the route of Leonard Fournette and Christian McCaffrey.
He openly called it 'disrespectful' not to play in the bowl game and made it very clear he would go all-out there.
However, Barnett will have a tough task getting that school record. He is going up against a Nebraska offensive line that allowed only 11 sacks on the year. So he will have his work cut out for him.
Outside of the record, though, he is a huge part of this game. With a backup quarterback in, the Vols need him to get as much pressure as possible.
And then maybe their quarterback could have a strong finish.
Nov 26, 2016; Nashville, TN, USA; Tennessee Volunteers quarterback Joshua Dobbs (11) drops back to pass during the first half against the Vanderbilt Commodores at Vanderbilt Stadium. Mandatory Credit: Christopher Hanewinckel-USA TODAY Sports
Joshua Dobbs
Quarterback, Senior
So maybe it was not the senior season that Joshua Dobbs hoped for. But he still showed how great he can be and honestly gave himself lots of NFL Draft value because of his performances, even in losses.
His final three games, even in the loss to the Vanderbilt Commodores, may have been the finest three-game run a Tennessee football quarterback ever enjoyed.
Now, with one more game in his career, Dobbs definitely wants to go out with a bang. He's likely not in for a dual-threat duel with Tommy Armstrong of Nebraska since Armstrong looks like he'll be out.
But Dobbs is in for an intriguing match-up.
As we said earlier, Nebraska has already shown it struggles against mobile quarterbacks and elite backfields.
Dobbs is the catalyst of the Vols' backfield, and this game will show once and for all whether or not he truly is elite. It's got to be something he wants to prove as he leaves Tennessee and gets ready for the next stage in his life.
In his last two bowl games, Dobbs showed he can be deadly with preparation. This game is his final chance to do that.
And given the personnel of the Huskers, Tennessee needs him to have a historic day in the Music City Bowl.
More from All for Tennessee
This article originally appeared on
---
---