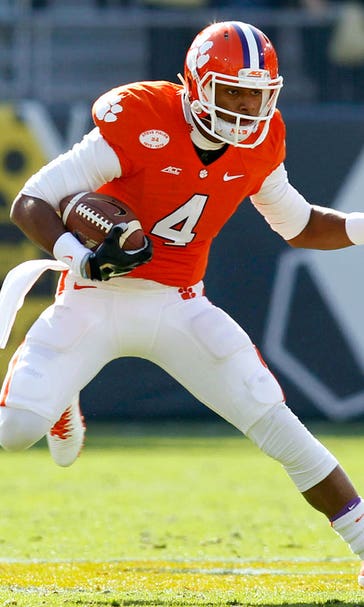 MRI gives Clemson hope to have QB Deshaun Watson back
BY foxsports • November 17, 2014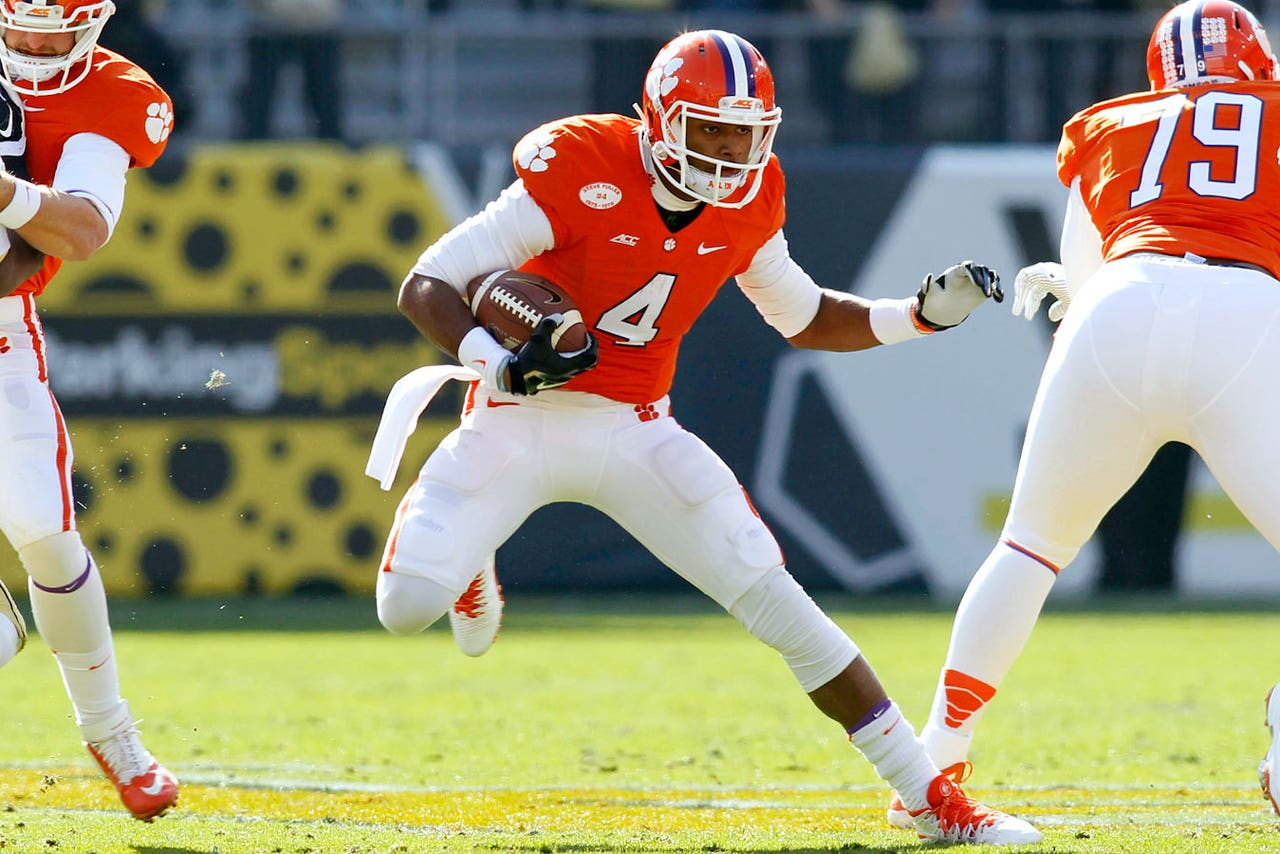 Clemson coach Dabo Swinney says starting quarterback Deshaun Watson has no major damage in his injured left knee and could play again this season.
Swinney said Sunday that an MRI showed Watson had a sprained ligament and a bone bruise. The coach said Watson will be re-evaluated later this week to determine his playing status.
"We've received some great news tonight," Swinney said.
Watson landed awkwardly on a first-quarter run in Clemson's 28-6 loss at Georgia Tech on Saturday, then left for the locker room and did not return. Swinney said he thought Watson was more seriously hurt when he saw the play.
The Tigers (7-3) host Georgia State (1-9) on Saturday, then close the season Nov. 29 against rival South Carolina.
If Watson can play, that would boost an offense that fell apart once Watson headed for X-rays.
Backup Cole Stoudt threw three interceptions, and the Yellow Jackets returned two of them for touchdowns.
Stoudt, a senior who backed up record-setter Tajh Boyd the previous three seasons, opened this year as Clemson's starting quarterback.
Watson took over early in a 23-17 overtime loss at Florida State on Sept. 20 and made his first start a week later against North Carolina.
Watson threw a school-record six touchdown passes in a 50-35 win over the Tar Heels, then led the Tigers to a 41-0 win over North Carolina State the following week.
But Watson hurt his right hand during a run early against Louisville on Oct. 11. He needed surgery to set the bone in his throwing hand.
"He's a great player and he proved that on the field," Swinney said.
Stoudt filled in with Watson on the sidelines and Clemson kept winning, although the team's offensive production fell off: The Tigers had put up 40 points a game in the five contests before Watson's hand injury and 19 points a game in the five games since.
Stoudt had done enough, however, to lead Clemson to four victories in Watson's absence.
That was not the case at Georgia Tech.
On Stoudt's third snap, Yellow Jackets defensive back Jamal Golden intercepted a pass and took it 85 yards for a touchdown that put them ahead for good. In the third quarter, Chris Milton added a second pick six on a 62-yard interception return that put the game out of reach.
Stoudt finished 3 of 11 for 19 yards.
"Obviously, it was pretty much a train wreck in Atlanta," Swinney said.
Swinney has been fortunate not to have quarterback injury issues for his first five seasons. Kyle Parker started all 27 games at the position in 2009 and 2010. Then Boyd took over in 2011 and started all 40 games the past three seasons.
For Watson, it's his third injury since joining Clemson. He sustained a slight crack in his collarbone during spring drills before the hand and knee injuries this fall.
Swinney said he and offensive coordinator Chad Morris would challenge Stoudt to return to form. The head coach said Stoudt's confidence may have taken a few hits from outsiders comparing him to the more talented Watson.
Stoudt has dealt with a bruised left shoulder, something he's played through since hurting it against Louisville.
"It's tough when you lose a job, then get banged up," Swinney said. "We've got to get his confidence back. He can do everything we need him to do to win for us, there's no doubt about that." 
---