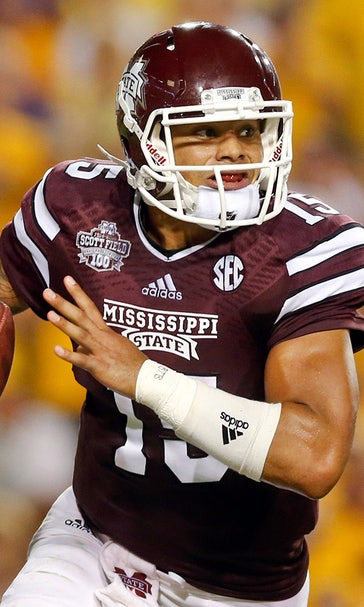 Mizzou trying to simulate Dak Prescott in practice with backups
November 3, 2015

A scout team is a valuable and often underappeciated entity within a football program. Whether walk-on athletes or younger scholarship players, these individuals are paramount when prepping for an opponent. 
In Missouri's case, it's tasked with trying to mimic Mississippi State signal-caller Dak Prescott. The problem is, there aren't a whole ton of options similar to the dynamic quarterback. If that were the case, that individual would likely be starting for the Tigers. 
At 6'2", 230 pounds, Prescott is built like a tank. While powerful and strong, he's also adept at using his quickness to evade defenders in space. While not as decorated, he's somewhat akin to former Florida quarterback Tim Tebow in terms of playing style. 
Defensive coordinator Barry Odom attempts to find a scout team player with elements similar to that of Prescott's skill set. However, that's easier said than done. 
"As a staff we sit down defensively and try to get fit on who that could be running and throwing," said Odom. "He does both equally well. There's not one guy who can take every snap. And honestly, we don't have one guy that looks like him. We're mixing and matching and trying to get the best look we can."
While Missouri's defense ranks in the upper-echelon in the conference, it'll have its work cut out for itself. On the year, Prescott has thrown for 2,048 yards and 14 touchdowns to only one interception. He's also a dangerous player running the football. 
It truly will be an "all-hands-on-deck" type feel for Odom's defensive unit. 
(h/t St. Louis Post-Dispatch)
---
---