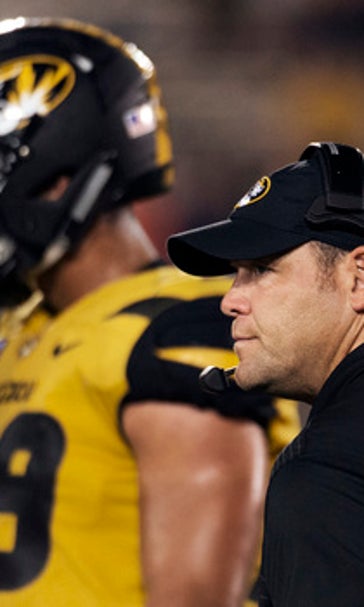 Missouri aiming for second-half improvement against Idaho
October 20, 2017

COLUMBIA, Mo. (AP) Missouri's 1-5 start to the season put coach Barry Odom and the Tigers under fire. And if that wasn't already evident, Odom made it clear last Sunday.
During a team meeting, the second-year coach took game statistics from Missouri's losses, among other items, and set them on fire.
''It was interesting,'' junior quarterback Drew Lock said. ''I was told to sit a couple of rows back just in case anything went haywire.''
Missouri players said Odom's message was to erase the first six games from their memories and start clean for the second half of the season, which begins with Idaho (2-4) at home on Saturday.
The Vandals provide a sense of relief for Missouri's offense, which has faced stout Southeastern Conference defenses such as Auburn and Georgia recently.
After struggling against Auburn on Sept. 23, Missouri's offense rebounded by scoring 34 points against Kentucky and 28 against Georgia , which had allowed just 17 points in its first three conference games.
Missouri's offensive improvements have been led by Lock's deep-ball connection with junior receiver Emanuel Hall. On Oct. 7, Hall posted 129 yards and a touchdown against Kentucky. Last week against Georgia, he had 141 yards and two touchdowns.
''I just realized how I could utilize my talent,'' Hall said. ''As far as speed and angles I could take and how Drew's throwing the ball, I think we have really good chemistry.''
Prior to Missouri's last two games, the Tigers struggled to reach the end zone. In a three-game stretch, the Tigers scored just 30 points, and against Purdue, Missouri managed just 203 yards.
Missouri's remaining schedule, which doesn't include a ranked opponent, provides opportunities for success, starting with the Vandals.
Here are some other things to know as the Tigers look to snap their five-game losing skid:
CROCKETT QUESTIONABLE
Missouri running back Damarea Crockett suffered a shoulder injury against Georgia last week. Odom said Crockett was limited in Tuesday's practice, and his status against Idaho is questionable.
POINTS FOR EVERYONE
Missouri's defense has been charitable, allowing 42.2 points per game, fourth-worst among FBS teams. The Tigers haven't held a team below 30 points.
''It shouldn't be a shootout, offense has to put up 75 points because Georgia put up 53,'' linebacker Terez Hall said. ''If the offense can score 20-something points a game, we should be able to win every game. We're putting up basketball scores.''
HOMECOMING WOES
The nadir of Missouri's 2016 season might have come on homecoming, when the Tigers lost 51-45 to Middle Tennessee State. With homecoming set for Saturday, Missouri is looking to avoid another embarrassing defeat.
''We got off the plane Sunday and said, `It's homecoming week, we can't let another team like that come in (and beat us),'' offensive tackle Paul Adams said.
POWER FIVE OUTAGE
With Idaho moving to the FCS for the 2018 season, Missouri marks its final Power Five opponent until the shift. The Tigers are the only power conference team the Vandals have on their schedule for 2017. Idaho lost its two power conference contests last year, against Washington and Washington State, by a combined score of 115-20.
LAUNCHING PAD?
After facing two ranked teams in its previous three games, Missouri's schedule lightens up with contests against Idaho and Connecticut (2-4) - and then four consecutive SEC opponents.
---
More AP college football coverage: http://collegefootball.ap.org and on Twitter at http://twitter.com/AP-Top25
---
---