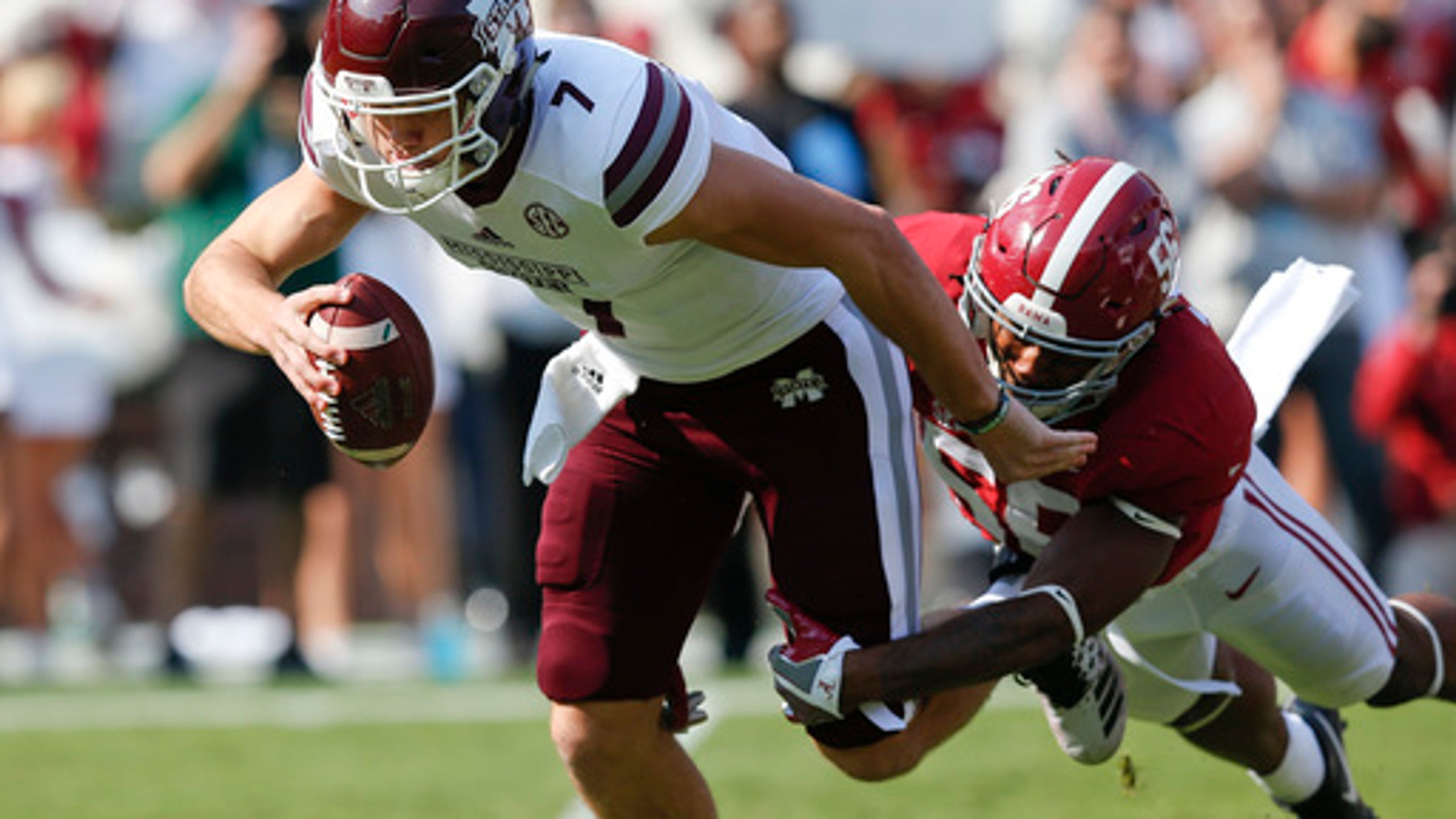 Mississippi State, Arkansas ready to bounce back from losses
BY foxsports • November 18, 2016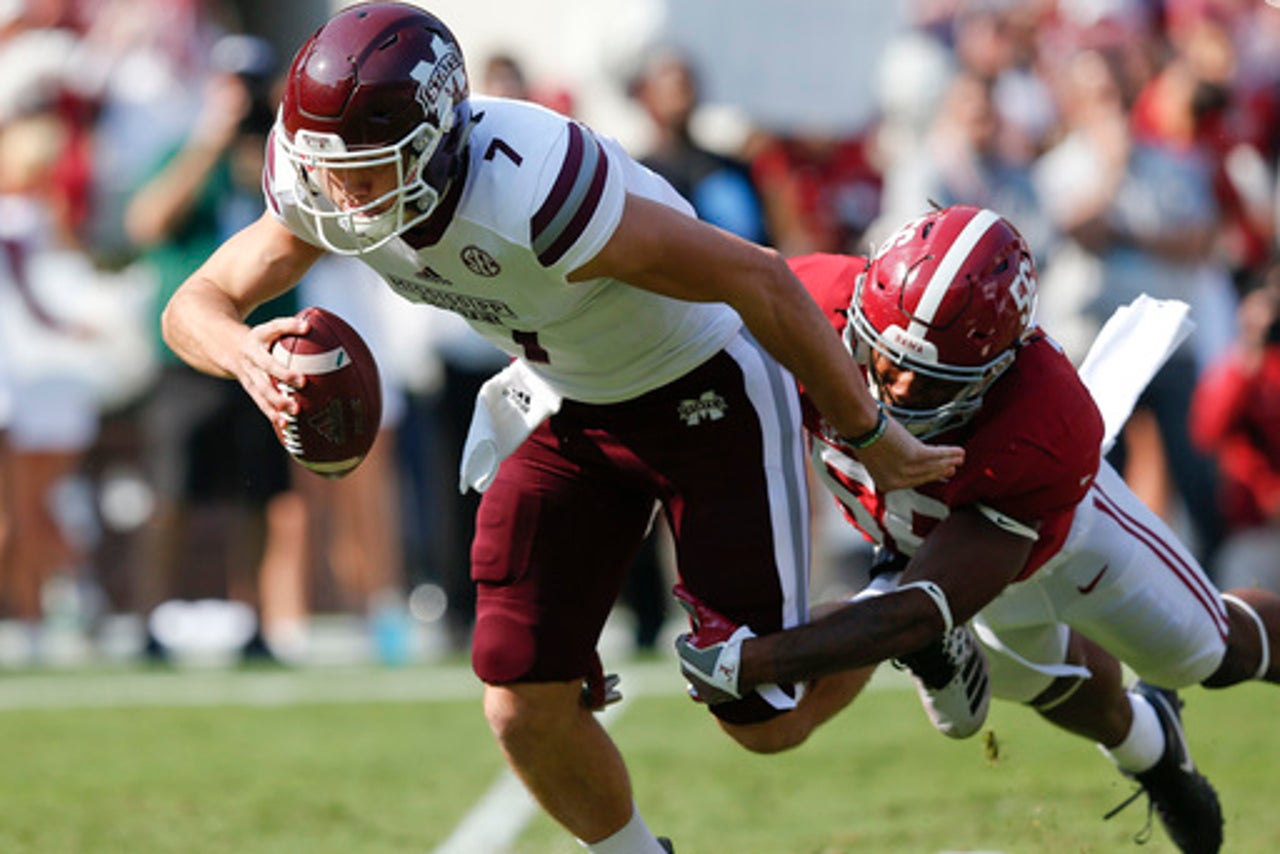 Mississippi State looked bad against Alabama last weekend. Meanwhile, Arkansas was thumped by LSU at home.
But the Bulldogs (4-6, 2-4 Southeastern Conference) and Razorbacks (6-4, 2-4) both say they still have plenty of confidence going into their meeting on Saturday in Starkville, Mississippi. They're also not going to underestimate each other just because of one rough game.
After all, the SEC Western Division has a way of humbling just about everybody at some point.
''Alabama has made a lot of people look not-so good,'' Arkansas coach Bret Bielema said.
He added that Mississippi State coach ''Dan Mullen is extremely talented. He's obviously taken that program to heights it's never been before, if you remember it was just a year or two ago they were in the top 1, top 5 conversation. That doesn't happen by chance.''
Mississippi State was dominated in last weekend's 51-3 loss to the top-ranked Tide. But the Bulldogs are less than two weeks removed from a 35-28 upset win over then-No. 4 Texas A&M.
When Mississippi State is playing well, it's usually got a good ground game going with quarterback Nick Fitzgerald and running back Aeris Williams. This weekend's game appears to be a good matchup for the Bulldogs: The Razorbacks rank close to the bottom of the SEC in rushing defense.
Arkansas hopes to rekindle a passing attack that was great during the first half of the season, but has struggled over the past few weeks. Quarterback Austin Allen is 3rd in the SEC with 2,501 passing yards.
Mississippi State has won four in a row in the series, but the past three have been decided by a touchdown or less.
''We have to be ready to play for four quarters,'' Mullen said. ''Every year this game comes down to the last play.''
---
Some other things to watch when Mississippi State hosts Arkansas on Saturday:
ALLEN'S HEALTH: Arkansas quarterback Austin Allen led the SEC in passing efficiency through the first half of the season, but the first-year starter has struggled since his right knee was injured against Auburn on Oct. 22. In the 2 + games since the injury, the junior has completed only 35 of 71 passes (49.3 percent) and was 15-of-31 passing for 210 yards and two interceptions in a loss to LSU last week. Allen said he's ''fine,'' but he has appeared less-than-willing to push off his back leg on several throws in recent weeks.
RUSH WOES: The Razorbacks rush defense has been hit or miss this season, but mostly miss. A week after allowing only 12 rushing yards by Florida, Arkansas allowed the Tigers to gain 390 yards on the ground last week. LSU sophomore Derrius Guice led the way with a career-high 252 yards rushing, and the Razorbacks are now last in the country against the run - allowing an average of 6.3 yards per carry.
INSTANT CLASSIC: Mississippi State and Arkansas played an entertaining game one year ago that ended with the Bulldogs taking a 51-50 victory in Fayetteville. Bulldogs' quarterback Dak Prescott - who is now leading the Dallas Cowboys - accounted for a school-record 554 yards of total offense and seven touchdowns. The Bulldogs rallied from a 42-31 deficit and blocked an Arkansas field goal in the final seconds to secure the win.
BIG PLAY FITZ: Mississippi State's Fitzgerald has run for 10 yards or more on 33 plays this season, which ranks 11th nationally and is tops in the SEC among players at any position.
ROSS AMONG MSU'S BEST: Mississippi senior receiver Fred Ross has become the most productive player at his position in school history. Over the past four weeks, Ross has set four of the school's career records, including catches (184), consecutive games with a catch (32), 100-yard receiving games (9) and receiving yards (2,275).
---
AP Sports Writer Kurt Voigt in Fayetteville, Arkansas, contributed to this story.
---
More AP college football at www.collegefootball.ap.org and https://twitter.com/AP-Top25 .
---