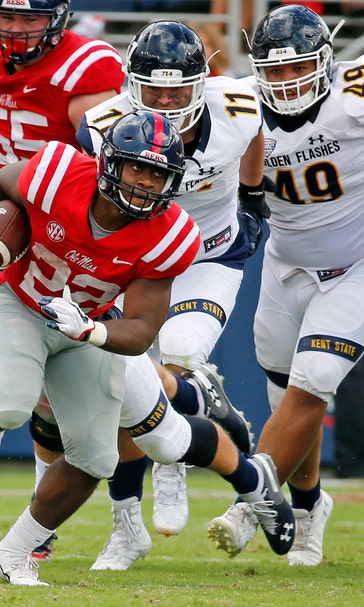 Mississippi rallies in second half, beats Kent St 38-17
September 22, 2018
OXFORD, Miss. (AP) — On back-to-back plays, DaMarkus Lodge grabbed a pass and then hurdled over a defender for a 30-yard gain before D.K. Metcalf made a stunning one-handed catch for a 41-yard touchdown.
It was a brief reminder of how good this Ole Miss football team — particularly the offense — can look when playing well.
The rest of the Rebels' 38-17 win over Kent State on Saturday was mostly a reminder of how much improvement needs to be made if they want to compete in the Southeastern Conference.
"There's always more to accomplish, but we definitely got better this week," Ole Miss safety Zedrick Woods said.
Early in the game, Ole Miss struggled to shake the malaise of last week's 62-7 loss to No. 1 Alabama, limping into halftime tied at 7 with the Golden Flashes.
But the Rebels (3-1) looked much better in the second half and finished the game with 651 total yards. Jordan Ta'amu threw for 442 yards, two touchdowns and ran for another score. Scottie Phillips ran for 112 yards and a touchdown and also caught a 38-yard touchdown pass.
The game had two delays for lightning, including a 53-minute stoppage at the beginning of the second half and another 1-hour, 43-minute delay in the fourth quarter.
Kent State (1-3) pulled within 21-17 midway through the third quarter on Woody Barrett's 2-yard touchdown run, but couldn't get closer. Ole Miss responded with two lengthy offensive drives that added 10 points and gave the Rebels a comfortable advantage.
"We finished well in the second half - it looked more like it was supposed to look," Ole Miss coach Matt Luke said. "Guys started making some plays. Overall, just pleased we were able to get a big win and a bounce-back win."
Barrett completed 24 of 42 passes for 224 yards and an interception. He also ran for 53 yards, including the 2-yard touchdown.
Ole Miss got off to a decent start when Ta'amu threw a short swing pass to Phillips, who ran for a 38-yard touchdown and a 7-0 lead. But then the Rebels' offense inexplicably went cold.
The usual long passes from Ta'amu to his talented receivers weren't connecting and the running game wasn't able to offset that problem. That kept the Golden Flashes in the game, but they weren't able to totally capitalize.
Kent State had 264 total yards in the first half, but managed just one touchdown. It came on a Barrett lateral to Kavious Price, who threw for an 18-yard touchdown to a wide open Jo-El Shaw.
"I told our bunch that we are 1-3, but we're better than 1-3," Kent State coach Sean Lewis said. "Our players have proven they keep living in the moment and the Power Five stages aren't too big for us."
Metcalf caught five passes for 102 yards, including the one-handed touchdown catch. A.J. Brown caught seven passes for 96 yards.
THE TAKEAWAY
Kent State is certainly battle tested after playing Illinois, Penn State and Ole Miss in nonconference play. The Golden Flashes had some opportunities to put a lot of pressure on Ole Miss during the first half, but squandered too many opportunities to get a win over an SEC team.
Ole Miss will certainly take the win, but the team's strengths and weaknesses haven't really changed. The Rebels' offense can be awesome, and Metcalf's one-handed catch on a 41-yard touchdown will certainly make the highlight reels, but the defense still looks too inconsistent for Ole Miss to have much success in SEC play.
A LONG STRANGE TRIP
It was a long road trip for Kent State's football team even before the two lengthy lightning delays on Saturday.
Lewis said the Golden Flashes were delayed seven hours at the airport on their way to Oxford and had to have their offensive and defensive walkthroughs and team meetings in an airplane hangar between two jets.
"It's been the trip of all trips," Lewis said. "I've never been through anything like it, but it's been a great lesson in dealing with adversity and our guys handled it."
UP NEXT
Ole Miss travels to face LSU next Saturday.
Kent State travels to face Ball State next Saturday.
---
---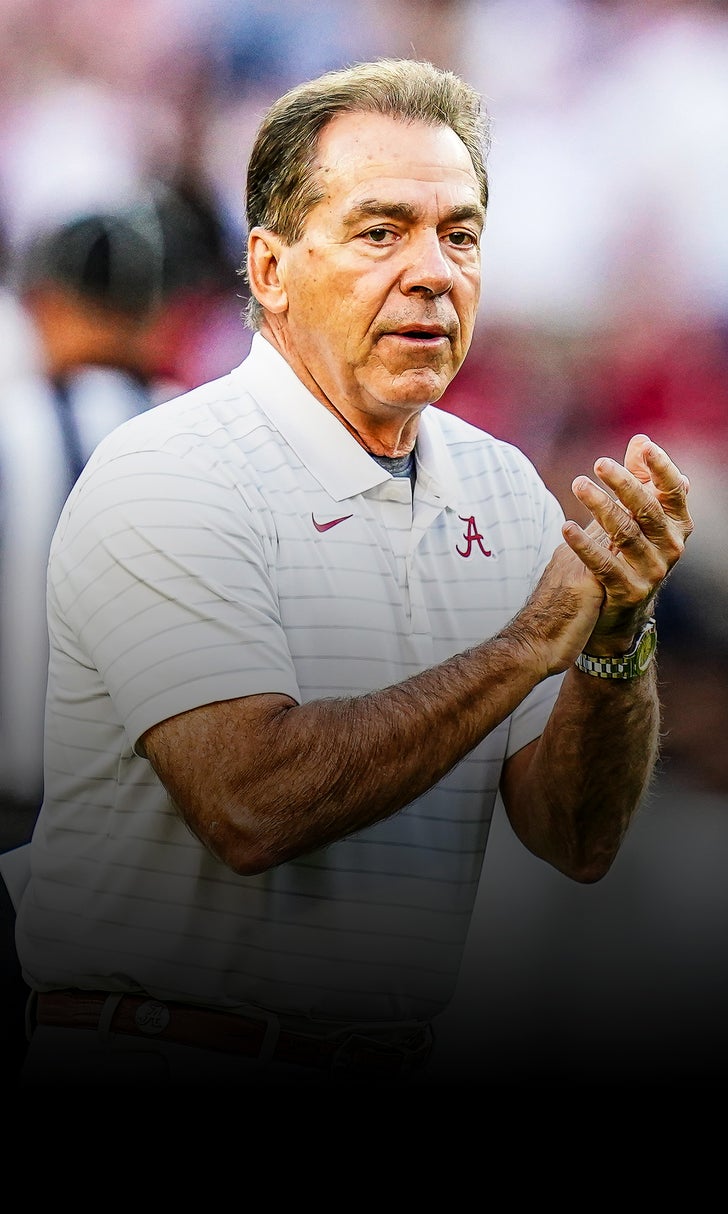 Alabama ranked No. 1 in preseason coaches' poll