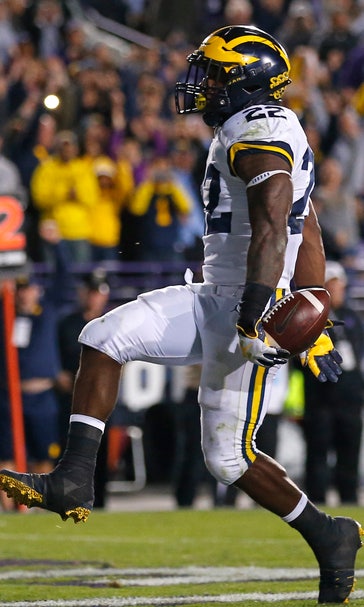 Michigan RB Higdon packed on muscle to give, take pounding
October 1, 2018
ANN ARBOR, Mich. (AP) — Michigan running back Karan Higdon packed on about 15 pounds on muscle during the offseason, hoping the extra weight would help him give and take a pounding.
It's working.
Higdon had a career-high 30 carries, ran for 115 yards and scored two touchdowns to help the Wolverines rally from a 17-point deficit to beat Northwestern 20-17.
Two days later, the 5-foot-10, 205-pound senior insisted his body felt fine. He credited the team's strength and conditioning staff for getting him ready for the performance and the recovery.
"More muscle mass and more weight prepared my body to take a lot more hits," Higdon said Monday. "Last year, I ran the same way — hard, angry. I'm doing the same thing this year. I'm just a little heavier."
No. 15 Michigan (4-1, 2-0 Big Ten) will likely lean on Higdon to carry a heavy load against Maryland (3-1, 1-0) on Saturday at home. Higdon is averaging 119.8 yards rushing per game, ranking second in the Big Ten and ninth in the nation.
He has been slowed down just twice this season. Notre Dame limited him to 72 yards and a score on 21 carries in its season-opening win. Higdon missed the SMU game two weeks later with an undisclosed injury.
In his past three games against the Wildcats, Nebraska and Western Michigan, he has averaged 136 yards rushing.
"The biggest improvement I've seen from Karan is the extra yards, the yards after contract that he's gaining," Michigan coach Jim Harbaugh said. "If a play is blocked for 2 yards, he's getting 4 and 5. The thing he's continuing to build on is his ability to catch the ball. He's done that and been able to turn a 4-yard gain into a 7- 8- or 9-yard gain, making the first defender miss."
Higdon has caught just two passes this year, gaining 9 yards on one catch and 7 on the other.
Running the ball, though, is what he does best and he no longer is getting the ball exclusively on plays set up between offensive tackles.
"He's really got the ability to run all the assortment of runs," Harbaugh said. "He's not in a category where he can only run outside runs or only run inside. He can do both and he can also pass protect. High level of trust with Karan with every phase, including ball security It allows us to do as much as the offense has."
While Michigan's offense is much improved because of quarterback Shea Patterson, it has been able to move the ball and score because of the balance provided by a Higdon-led running game.
"There's a variety of different threats," he said. "You got the receivers who are showing up, quarterback showing up, running backs showing up. When you have all three phases working together, it's a great thing."
It also helps that the offensive line is creating larger holes than it did last season and is giving Patterson plenty of time to throw.
The offensive line, in turn, loves blocking for Higdon because it enjoys watching him punish players who try to tackle him.
"Karan is one of the hardest runners I've ever seen for his size," offensive tackle Jon Runyan said. "Running over people. Breaking tackles. Never going down. That's something that kind of fires you up as an offensive lineman. Makes you want to block a little harder because you never know when he'll be able to spring one out for a long run like he has in the past."
---
---