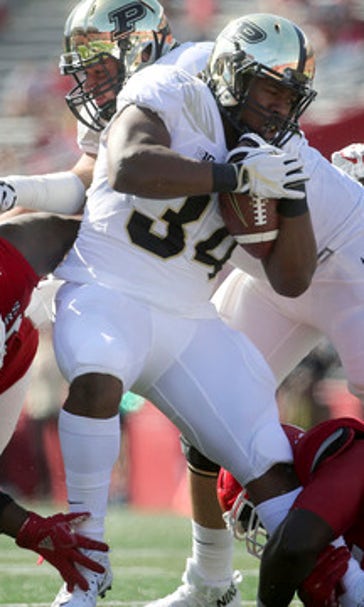 Michigan coach Jim Harbaugh refusing to make changes at QB
October 27, 2017

ANN ARBOR, Mich. (AP) Jim Harbaugh has not budged yet. And, it does not sound as if he is about to change his mind about who is playing quarterback at Michigan.
The former Wolverines and NFL quarterback continues to put John O'Korn on the field, keeping backup quarterback Brandon Peters on the bench, despite lackluster results.
O'Korn has thrown for an average of just 122 yards a game with only one touchdown and four interceptions in six games, including the last three as a starter in place of injured Wilton Speight. Even while No. 2 Penn State was routing Michigan 42-13 last Saturday night, it wasn't until late in the game that Harbaugh attempted to get Peters some game experience.
When the Wolverines (5-2, 2-2 Big Ten) host Rutgers (3-4, 2-2) on Saturday, they're expected to have O'Korn under center at the start of the game. Peters is getting ''backup snaps,'' in practice and that seems to be the only time Harbaugh plans on that happening.
''He's one play away right now and every day readying himself to be out there playing,'' Harbaugh said.
Here are some other things to know about in a matchup of fourth-place teams in the Big Ten East:
SURGING SCARLET KNIGHTS: Rutgers has won two straight Big Ten games for the first time since entering the conference in 2014. The Scarlet Knights have not won three consecutive conference games since winning five in a row as a Big East program in 2012.
''They're excited and they're eager to keep getting better,'' Rutgers second-year coach Chris Ash said. ''It's a pretty positive mood. They know we're getting better.''
TRYING TO TUNE IT OUT: Michigan, which rose to No. 7 after a 4-0 start, fell out of The Associated Press poll this week for the first time in two-plus years. A 42-13 loss at No. 2 Penn State, an overtime win at Indiana and a four-point loss to previously unranked Michigan State will do that. The stretch , which has included a lot of problems on offense, has led to questions about and criticism of the Harbaugh-led program.
Receiver Grant Perry acknowledges he sees the shots on Twitter, but not for long.
''I just keep scrolling,'' Perry said.
Running back Ty Isaac called the commotion ''outside noise,'' that he ignores.
''If you're not in here, that opinion doesn't matter - good or bad,'' he said.
GIO FACTOR: Gio Rescigno replaced Kyle Bolin as Rutgers' starting quarterback two weeks ago and led the team to wins over Illinois and Purdue. Rescigno, who started the final five games last season, has not posted big numbers in the wins. He passed for 87 yards against the Boilermakers and 89 against the Fighting Illini.
BOUNCING BACK: Harbaugh said his team has an opportunity to show how competitive it is, following the humbling loss to the Nittany Lions.
''I believe that our team will respond,'' he said.
MAKING AMENDS: Rutgers' defense has improved since Michigan shredded it in a 78-0 rout last season, a game Ash didn't plan to address with his team this week.
''We're not talking about last year,'' Ash said. ''That's not even in our thoughts or conversations.''
The Scarlet Knights are No. 22 in the nation in third-down defense, holding opponents to 30 percent. They have nine interceptions, one more than all of last year. Rutgers has allowed 4.5 yards per rush compared to 5.7 last season. Opponents have scored touchdowns on just 12-of-22 trips inside the red zone.
---
More AP college football: www.collegefootball.ap.org and https://twitter.com/AP-Top25
---
---