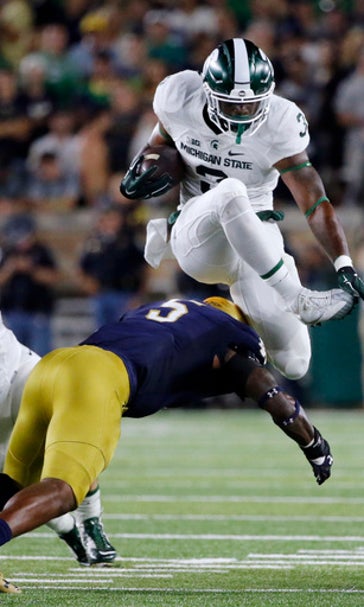 Mich St RB Scott charged with driving on suspended license
October 19, 2017

EAST LANSING, Mich. (AP) Michigan State running back LJ Scott has a day in court to face a charge of driving with a suspended license.
East Lansing District Court records Thursday show Scott scheduled for a pre-trial hearing Nov. 2.
The Lansing State Journal reports Scott was released on a personal recognizance bond after being charged with driving on a suspended license, or a similar charge, for a seventh time.
Scott had a career-high 194 yards rushing and two touchdowns last week in a win at Minnesota and became the 18th player at Michigan State to have 2,000 yards rushing.
The 18th-ranked Spartans (5-1, 3-0 Big Ten) host Indiana (3-3, 0-3) on Saturday. After Scott's scheduled pre-trial hearing, Michigan State plays No. 2 Penn State at home.
---
More AP college football: collegefootball.ap.org and twitter.com/AP-Top25
---
---