Mayock: Knee injury may have cost Jaylon Smith No. 1 pick
Published
Feb. 24, 2016 6:15 p.m. ET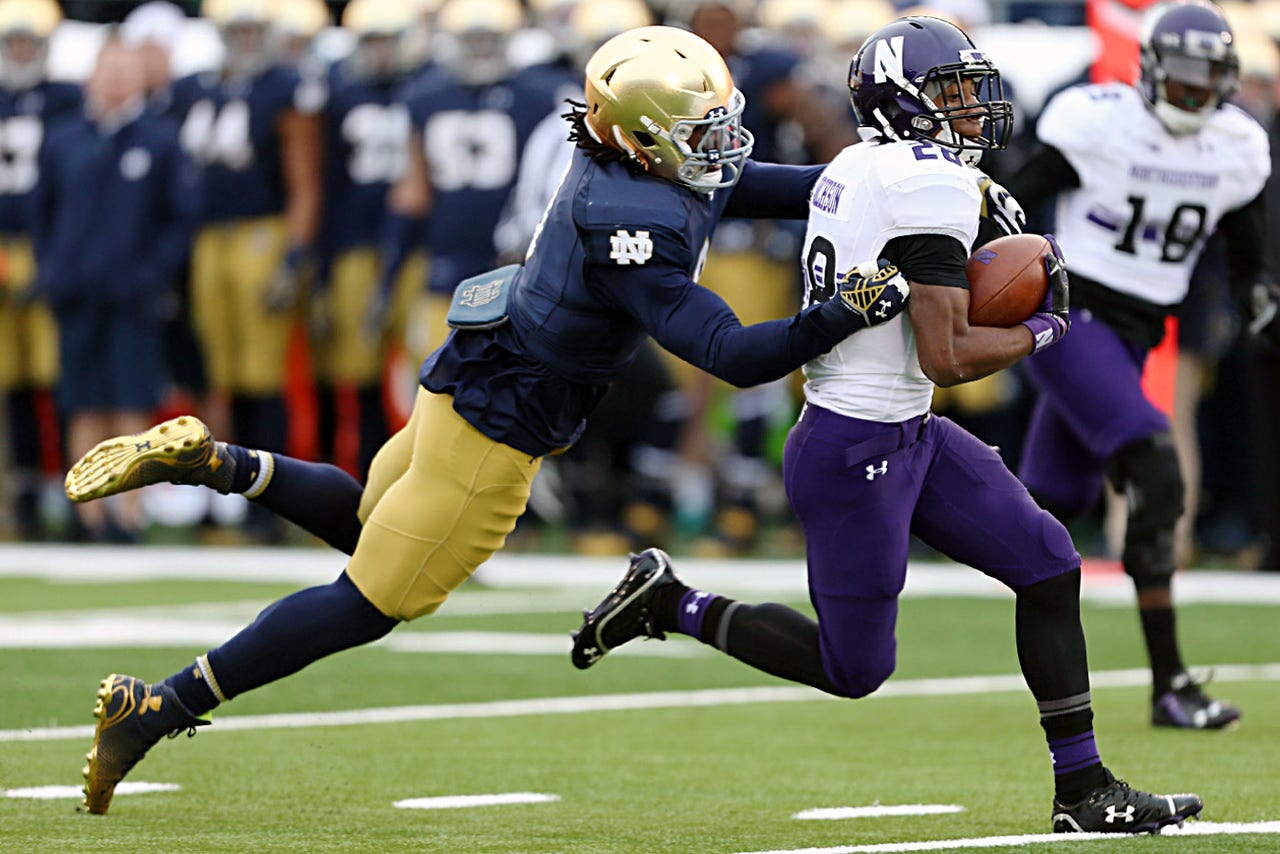 How much did a knee injury in the Fiesta Bowl coast Notre Dame linebacker Jaylon Smith? 
We won't know for sure until the draft in April, but NFL Network analyst Mike Mayock suggested this week it could be quite a bit. 
"First and foremost, I feel horribly for the kid injuring the knee, especially when he injured it in the bowl game," Mayock told reporters on a conference call Tuesday. "Secondly, if he did not get hurt, he'd be in the conversation for the first pick in the draft. That's how good his junior season was." 
Smith won the Butkus Award as the nation's best linebacker in 2015. 
He led Notre Dame with 114 tackles, including nine for loss and a sack. He also broke up five passes and recovered two fumbles. 
Despite Smith's injury, Mayock has Smith ranked No. 1 among linebackers. 
However, slipping from the first pick in the draft to 15th could have significant financial impact. 
Per NFL.com, Jameis Winston's contract as the No. 1 overall pick last year was worth about almost $13 million more than Melvin Gordon's deal as the No. 15 pick. There was a difference in signing bonuses of over $10 million. 
In Mayock's eyes, Smith improved significantly during his junior season and can be a three-down linebacker in the NFL. 
"He (plays) sideline to sideline with speed," Mayock said. "He's as exciting a linebacker prospect as I've seen since Luke Kuechly as far as an insider, off-the-ball linebacker. That's how excited I was for him." 
Smith has had his knee repaired surgically and will be examined by NFL doctors during the Combine in Indianapolis, which means teams should have a better idea of exactly when he might be ready to play this fall. 
"What happens after that is if that analysis of the knee, the medical, is compounded by potential nerve damage or any other extenuating circumstance, then you start saying, 'Uh oh, what's going to happen? When are we going to get this kid, and will he ever get to be 100 percent again?'" 
If all comes out well in the medical exam process, Mayock still sees Smith being picked in the top 15. 
"He's that special," Mayock said. "If there's any cloudiness or murkiness around that knee between now and the draft, teams are going to look at it differently, and since we don't know yet what it is, I can't go there, but I think that's as close as I can get today." 
Even if Smith can only play half of his rookie season, he is worth a high pick. 
"This kid is so good that if the medical is clean, you have to take a big-picture look at him, and by that I mean two years from now," Mayock said. 
"You want to have maybe one of the two or three or four best linebackers in football, and you might have to wait a half a season for him, to me every team is going to have a different answer to that... but if he has clean medical and you know you're going to get him for a half season plus and he's going to be fine, yeah, I think you pull the trigger on a kid like that." 
Mayock also had high praise for offensive tackle Ronnie Stanley. 
"I've seen an awful lot of Ronnie Stanley," said Mayock, who used to be a color analyst for Notre Dame football broadcasts on NBC. "He was a great high school basketball player in Las Vegas. He's got basketball feet. He's a prototype left tackle. I think he's closer to (Mississippi tackle Laremy) Tunsil than a lot of people do. They're very similar, great feet, long arms, both are pass protectors first, which is what you want in this pass-first league. Both of them a little bit suspect in the run game, but I think Ronnie Stanley is a day-one starter and would be a solid option for Baltimore at 6." 
Asked about two more of Notre Dame's draft prospects, Mayock said he projects running back C.J. Prosise as a fourth-round pick with receiver Will Fuller going in the second or third. 
"He's going to run 4.35 (in the 40-yard dash), but does not have natural hands," Mayock said of Fuller. "And then you start getting down to the point where we'd better pick one guy that fits something we do." 
---
---