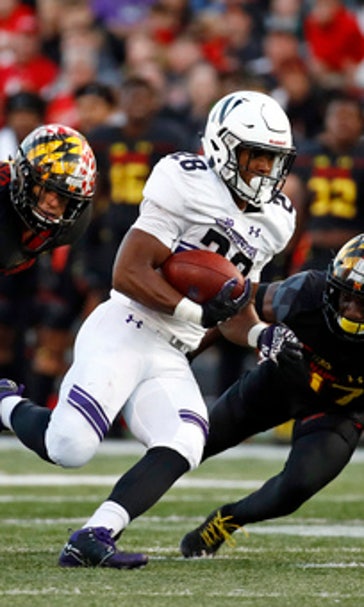 Maryland strives to improve Big Ten's worst defense
October 17, 2017

COLLEGE PARK, Md. (AP) Maryland's season is spinning out of control, and the Terrapins find themselves defenseless in their bid to stop it.
Although much of the attention at Maryland this season has focused on the quarterback position, the team's most obvious flaw is its porous defense.
The Terrapins have yielded an average of 36.5 points per game, which ranks last in the Big Ten and 115th of 129 teams in the Football Bowl Subdivision. They are permitting 439 yards per game - last in the Big Ten and 104th in the FBS.
Over the past two games, Maryland (3-3, 1-2) has given up 99 points and 1,115 yards. One big reason is that the Terrapins have one sack in their last three games.
''We definitely need more pressure on the quarterback,'' coach DJ Durkin said Tuesday. ''That's pretty much a staple of football. If you allow a quarterback to be patient and calm in the pocket, they usually find a guy open.''
That's happened more times this season than Durkin would care to remember, and goes a long way toward explaining why Maryland's pass defense is 107th in the FBS.
Even though injuries have cost the Terrapins their top two quarterbacks , perhaps the most notable injury is the broken ankle sustained by defensive end Jesse Aniebonam in the season opener. Aniebonam had nine sacks, 14 tackles for a loss and 30 quarterback hurries in 2016.
''It's been a little shaky getting through it,'' defensive back Antoine Brooks Jr. said.
''When you lose Jesse off the bat like that, he's your main pass rusher,'' end Brett Kulka said. ''So it's going to be an issue to work through.''
Durkin got the job at Maryland after a successful runs as a defensive coordinator at Florida and Michigan. In his second season at Maryland, he's tried just about everything to turn things around with this unit.
In the end, though, it comes down to individual effort.
''I'm sure there's always times when you can have a better call in certain situations, but guys have to win 1-on-1s,'' Durkin said. ''If they keep enough guys in the block, someone's got to win a 1-on-1. It's really an attitude and a demeanor. It's about having the right attitude of, `I'm going to go win. I'm going to beat a block.'''
That didn't happen often last weekend in a 37-21 loss to Northwestern. Not only did the Wildcats pass for 293 yards, but tailback Justin Jackson rambled for 171 yards.
It was the third defeat in four games for the Terps. Things don't get any easier Saturday against No. 5 Wisconsin and Big Ten rushing leader Jonathan Taylor, who amassed 219 yards on the ground last week in a win over Purdue .
''He's hard to tackle,'' Durkin said. ''He's got good speed, good vision. He understands what they do. Where to hit the hole, when to be patient how the blocks are going to unfold.''
It's going to take a huge effort from the Maryland defense to pull off an upset.
''We need to go back to the basics,'' Brooks said. ''We need to run to the ball more, make more tackles, cause more turnovers.''
---
More AP college football: http://collegefootball.ap.org and https://twitter.com/AP-Top25
---
---