Mailbag: Shelf life of Alabama's dynasty, Week 1 surprises and more
Published
Aug. 13, 2014 12:00 p.m. ET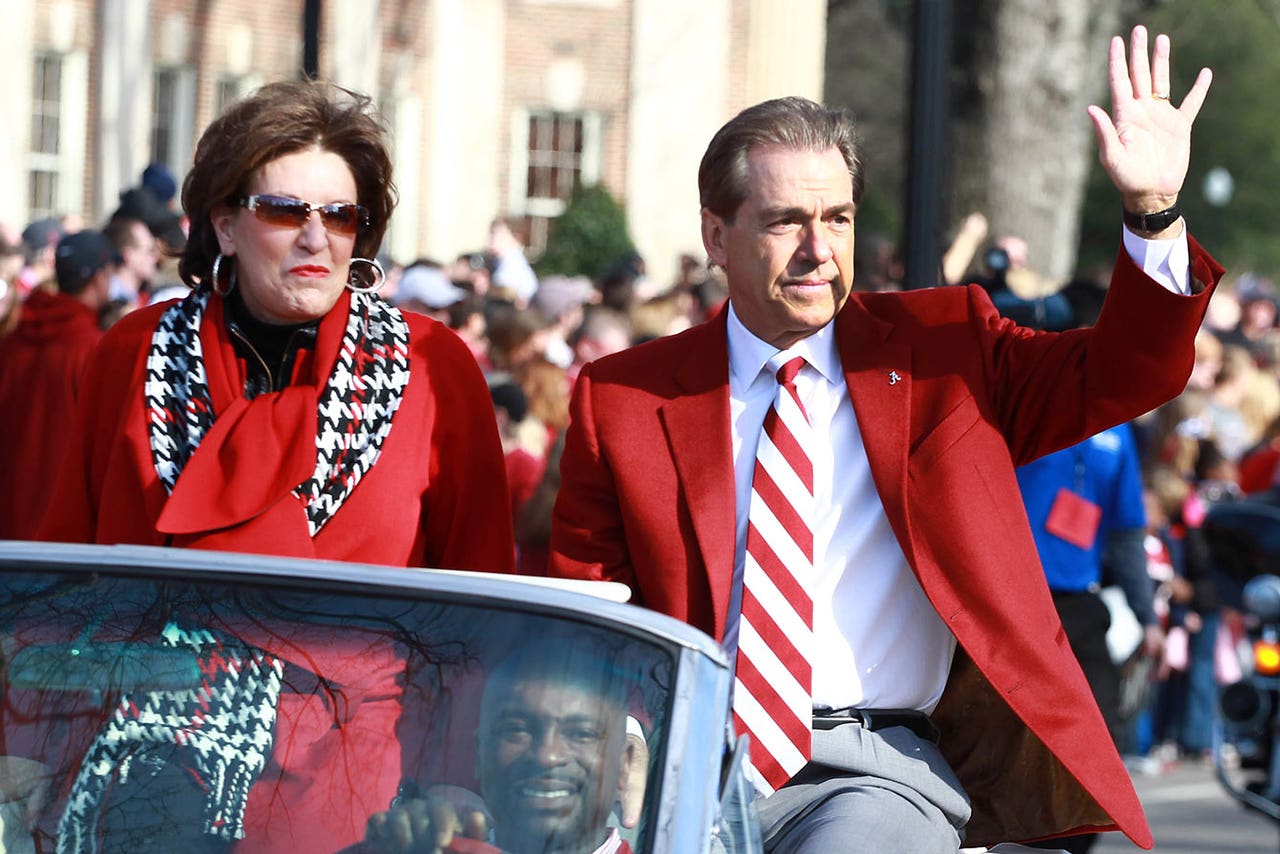 Years from now, we'll all look back and remember where we were the night the Ed O'Bannon decision came down. Or at least I will.
That's because I was at Notre Dame, minutes away from conducting my first-ever television interview (a sit-down with Brian Kelly that will run later this month on Fox Sports Live) when that monumental 99-page decision went public. It was the culmination of a news story I've been covering closely for some time … and now, at the worst possible time, I had another obligation.
But rest assured, I did wind up reading it later that night and again over the weekend – primarily so that you don't have to.
(To submit Mailbag questions, email Stewart.Mandel@fox.com)
I'm sure you'll get a ton of questions about the O'Bannon/NCAA ruling but I'm curious about the specifics of the eventual payments to players. Does this ruling apply to all athletes or only football and basketball players? Are athletes only eligible for a payment if they actually play in a televised game? Do the payments differ between scholarship players and walk-ons? Are these payments going to be equal among players or would the QB make more money than a lineman because the QB is more likely to have his name/image on TV? In other words, can you explain more about how the money is going to work?
-- Philip, New Orleans
Well, let's start with the few things I can actually answer. For one, Judge Claudia Wilken's ruling applies only to FBS football and Division I men's basketball players, because that's who brought the claim. It also seemingly only applies to those on scholarship, as the licensing payments she says should be allowed are "… in addition to a full grant-in-aid" and "… for [schools'] FBS football and Division I basketball recruits."
And finally, she does specify that, "the NCAA may enact and enforce rules ensuring that no school may offer a recruit a greater share of licensing revenue than it offers any other recruit in the same class on the same team." So the five-star quarterback gets no more than the two-star tackle.
After that, everything else is anyone's best guess, because I can assure you the actual decision-makers in college sports are still in the earliest stages of trying to figure it out for themselves. Keep in mind, all Wilken did was determine that an antitrust violation had occurred and order the NCAA to stop enforcing the now-illegal restrictions. It's up to the NCAA, and more specifically the schools and conferences themselves, to actually formulate any new policies.
First, they'll have to decide whether to take advantage of this new freedom and actually offer cost of attendance stipends and/or licensing payments to athletes. Will conferences leave the choice up to their respective members or institute a league-wide payment plan? Which then leads to another question: Who will determine what a fair share of revenue should be?
For example, Wilken said the NCAA can set a cap of no less than $5,000 per year for group licensing payments placed into trust funds, but what if a large number of schools want to offer more than that? Who decides what the actual cap will be, and will it be universal or conference-by-conference? And while the ruling only affects football and men's basketball, will schools go ahead and take care of non-revenue athletes as well to stave off potential Title IX issues or other litigation?
Finally, and perhaps most importantly, who exactly will the schools be negotiating these terms with? As my colleague Clay Travis noted, the NCAA could really use a corresponding players' union -- a concept they've thus far fought -- to sign off on any prospective payment plan. If the NCAA or the conferences unilaterally set the terms, then the next lawsuit will inevitably be from athletes insisting they should entitled to a bigger licensing cut than is initially allowed.
Long story short: I probably won't be able to answer this question to your full satisfaction for many more years. Sorry about that.
Due to the incredible competition of recruiting, loss of star personnel to the NFL and fatigue of head coaching, it seems the last few true college football dynasties lasted roughly four to five years. USC early-to-mid 2000s, Florida 2007-2010 and now Alabama 2008-?. I don't have any hard evidence to believe Alabama will slow down under Nick Saban, but I didn't for USC and Florida either. Is it crazy for me to think Alabama's spectacular run is mostly in the past?
-- Ben, Milwaukee
I agree with your observation. During my time covering the sport the shelf life for dynasties – or at least mini-dynasties – has been about five to seven years. I'd add early-2000s Miami (34 straight wins, three straight Top 2 finishes and a BCS title) to the list. All followed a similar trajectory, winning or playing for multiple national titles early in a coach's tenure, then a string of seasons still very good but not quite able to get back to that level and finally, imploding. And of course, the coach either left or got fired.
Is it possible last year's disappointing ending marked the beginning of Alabama's own descent? Possibly. But there's a couple reasons why I would assume as of now the Tide buck the trend. For one thing, Nick Saban's not going anywhere, as we learned last offseason. He's still recruiting at the highest possible level. But most importantly, the national title field is expanding. Had a four-team playoff been in effect earlier, Pete Carroll's USC teams likely would have reached the field not only in 2003-'05 (when it played for three straight national titles) but possibly in '07 and/or '08 as well. Florida, as I explained in Tuesday's book excerpt, would have likely played for a third title under Urban Meyer.
Reaching the top two is hard, and in fact it took quite a few breaks for Saban's one-loss Alabama teams to reach the BCS title game in 2011 and '12. Now he and everyone else have more margin for error.
The season kicks off in roughly two weeks. What is your two biggest surprises of the first weekend? Who gets knocked off, that most wouldn't have seen coming and who manhandles their opponent, when it was supposed to be a close game? I'm taking Boise to upset Ole Miss and Georgia to blowout Clemson.
-- Shawn, Elida, Ohio
Two weeks! That's true! The first FBS game of the season is technically Abilene Christian at Georgia State two Wednesday nights from now.
Both your picks are certainly reasonable, though I don't necessarily agree. Ole Miss is ready to take the next step this year. The Rebels should be able to handle the Broncos. And the Georgia-Clemson game is a toss-up in my mind with a slight nod to the Dawgs because it's in Athens.
For an early upset pick I'll go with Northern Iowa over Iowa. We know there will be a handful of FCS over FBS results that first weekend, and the Panthers always play the two power-conference in-state schools tough.
Picking out an unexpected bloodbath is a more difficult task for the simple reason that Vegas is already predicting a whole bunch of them. But how about Washington State over Rutgers that first Thursday? Most people probably consider the two programs about even, and if anything Rutgers has a longer track record of recent success, but Mike Leach's Cougars are on the rise, Kyle Flood's Scarlet Knights have begun to slide, the game is in Seattle and as we know, Leach never stops trying to score no matter the margin.
With the Power 5 conferences' autonomy we now have the "have not" conferences and teams. I worry that if we go to Power 5 only playing Power 5, worthy teams such as Colorado State, Air Force, BYU, Navy and Boise State will be banished to the netherworld. Should some of these teams be considered based on historical significance (Army/Navy) or current competitive nature (Boise State)?
-- Mike Newman, Parker, Colorado
Thank you for giving me an opportunity to perform a much-needed nipping-in-the-bud of a misconstrued storyline gone wild. The Power 5 are NOT going to stop playing the other conferences. It's not part of autonomy. It's not on anyone's formal agenda. Quite frankly I'm not sure anyone other than Nick Saban is out there pushing for it.
Last week, ESPN.com's outstanding reporter Brett McMurphy informally polled the 65 Power 5 coaches on the subject when they came through Bristol recently. It was a great idea, and the results definitely raised some eyebrows, what with 46 percent saying they supported playing a schedule consisting exclusively of their peers.
From what I can tell, because Brett published the article the same day as the NCAA autonomy vote – coincidentally, I'm told -- many people mistakenly conflated the two stories. Scheduling is NOT one of the issues the Power 5 have been given freedom to legislate. It's not even on their radar. And while that plan may sound appealing to coaches, they're not the ones that have to balance budgets. Almost every major program counts on the revenue it brings in from playing at least seven home games a year. If they could no longer bring in Sun Belt or MAC schools on a one-off basis, and instead essentially played four home-and-homes, they'd never get above six.
That alone assures that all the teams you mentioned and others like it aren't going to get cut out of the mix anytime soon. Not to mention, I can assure you Notre Dame is not going to drop Navy.
Stewart, with all the doom-and-gloom scenarios about the new playoff system, why isn't everyone at least acknowledging the fact that the playoff will correct the one primary flaw of the BCS system: getting the two best teams in the country in a position to play for the national title. After all, the best two teams have to be SOMEWHERE in the top 4, correct? Can you ever recall a season where the collectively perceived best two teams weren't ranked somewhere in the top 4 of the major polls?
The primary reason I pushed for four teams for so long is precisely that reason. While hardly controversy-free, at least you'd no longer be leaving out indisputably deserving teams like USC's 2003 squad that finished No. 1 in the AP and coaches polls but No. 3 in the BCS standings, Auburn's undefeated 2004 team, the one-loss 2008 Texas team beat the one-loss Oklahoma team that got in instead and the one-loss 2011 Oklahoma State team that had a stronger resume than one-loss Alabama. But of course now that we've moved the target, no one's going to remember that come Selection Sunday and instead go ballistic over the exclusion of a fifth- or sixth-ranked team that would never even have merited discussion in the old system.
When the playoff discussions first got underway back in 2012 I did an analysis of the first 14 seasons of the BCS and concluded that a playoff would have been more effective in 10 of them. But there were at least two particularly messy seasons – 2007 and '08 – where the field was so cluttered that even four spots might not have assured the two best teams were among them.
So that's bound to happen again, perhaps as soon as this year. At the time I wrote: "… the debates we would be having over Nos. 3 and 4 would be easier to digest than some of the gross injustices that have plagued the 1 vs. 2 game." That's still true, but now that it's here, I seriously doubt anyone's going to maintain that perspective.
Stewart, Penn State, Texas and USC, all from the "Kings" echelon of college football, each have new head coaches this year. Which coach do you speculate will be the first to get his team into the College Football Playoff? 
-- Foster, Providence, Rhode Island
Well it's probably not going to be James Franklin, both because of the massive rebuilding he has to do but more pertinently because Penn State isn't eligible for the playoff until 2016. USC's Steve Sarkisian has the most playoff-ready roster of the three, but he's competing in by far the toughest conference of the three and in my opinion is still looking up at Oregon, Stanford and UCLA. Plus his time at Washington left me unconvinced he's the guy to produce a national title-caliber team.
That leaves Texas, where Charlie Strong has to do some rebuilding of his own. Even he's acknowledged the 'Horns won't be playing for a national title this year. But I'd be willing to bet he'll lead Texas to a Big 12 title within three years, and if he does, the 'Horns will almost certainly reach the top four.
Does Marshall go undefeated this year, and if so, will the Herd get an invite to a bigger bowl game?
-- Scott Strosnider, Bridgeport, West Virginia
I'm glad you asked that, because I recently realized that Marshall could unwittingly become a fascinating test case in the first year of the new system. Yes, absolutely, Rakeem Cato and the Herd could go undefeated. Have you seen their absurdly easy schedule? And yet, they could also finish as the only undefeated team outside of the Power 5 and still miss out on the New Year's Six bowl berth reserved for the highest-ranked champion of the other five leagues. And why is that? For the same exact reason – have you seen their absurdly easy schedule?
We were conditioned in the past to assume that going undefeated was the sole requirement for a Utah, Boise State or Hawaii to make a BCS bowl. No matter who those teams actually beat to finish undefeated, eventually the attrition above them would move them up high enough in the polls to qualify. But the selection committee isn't just emphasizing strength of schedule in picking the four playoff teams. The same criteria apply to their full rankings.
So let's say hypothetically that Marshall takes care of business against Miami of Ohio, Rhode Island, Ohio, Akron and its Conference USA slate, finishing 13-0. And let's also suppose that East Carolina, led by its own big-numbers quarterback, Shane Carden, wins the American at 11-1 while going 2-1 against its out-of-conference power trio of South Carolina, Virginia Tech and North Carolina.
In that scenario, I'm guessing the Pirates finish higher than Marshall in the committee's rankings and get a Peach or Cotton Bowl bid. But we won't know until it happens the first time.
Stewart. A coworker of mine – a big Ohio State and Big Ten fan and thus an SEC hater -- is convinced that the multi-billion dollar rights deals between ESPN and the SEC and ESPN and the new playoff, plus the launch of the ESPN-backed SEC Network, will result in pressure and influence on selection committee toward inclusion of SEC team(s) in the playoff. I think the committee is pretty well constructed to alleviate this type of possible bias with representatives from many conferences and other backgrounds such as Condie Rice. What do you think?
-- Greg, Atlanta
So … these ESPN-related questions are a bit awkward for me now that I work for a company with a competing television network. That being said, this is a relevant question, and I'd be doing a disservice to ignore it.
ESPN has rights deals with every major conference, so that alone would not incentivize it to promote one over the other. The SEC Network, on the other hand, is a game-changer. The company now has a direct investment in a conference, and its new product would clearly benefit from the conference being as successful as possible on the field. That being said, the main effect will be largely promotional, like with those ubiquitous "S-E-C, S-E-C" ads currently airing in anticipation of Thursday's channel launch. The committee, as you said, is intentionally diverse and should be insulated.
Put it this way: Barry Alvarez will likely be feeling far more pressure from his Big Ten colleagues and Oliver Luck his Big 12 colleagues than either will from a contract they had no part in negotiating and get no financial benefit from.
Before I go, a quick Mailbag PSA: Be sure to include your location when sending an e-mail you want published. It's always been my tradition to include it. So long for now. Same time, same place next week.
Stewart Mandel is a senior college sports columnist for FOXSports.com. Before joining FOX Sports, he covered college football and basketball for 15 years at Sports Illustrated. His new book, "The Thinking Fan's Guide to the College Football Playoff," is now available on Amazon. You can follow him on Twitter @slmandel. Send emails and Mailbag questions to Stewart.Mandel@fox.com.
---