Mailbag: Investigating new realignment, Ole Miss discipline and A&M QB drama
May 11, 2016

Loyal readers know just how much I loathed covering conference realignment the last time around. If I could snap my fingers and go back to each league's lineup circa 2010, I would. The fact that Wake Forest and North Carolina soon will play a non-conference game perfectly encapsulates that silliness.
But now you should know, I've also done a complete about-face on the topic. Just like the schools themselves, I'm now looking out solely for my own best interests, and let me tell you, conference realignment is great for business. You guys can't get enough of it.
So thank you from the bottom of my heart, Big 12. Your chronic dysfunction and laborious decision-making process is pure gold for sportswriters.
Stewart —€" I listened to your recent podcast on Big 12 expansion and was interested in your opinion on Houston joining; "more of what you already have", I believe was how you cached it. With the loss of Texas A&M, Oklahoma plays no conference games in/near the Houston market. Wouldn't adding Houston be of benefit to the other teams as a replacement to A&M?
— Jerrad, Houston, Texas
In all the Big 12 expansion talk, how come there has been no mention or consideration of SMU? I understand there may be some pushback from adding another Texas school, but I don't see the benefit of Houston, Tulane, or UConn over SMU. Let's not forget that SMU was once a big-time program.
—€" Jared Galvan, Washington DC
Wait, wait, wait ... Tulane? Really? Did someone throw that out there with a straight face?
From a purely football perspective, you could argue Houston has the most upside of any school being mentioned. The program is coming off a historic 13-1 season, but it's not like that came out of nowhere. Dating to the Art Briles era in the early 2000s, the Cougars have been to bowl games 10 of the past 13 years. It surprised even me to learn the program ranks in the top 20 nationally in wins over the past decade (88), ahead of Texas (86), Nebraska (86) and Penn State (85). And ever since A&M left for the SEC, that conference has been siphoning more and more recruits from the state of Texas away from the Big 12. Planting a flag in the ground in Houston might help stem that.
West Virginia president Gordon Gee, a member of the league's composition committee, was serious enough about Houston to take a tour there last November, according to an ESPN.com report this week.
But ultimately, realignment is about politics. Big 12 rules dictate eight of the 10 schools need to approve expansion, and at least three of them — Texas, TCU and Texas Tech — figure to block any additional schools from that state. Texas doesn't currently have to fight Houston for many recruits, but give the Cougars Big 12 affiliation and suddenly that changes. TCU likely would hold almost no edge in recruiting. Not to mention Oklahoma and Oklahoma State gain back a foothold.
One other factor to consider: As big as the state of Texas is, the Big 12 is currently far behind the other leagues with its combined population footprint of about 40 million. The Big Ten and SEC have more than double that. If a TV network and/or richer TV contracts are a goal here, it's important that the league expand into new population centers. That's why UConn (which tries to claim New York City) and UCF are gaining more mentions than Houston or SMU.
Stewart: You've written a lot lately about Big 12 expansion, with one reason given a higher percent chance of getting a team into the playoff. But let's be honest, the reason the Big 12 didn't get into the first playoff had more to do with lack of quality depth in the conference. Even this season, your early Top 25 only has three Big 12 teams and none in the Top 5. How is watering down its competition going to make the Big 12 better?
—€" Bret, Tallahassee
The biggest reason Baylor did not get into the 2014 playoff was its horrible non-conference schedule. A year later, league champion Oklahoma also went 11-1, suffered a worse loss (vs. 5-7 Texas) than 2014 Baylor (at 7-6 West Virginia) and comfortably made it in. The Big 12 didn't suddenly get deeper; the Sooners beat Tennessee, which wound up becoming a fourth Top 25 win. Scheduling tougher is unquestionably a better way to compensate for lack of quality depth than adding a couple of Group of 5 teams.
But it may also be shortsighted to assume that any two schools the league adds would "water down" the conference. I for one thought the SEC was doing just that when it invited Missouri and Texas A&M, but is anyone suggesting that conference is weaker today than it was in 2010? Perhaps more telling, the Big Ten has gained a lot of respect since Ohio State's 2014 national championship and is perceived to be on the upswing despite the coinciding addition of noted football powers Rutgers and Maryland. People judge conferences by the teams at the top, not the bottom.
Realistically, there's no one out there that could come into the Big 12 and compete for a playoff spot as quickly as TCU did. But I don't see that as necessary, either. You just need a team or two that can be respectable and occasionally crack the Top 25. To that end, BYU finished the season ranked six times from 2001-11, Cincinnati five times from 2007-12. UCF is three years removed from a BCS bowl win. And that's before they'd get all that Power 5 money and prestige and the recruiting uptick that comes with it.
If you pick right, I do think you could improve the quality of the conference. Which, by the way, is hardly terrible.
Stewart, what percentage would you place on Big 12 expansion vs. other conferences cherry picking programs from it? The Big Ten did their homework on Oklahoma and Kansas, and they'd fit nicely into the Big Ten West.
— Brian Meyers, Oregon, Ohio
Unless the Big 12 disbands or unless another conference is willing to take on a massive legal challenge, there's not likely to be any cherry picking for another nine years. During the last round of shuffling, the league members entered into a Grant of Rights through 2025. What does that mean? The Big Ten could invite Oklahoma, but Oklahoma's TV rights would not come with the Sooners, which kind of defeats the purpose. Various legal minds have opined that these sorts of agreements are unenforceable, and they may be right, but that'd be taking a pretty big gamble to leave and assume you can get away with it.
So Big 12 expansion — which I currently place at 53 percent likelihood, by the way —€" is definitely more imminent. And in fact, some within the conference who are in favor of it are themselves concerned about 2025. Who knows what the college landscape will look like by then, but it's fair to assume that a 10-team conference with two irreplaceable programs might be ripe for further pillaging. There's not likely to be much movement in the short term, but the Big 12, Pac-12 and SEC all have deals that end in 2024 or '25, and it's been reported that the Big Ten will be timing its forthcoming six-year deal with FOX to wrap in 2023.
However chaotic you thought conference realignment was from 2010-12, it will be child's play compared the Armageddon looming in about six years.
What, if anything, will Laremy Tunsil's draft night statement about receiving payments affect Ole Miss? Will they see any sanctions before or during the season?
— Bo Tanaka, Tracy, Calif.
If Tunsil had gone into the night with a pristine reputation, and played for a school with no previous whiff of wrongdoing, that whole thing likely comes and goes with barely a peep. Maybe the school self-reports a secondary violation. Maybe Tunsil repays $305 and everybody goes their separate ways.
Obviously, that's not the case here.
Ole Miss already was facing forthcoming penalties for previously reported violations. And Tunsil himself was involved in several of the allegations. He sat seven games last season for a long list of impermissible benefits. Ole Miss already received a Notice of Allegations in January, though the school has yet to make it public. Tunsil's admission and those texts opened the door for the NCAA to reopen the case and come sniffing around for more violations. The school began investigating the next morning. Tunsil likely won't cooperate, but the staff members mentioned in that text exchange don't have a choice.
I can't give you a timeline, but these things never go quickly, so the Rebels probably won't know their fate until well after the season.
Do you think Texas A&M's struggles keeping/recruiting quarterbacks is a coaching staff problem, or should we just accept lack of commitment from "elite" quarterbacks as the new normal?
—€" Chad Ermel, Livingston, La.
Highly recruited quarterbacks are certainly prone to changing schools, but not at the rate A&M is experiencing. That's on Kevin Sumlin and his staff. Each guy's situation is different, but Kyle Allen (now at Houston) cited a lax, Johnny Manziel-driven culture in a February interview with CBS Sports. Kyler Murray (now at Oklahoma) has remained quiet publicly, but his was apparently more of the hurt feelings variety after sitting behind Allen last year. And the father of Tate Martell, who decommitted last week (inspiring a bizarre Twitter rant from Aggies receivers coach Aaron Morehead), lamented lack of communication from new offensive coordinator Noel Mazzone in comments to Rivals.com. It sounds like his defection was no real surprise in College Station; these things happen nine months before Signing Day and/or when there's a staff shakeup.
But the whole thing is still perplexing. You would think aspiring quarterbacks would be lining up to play for a coach, Sumlin, who helped develop Case Keenum and Johnny Manziel. Mazzone has coached Brock Osweiler, Brett Hundley and Josh Rosen. There's a lot to like at A&M if you're a high school quarterback. All of this just cranks up the pressure that much more on Sumlin, who in two years' time has gone from coaching darling to coaching enigma. A&M has invested too much in Sumlin and the program to be stuck in the lower half of the SEC West. But I believe Trevor Knight will help lift the Aggies this season. You could do far worse for a temporary stopgap.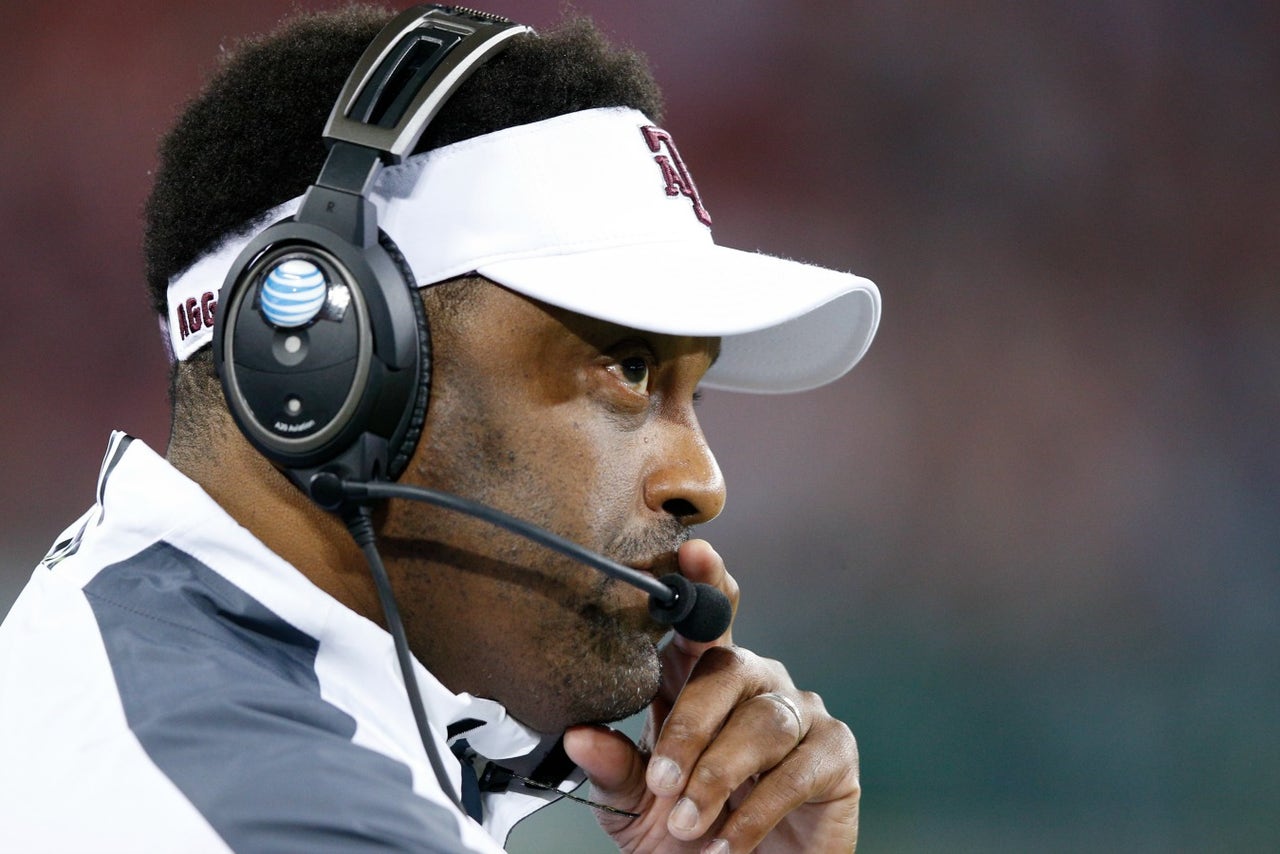 Head coach Kevin Sumlin of the Texas A&M Aggies
Stewart, with Florida State and Clemson having such similar schedules, do you think it will be one of them that prevents the other's playoff spot, or will it be one of their SEC opponents?
—€" Charles, Baghdad, Iraq
If you saw my post-spring Top 25 earlier this week, then you know I view FSU and Clemson as two of the three best teams in the county entering the season. So yeah, they're definitely each other's biggest obstacle. But I also wouldn't consider their schedules to be that similar. On paper, FSU's is considerably tougher.
Start with the fact the 'Noles open with an SEC foe, Ole Miss, that went 10-3 last year, 6-2 in conference, whereas Clemson's opponent, Auburn, was 7-6/2-6. There's an even wider disparity with their respective Thanksgiving weekend rivals, Florida (10-4 last year) and South Carolina (3-9). FSU also plays its third non-conference game at USF (8-5) while Clemson hosts Troy (4-8). As for their ACC slates, FSU's crossover foes are North Carolina (11-3) and Miami (8-5), while Clemson's are Pitt (8-5) and Georgia Tech (3-9).
Now, this is college football. Many of those teams will be much better or much worse this year than last, and maybe things even out. But if, like me, you believe both could reach the playoff, the 'Noles seemingly would have a better shot of producing a strong résumé without beating the Tigers than Clemson does if it loses to FSU.
Hi Stewart. With all the hoopla over satellite camps, it seems that lost in the shuffle was the fact the NCAA is now allowing guardians or parents to join paid recruiting trips. Schools off the beaten path have struggled since the NCAA outlawed using private planes in 2004. Will this rule end up being the great equalizer?
—€" Andy Morrison, Winchester, Mass.
Perhaps, but it could end up being yet another wedge between the sports' richest programs and its slightly less rich. Considering the rule seems like common sense, I've already heard grumbling from some administrators about the added cost and/or added manpower needed to keep parents occupied while players go off with their hosts. Nothing about recruiting is ever simple.
Hey Stewart. Now that Idaho is dropping down to FCS do you see other schools possibly following? Or is this just an isolated event?
—€" Matt, Kansas City
I see it as a mostly isolated event.
Idaho and New Mexico State, if you recall, were the unfortunate last ones left out after all the other dominos crumbled in FBS realignment circa 2010-12. A long chain of poaching and replacing ultimately led to the death of the WAC, and those two schools were the only ones left that couldn't find a new home. The Sun Belt eventually gave them a tryout, but it didn't stick. And competing as an independent at that level is no longer feasible.
If a new WAC-like conference were to spring up and invite Idaho, I doubt it would still be dropping down, because in general, being an FBS bottom feeder is still seen as more desirable than FCS power. During the same time period that Idaho and New Mexico State saw their FBS world implode, Appalachian State, Georgia State, Georgia Southern, Charlotte, UMass, Texas State and UTSA all moved up. The trend is clearly heading the opposite direction.
But it helped most of those programs that they had a conference waiting for them as soon as they moved up. If any or all end up following Idaho's path, it will be for much the same reason. UMass, for example, is currently trying to give it a go as an independent in football after refusing to join the MAC in all sports. I don't see that ending well unless the next realignment ripple effect ends with the Minutemen moving up to the AAC or Conference USA.
What are the odds that Lane Kiffin will call a trick play in the fourth quarter to try to run up the score on USC in Alabama's season opener? Will anyone act surprised and indignant if it happens?
— Irwin Chen, Los Angeles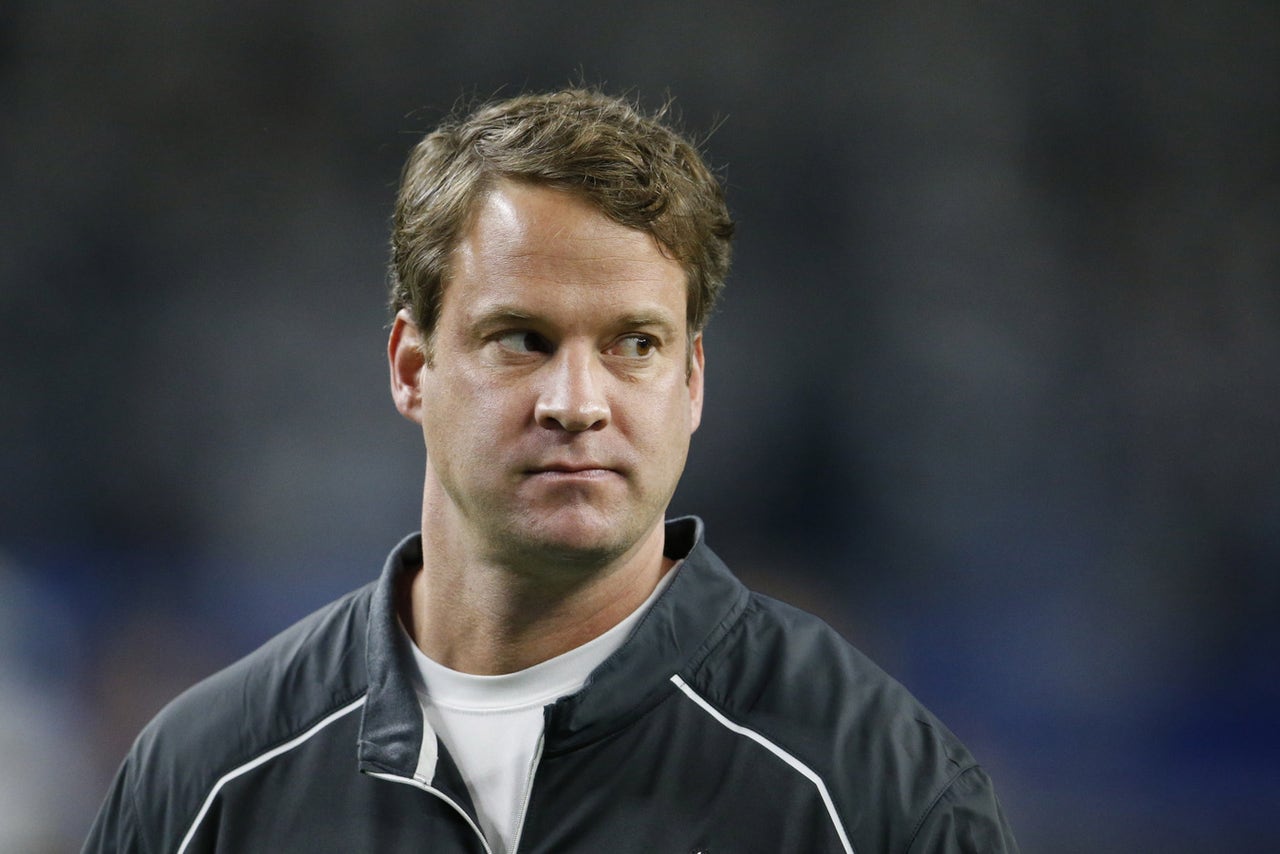 Lane Kiffin
I could totally see that happening, and I could totally see Kiffin celebrating afterward with some clever Bitmojis.
---
---