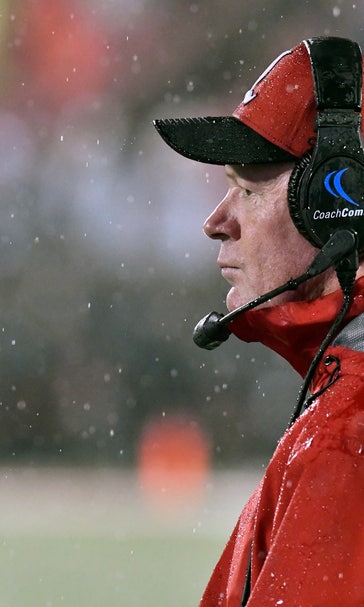 Louisville seeks 1st ACC win, with more challenges ahead
October 2, 2018
LOUISVILLE, Ky. (AP) — Louisville coach Bobby Petrino wants his struggling team to focus on the next opponent rather than looking toward bigger goals such as a ninth consecutive postseason appearance.
An opportunity looms for the Cardinals on Friday night against Georgia Tech in an inaugural matchup of teams seeking their first Atlantic Coast Conference victory. That's still a tall order for the Cardinals (2-3, 0-2) after giving one away to Florida State, making bowl eligibility even more challenging with No. 4 Clemson among their upcoming opponents.
"What we need to focus on is Georgia Tech and one practice," Petrino said Monday. "I think that's the biggest thing, to play one game at a time and work on improvement."
The Cardinals face an uphill climb in many phases after Saturday's devastating 28-24 home loss to the Seminoles .
Besides dropping to the Atlantic Division cellar, Louisville remains winless against Power Five opponents. It needed second-half rallies to beat Conference USA Western Kentucky and FCS-level Indiana State.
The Cardinals appeared headed toward a critical win with a first down at the FSU 21 and a three-point lead with under two minutes remaining. Quarterback Jawon Pass was intercepted on the next play and FSU converted it into the winning TD, a stunning turn that has resulted in second-guessing of Petrino's play-calling on local sports talk radio.
The fifth-year coach said that in retrospect, he'd run the ball to "make it easy," but suggested that passing was the right call in that situation because the play had worked earlier.
"I've always felt that way that when you have to make a call and it does work out, it's a good call," Petrino said. "When it doesn't, it's a bad call and throughout the game you have those situations. This one became a big turnover, so it ended up being a real bad call."
Already in a season defined by moving on, Louisville now must put that disappointing outcome in its rear view.
Transition was expected with the departures of 2016 Heisman Trophy-winning quarterback Lamar Jackson and other contributors on both sides of the ball, along with the hiring of a third defensive coordinator in as many years (Brian VanGorder). Injuries to defensive veterans such as linebacker Jonathan Greenard have forced underclassmen into action for Louisville, which ranks in the bottom half of several ACC categories.
The offense, meanwhile, ranks last in the ACC in total offense (311.6 yards per game) and scoring (18.4 points), while Petrino's shuffling of his quarterbacks has drawn additional scrutiny. However, Pass — who was yanked against Indiana State and Western Kentucky for Malik Cunningham before he finished a 27-3 ACC loss at Virginia in relief — appears to have reclaimed the job after throwing for a career-best 306 yards and two TDs against Florida State before his costly interception.
Louisville is still trying to find a primary rusher, though Petrino acknowledged, "We did make some improvements."
Something must give for the Cardinals with a short week to prepare for their meeting against the Yellow Jackets (2-3, 0-2). Louisville then travels to Boston College on Oct. 13 and hosts Wake Forest on Oct. 27 before visiting defending ACC champion Clemson on Nov. 4. All three beat the Cardinals last season with Jackson at QB.
Having overcome a 0-3 start in 2015, the Cardinals believe they can become bowl eligible. Right now, they just need to have a short memory.
"When you go to sleep and wake up the next day, it's a new day," wide receiver Jaylen Smith said after the game. "The sun is going to shine tomorrow, I promise. You take that and wear it. Then you come out and do the same thing this week with preparation and hope for a better outcome."
---
---