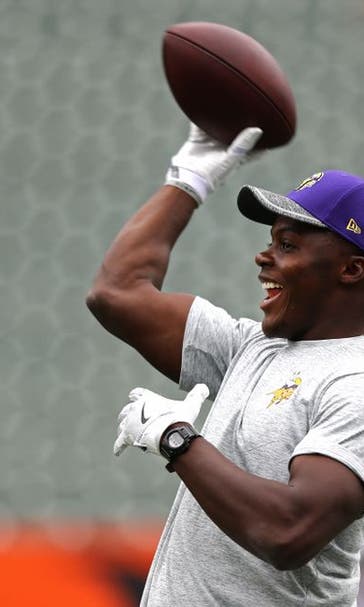 Louisville Football: Teddy Bridgewater Honored With Courage Award
December 30, 2016

Fansided, Derek Snyder/FanSided via Big Red Louie
We take a quick look at the awesome award that former Louisville football quarterback Teddy Bridgewater received earlier this week.
Every Louisville football fan loves to hear about the latest Teddy Bridgewater news. The former Cardinals quarterback wasn't able to play this season because of a horrible knee injury. However, that hasn't kept him from doing great things in the Minnesota community and encouraging his Vikings teammates.
It's always great to see good people get recognized for their efforts in helping other people. Not to mention, it feels even better when that person is Teddy Bridgewater.
This is was CBS Minnesota had to say about Vikings' quarterback Teddy Bridgewater winning this great award:
"Minnesota Vikings quarterback Teddy Bridgewater was selected the team's recipient for the 2016 Ed Block Courage Award, the team announced Thursday.

Bridgewater was chosen by his teammates for a combination of his on-field leadership and work in the community. The award goes to one player on every NFL team who exemplifies a commitment to sportsmanship and courage. Bridgewater has taken a special interest in causes to fight breast cancer as his mother, Rose, is a breast cancer survivor."
Here is also what Bridgewater had to say about receiving the Ed Block Courage award, also from CBS Minnesota's article:
"It's an honor to win this award. Especially as my teammates made the selection. 2016 has been amazing for me. Everyone looks at an injury as a negative. It has helped me spiritually and mentally even with me already being an extremely positive person. My injury was a new challenge and I love challenges. With the help of many people we have attacked this challenge head on and expect great success in the future. A special thanks to the Vikings training staff and all those that support me along my journey," Bridgewater said in a statement.
It seems as though Teddy Bridgewater is in a good place with where his life has been over the past few months. I cannot imagine the type of pain that he went through during his knee injury, but leave it to Bridgewater to find a way to use this situation to build other people up.
I honestly expect Bridgewater to come back strong from this injury. It sounds as though he is mentally ready to be back out on the field, but the telling sign will be how his body and knee reacts to getting hit in the National Football League again.
Just judging off of his toughness while playing at Louisville, Bridgewater should be just fine.
More from Big Red Louie
This article originally appeared on
---
---