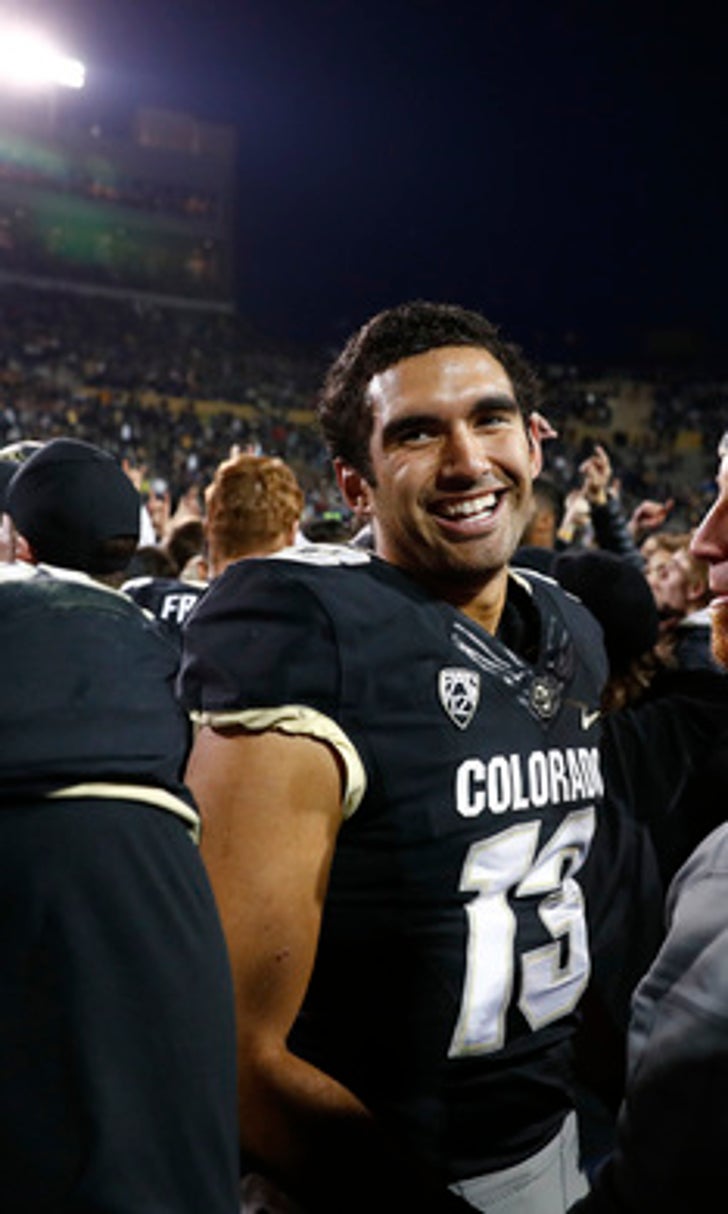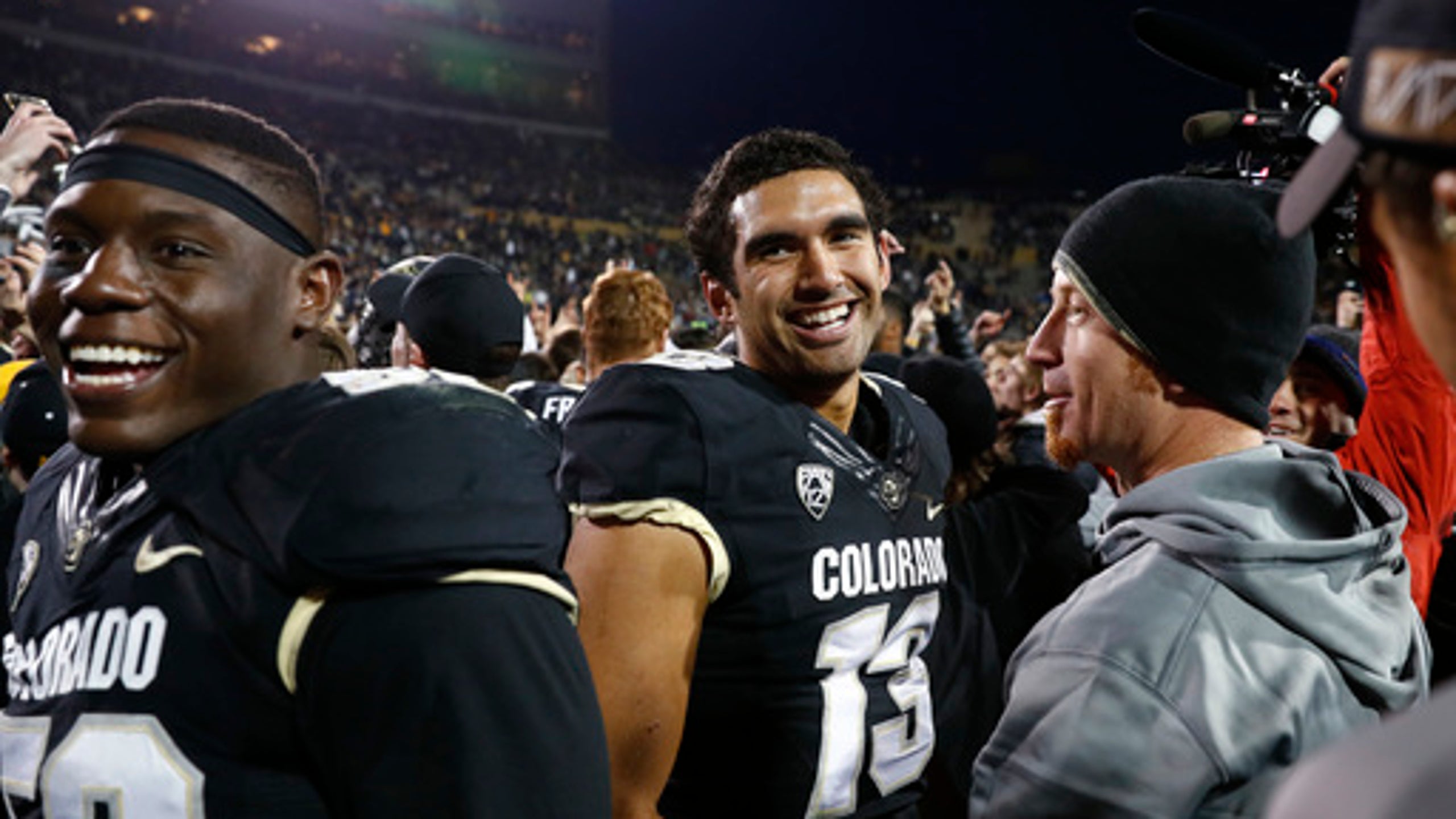 Liufau shines, No. 12 Colorado beats No. 20 Wash State 38-24
BY foxsports • November 20, 2016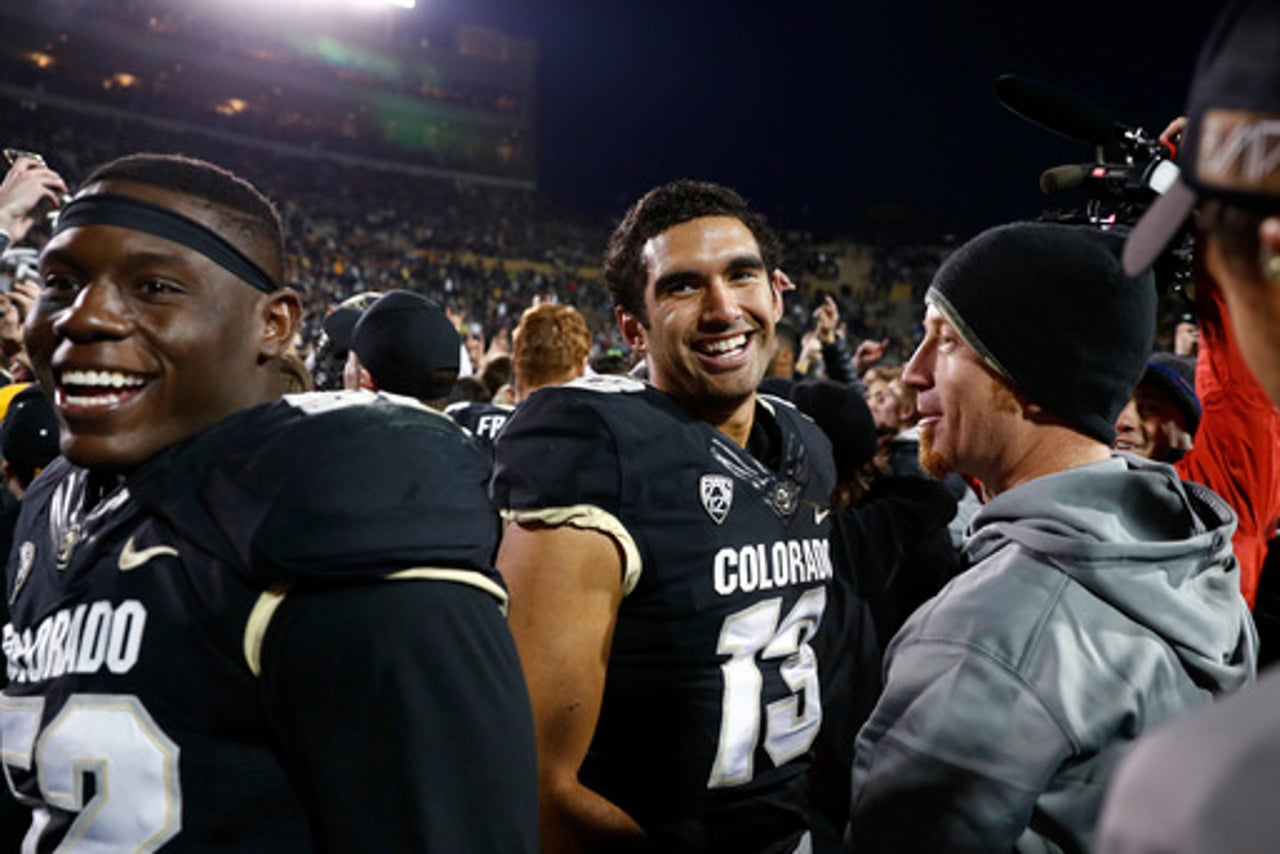 BOULDER, Colo. (AP) For all of Sefo Liufau's tough runs , this one may be the most impressive: His sprint from the locker room back to the field.
A hip pointer wasn't going to sideline him in the fourth quarter. Especially not in a game of this magnitude.
Liufau threw for 345 yards, rushed for 108 more and scored three touchdowns as No. 12 Colorado beat No. 20 Washington State 38-24 on Saturday in a matchup of unlikely Pac-12 division leaders.
Phillip Lindsay added 144 yards rushing and two TDs for the Buffaloes (9-2, 7-1, No. 10 CFP), who can wrap up the Pac-12 South and a spot in the conference title game by beating Utah at home next week.
A loss would give the South to No. 15 Southern California, which stayed in the race by routing rival UCLA 36-14 on Saturday night for its seventh straight victory.
''It means the world to go out there and win, keep our hopes alive,'' said Liufau, who had 23 carries. ''It's more fun than anything. We've been in close games for a long time now. We've gotten a little older and a little better at being consistent and executing.''
Liufau briefly left in the fourth quarter only to return and pick up a crucial third-and-short that led to a game-sealing TD run by Lindsay. Liufau becomes the second-ever Colorado QB to throw for 300 and rush for 100 in a game, joining Steven Montez, who accomplished the feat at Oregon in September while filling in for a banged-up Liufau.
''Sefo got hit on the hip and was hurting,'' Colorado coach Mike MacIntyre said. ''He played really well. He played like I figured Sefo would.''
Luke Falk threw for 325 yards and three scores for Washington State (8-3, 7-1, No. 22 CFP), which had won eight in a row. The Cougars can still win the North Division with a victory against No. 7 Washington next week.
''I just thought we were incohesive as far as doing our jobs,'' Washington State coach Mike Leach said.
Colorado's defense stepped up after the Buffaloes fell behind 24-21 late in the third quarter. The next four Washington State drives went like this: Turned the ball over on downs, punt, fumble and interception.
''We lost focus and in the second half we buckled down,'' said defensive back Chidobe Awuzie, whose team snapped a 23-game skid against ranked teams.
Washington State and Colorado weren't really expected to be in position for a division title this late into November. The Cougars were picked to finish fourth in the North during the preseason conference poll and the Buffaloes last in the South.
Leach's gambling mentality cost the Cougars a possible field goal when he went for it on fourth-and-4 in the fourth quarter. Colorado safety Nick Fisher tackled receiver Kyle Sweet short of the first down.
Earlier, Leach rolled the dice on fourth-and-1 at his own 41 and Jamal Morrow rewarded his faith by gaining 30 yards. John Thompson later hauled in a 7-yard TD pass to give the Cougars a 24-21 lead.
The Cougars finished 2 of 4 on fourth-down attempts.
''We were close on two of those,'' Leach said. ''One of them I probably should have kicked a field goal. In the end, it probably wouldn't have mattered.''
TAKEAWAYS
Washington State: Standout receiver River Cracraft didn't play because of what's been reported as a torn ACL suffered last week. The Cougars made up for his absence by spreading around the wealth. Ten different players caught at least one pass.
Colorado: The defense came up big in the fourth quarter with the only two sacks of Falk. This after being dealt a big blow in the first quarter when safety Afolabi Laguda was ejected for targeting.
POLL IMPLICATIONS
The Buffaloes have dubbed this season ''The Rise.'' That should continue in the polls. Hard to see Washington State dropping much after this thriller.
1,000-YARD CLUB
Lindsay went over the 1,000-yard mark for the season, becoming the first Colorado running back to accomplish the feat since 2010.
''It was a great feeling knowing that I helped my team win,'' Lindsay said. ''I'll put my body on the line for them.''
AIRING IT OUT
Falk topped the 300-yard mark for the 23rd time in his career.
''We had a couple miscues, a couple miscommunications, and who knows how it would be?'' Falk said. ''But it didn't happen.''
UP NEXT
Washington State: The annual Apple Cup takes on added importance on Friday. The Pac-12 North title will be at stake.
Colorado: Close out the regular season by hosting Utah on Saturday. This game always seems to go down to the wire, with all five games since 2011 decided by a total of 27 points.
---
This version corrects to Colorado will play Utah on Saturday instead of Friday.
---
More AP college football: www.collegefootball.ap.org and https://twitter.com/AP-Top25
---