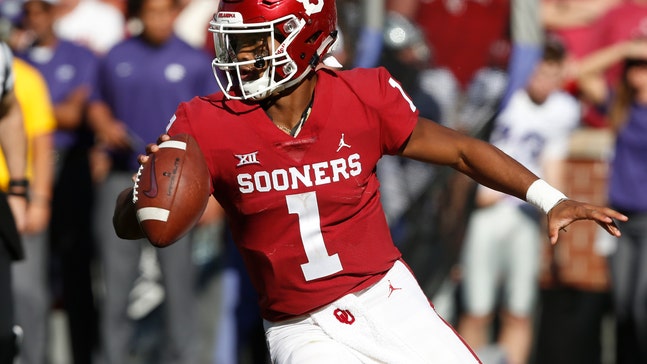 Kyler Murray needs win at Texas Tech to keep OU on track
Updated
Mar. 5, 2020 12:24 a.m. ET
LUBBOCK, Texas (AP) — What figures to be Kyler Murray's one-and-done attempt to get No. 7 Oklahoma back to the College Football Playoff will require a win in an atmosphere significantly more hostile because of a prime-time kickoff.
The coach of the Major League Baseball-bound quarterback knows a bit about wild games in Lubbock. Lincoln Riley was the Sooners' offensive coordinator in a 66-59, Baker Mayfield-over-Patrick Mahomes touchdown fest at Texas Tech two years ago and will be on the sideline at his alma mater Saturday night for the first time since replacing Bob Stoops.
Riley believes Murray is ready to make the run that Mayfield pulled off a year ago — lead the Sooners (7-1, 4-1 Big 12) back from an early October loss to run the table in November, win a Big 12 championship and qualify for the four-team tournament.
"The whole journey gets you ready for this," Riley said of Murray, who is expected to pursue pro baseball after one season as OU's starter. "He's been at big moments, even early on his life. Felt like if he won the job, that he'd be ready for the opportunity."
This is just the beginning of high-profile Big 12 opportunities for Texas Tech freshman Alan Bowman, the conference's leading passer. The Red Raiders (5-3, 3-2) cost themselves a tie for the league lead with a 40-31 loss at Iowa State last week, but now get a chance to knock the Sooners out of that spot — and likely out of playoff consideration.
"I watched a guy who is favored to be the MVP of the NFL go up there and have a really, really rough day, as well," coach Kliff Kingsbury said, referring to the Red Raiders' 66-10 loss at the Cyclones in Mahomes' final season two years ago, before Kansas City drafted him in the first round.
"He's a kid who doesn't blink," Kingsbury said of Bowman, who was called for a safety on a desperation throwaway out of the end zone to break a 31-31 tie against Iowa State. "Got that ball back at the end, expected to win the game. It didn't work out. He'll come back and play better than he has, is my expectation for him Saturday."
The Sooners, also seventh in the first CFP rankings released this week, bounced back with a pair of 50-plus-point outings in wins over TCU and Kansas State following a loss to No. 15 Texas.
"These last couple weeks, we've just been out there playing for each other," linebacker Kenneth Murray said. "It's not offense, special teams, defense. It's the Oklahoma Sooners. I think right now, our brotherhood is at an all-time high."
RUFFIN'S REUNION
Ruffin McNeill took over as defensive coordinator at Oklahoma after Riley fired Mike Stoops following Texas' 501-yard showing in a 48-45 win. McNeill was promoted at Texas Tech under similar circumstances in 2007, and spent the next two full seasons in that role before becoming head coach at East Carolina. He was with the Red Raiders for 10 seasons, including when Kingsbury was the quarterback.
The Sooners held the Horned Frogs and Wildcats to less than 300 yards. "He tells us all the time he lives in Norman now, and the best offense lives in Norman, the best defense lives in Norman, the best special teams lives in Norman," Kenneth Murray said.
NOVEMBERS TO REMEMBER
The Sooners have won 13 consecutive November games since 2014, and not coincidentally have three straight Big 12 titles — all with Mayfield at quarterback. "A lot of other people are getting tired of it, tired of the grind, the process, tired of all the little things these guys have got to do day-in and day-out," Riley said. "Our players have embraced it."
IT JUST SO HAPPENS
Mayfield, the first overall pick this past spring by Cleveland, and Mahomes are facing off in the NFL on the same weekend as their former college teams, with the Chiefs visiting the Browns on Sunday. It's just another reason to remember the video-game display in 2016, when each team had exactly 854 yards total offense and Mahomes threw 88 passes, one shy of the national record. Kingsbury said he didn't plan to watch Mahomes try to get the Chiefs to 8-1. "We'll be right back at it," he said. "I'll keep track of it."
THIS AND THAT
The Sooners have won 18 straight true road games over four seasons. ... Texas Tech has lost seven consecutive games against top-10 teams since a win over West Virginia in 2012. The Red Raiders are trying to get bowl eligible for the 16th time since 2000. ... Oklahoma has averaged 49.8 points and 585 total yards per game its last six games against Tech.
---
---