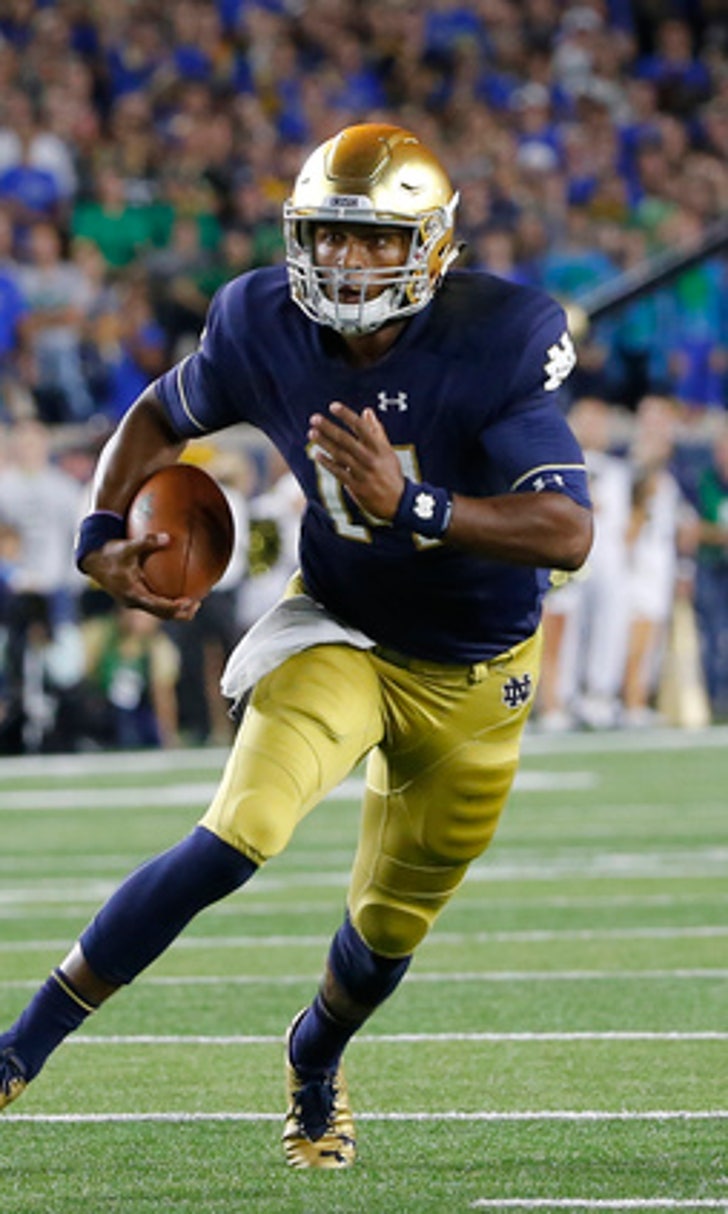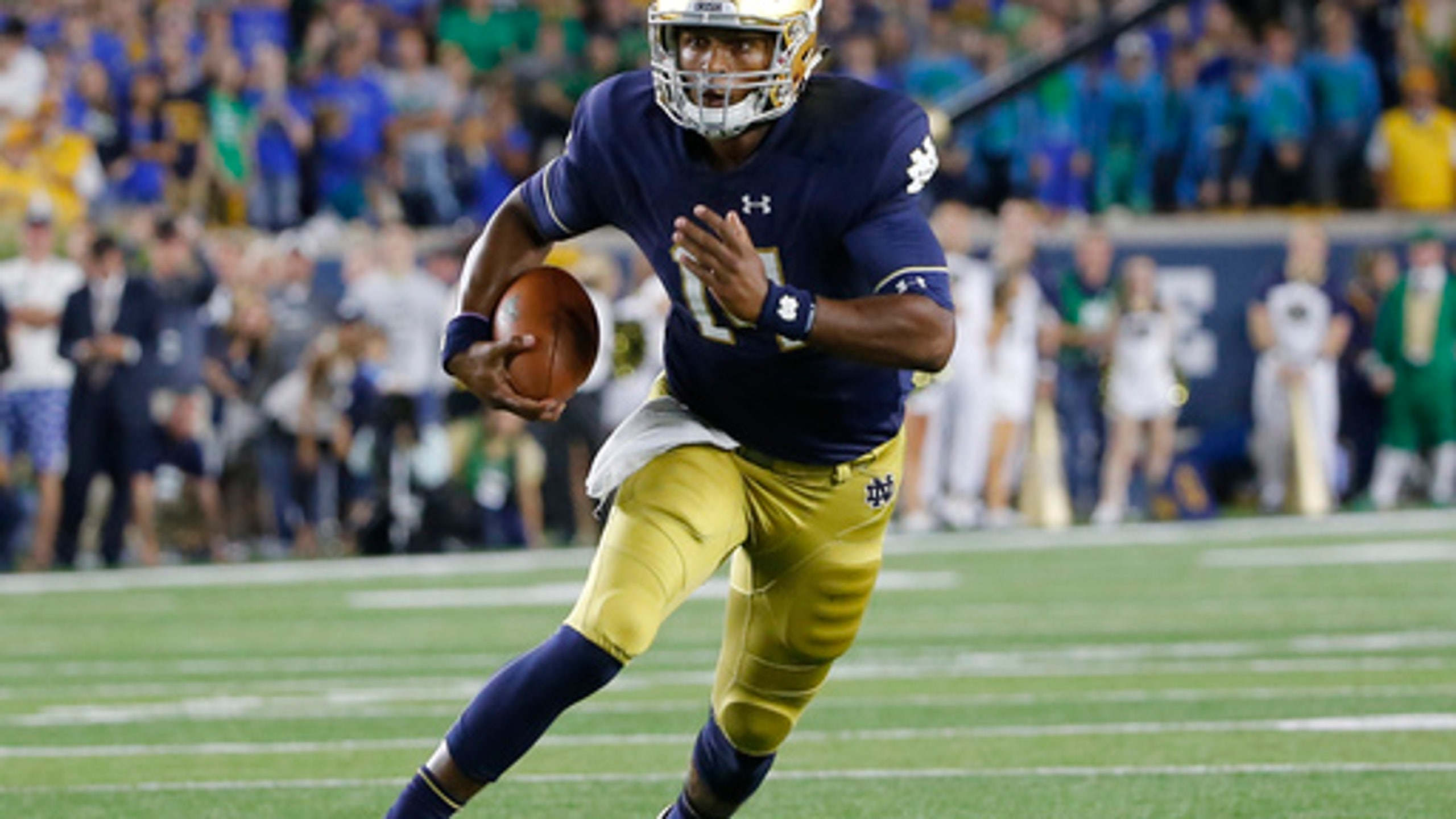 Kizer 2nd in rushing in Notre Dame's inconsistent run game
BY foxsports • October 4, 2016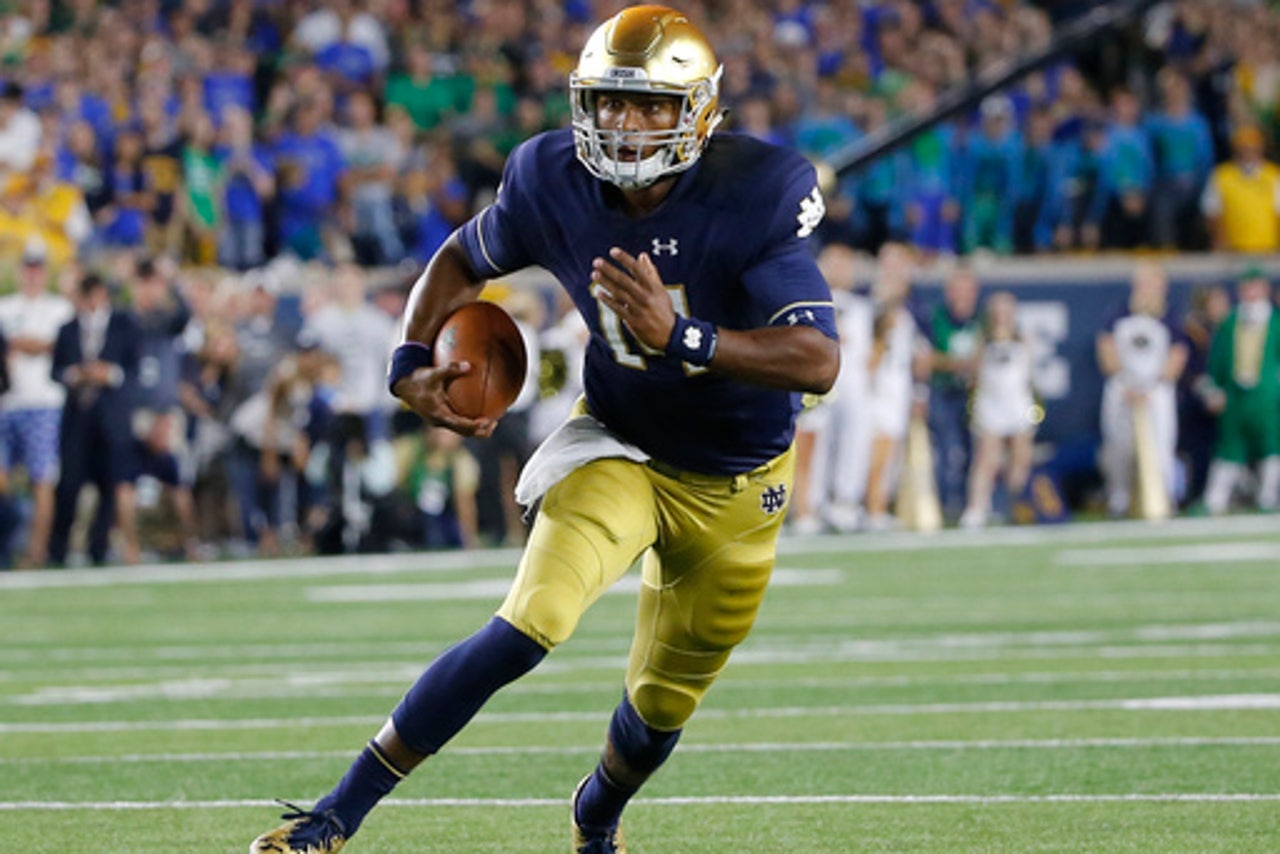 SOUTH BEND, Ind. (AP) Notre Dame coach Brian Kelly isn't concerned that quarterback DeShone Kizer is the second-leading rusher for the Fighting Irish after five games.
The Irish have had to lean heavily on the 6-foot-4, 230-pound junior to help overcome a defense on pace to give up a school-record 33.4 points a game. Kizer, 12th in the nation in passing with 1,567 yards, has carried the ball 52 times for 187 yards, which includes 49 yards lost on eight sacks.
Kelly said Tuesday he monitors Kizer's runs carefully.
''I think a couple things that have to change is that he can't expose himself to unnecessary hits and we have to be very careful in terms of the run game that we put together that we're not putting him in a position where he has free hits,'' Kelly said.
Even with those sacks and officially just 1 yard gained against Syracuse on Saturday, Kizer has outrushed Tarean Folston and Dexter Williams and nearly has as many runs as their combined 58 carries. Kizer, who set the school record for quarterbacks last season with 10 rushing touchdowns, has six already this year, which is one more than leading rusher Josh Adams (1), Folston (1) and Williams (3) have combined.
The Irish got off to a 4-1 start a year ago with a balanced offensive attack, running for 1,250 yards and passing for 1,307. While struggling to a 2-3 start this season, they haven't been nearly as balanced production-wise, running for 838 yards and passing for 1,639.
Runs have accounted for nearly 34 percent of the total offense. The only time the Irish were less balanced offensively under Kelly was in first season in 2010, when runs accounted for a little more than 33 percent of the offense.
Kelly said the reason for the disparity is because opponents' defenses have been focusing on stopping the run and trying to put pressure on Notre Dame's young receivers.
''If they want to keep doing them we have to keep proving that we can throw the football, and I think you'll see that running game come back into more balance,'' he said.
That could be a problem in the next three games as the Irish face North Carolina State (3-1), which ranks 13th in the nation in run defense, while Stanford (3-1) is 37th at 125 yards a game and 10th-ranked Miami (4-0) is 27th. The Irish may need to depend more on the run in Raleigh, North Carolina, on Saturday, with weather from Hurricane Matthew possibly making it tough to pass.
Kelly said the Irish do need to get better at running the ball, but that he's not too concerned about it because their offense averages 495 yards and 39.8 points a game, which would both be school records.
''If you let us throw the football all over the field, we're going to throw it and we won't run it as much. So are there things we can get better at in the running game? Absolutely. But we've been afforded the opportunity to throw the ball around the field,'' he said.
---
Online: www.collegefootball.ap.org
---