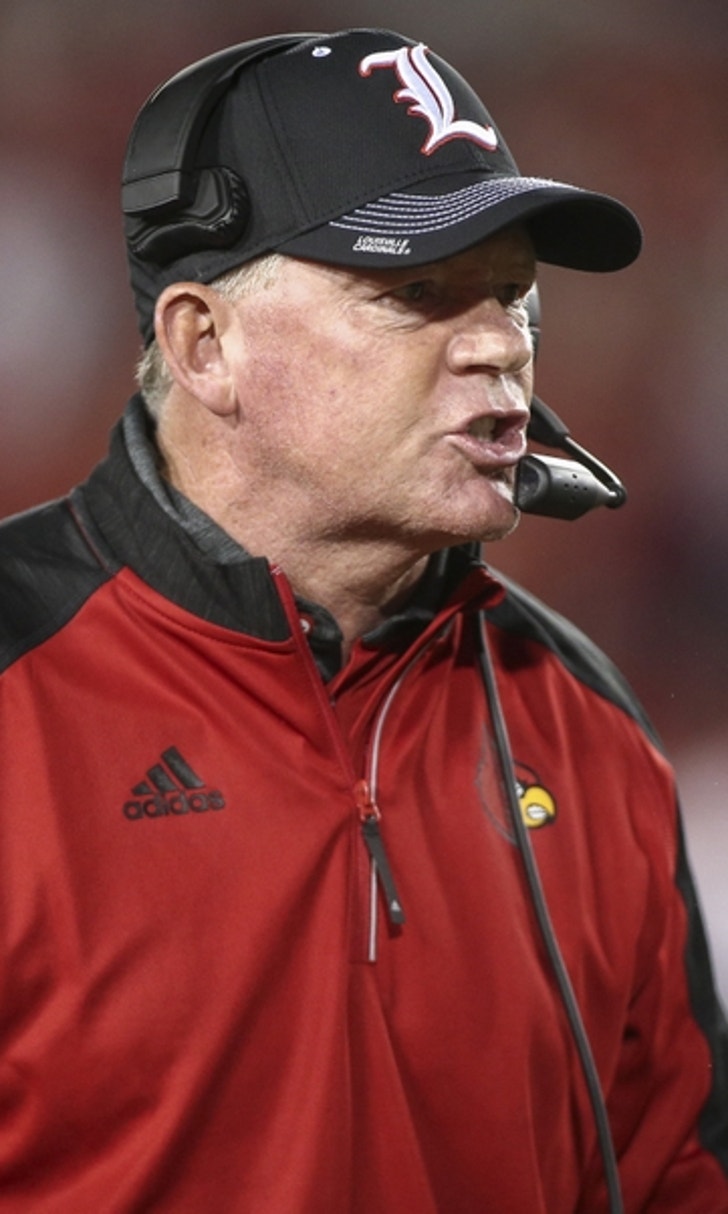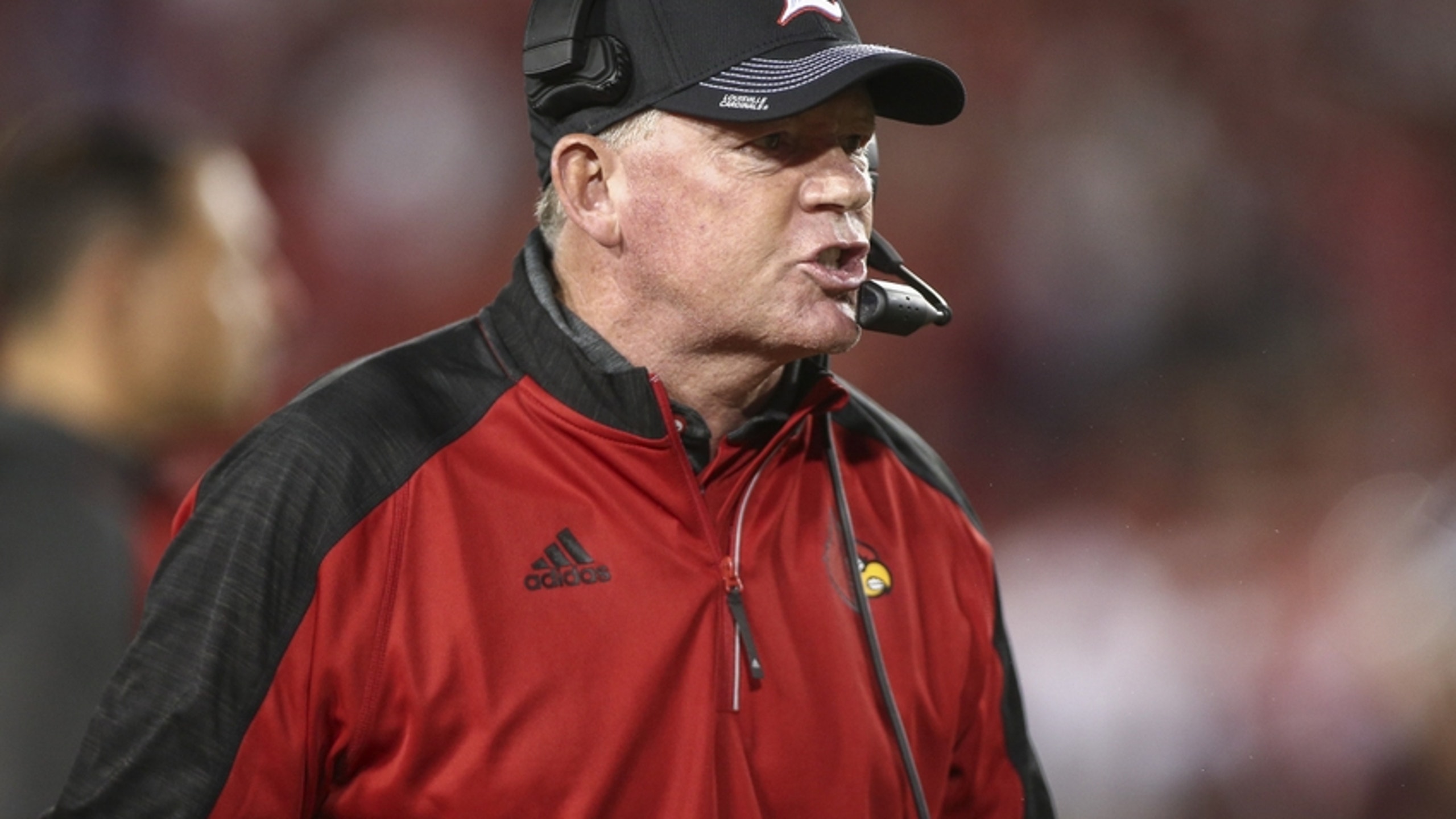 Kentucky News: Louisville Coaches Complicit in Wake Forest Leak
BY Fansided and Chad Adams/FanSided via Wildcat Blue Nation • December 15, 2016
Kentucky News: Louisville Coaching Staff complicit in Wake Forest game plan leak, the latest in a staggering number of scandals for Cardinals Athletic Department.
Nov 17, 2016; Houston, TX, USA; Louisville Cardinals head coach Bobby Petrino shouts during the second quarter against the Houston Cougars at TDECU Stadium. Mandatory Credit: Troy Taormina-USA TODAY Sports
It started as a bizarre story out of Wake Forest, where Tommy Elrod, a former Deamon Decon player, coach and current radio announcer, was fired for allegedly leaking confidential game plans and preparations to opponents, dating back to 2014. The smoking gun, documents including plays found in Papa John's Cardinal Stadium a day prior to the two teams' Nov. 12 game.
It was the kind of absurd, lurid behavior most Kentucky fans expect out of Louisville. The kind of precious ammunition to be lobbed back down I-64 in ridicule, like Pitino's tabletop restaurant affair, the brothel in the dorms, or even Bobby Petrino's seemingly complete lack of moral code throughout his career.
And while most Cats fans were giddy at more Cards woes to make fun of, most didn't think too much of this at first. As late as the Houston game, Petrino vehemently denied any knowledge of improper information on ESPN's "Mike and Mike."
"I can tell you that we didn't," Petrino said, regarding having Wake Forest's plays. "I can assure you that we prepare each week the way that you're supposed to prepare, and I like the fact that our team knows how to do that."
So as much fun as that latest scandal was, it appeared much to do about nothing. Until today's latest gift from Louisville Athletic Director Tom Jurich, that is. Yesterday, in a statement, Zurich admitted that offensive coordinator Lonnie Galloway obtained confidential information from Elrod, sharing that information with Louisville defensive coaches. 
"Our offensive coordinator Lonnie Galloway and Tommy Elrod have known each other since 2007. Lonnie received a call from Elrod during the week of the Wake Forest game, and some information was shared with him that week. Among the communication were a few plays that were sent and then shared with our defensive staff. None of the special plays were run during the course of the game. Our defense regularly prepares for similar formations every week in their normal game plan."
"Any other information that may have been discussed was nothing that our staff had not already seen while studying Wake Forest in their preparations for the game and the material was not given any further attention. I'm disappointed that this issue has brought undue attention to our football staff as we prepare for our upcoming bowl game."
Jurich's cavalier attempt to minimize the obvious violation in ethics, if not more, was evident when he referenced Galloway merely received "a few plays." However, according to Wake Forest, the initial investigation was launched because the sheet found in Cardinal Stadium wasn't just specific, rather it contained plays that had been drawn up specifically for the Louisville game, and were not plays that could be obtained from traditional scouting methods. Wake simply hadn't run them yet.
From Jurich's poor attempt to dismiss wrongdoing, to Petrino's consistent inability to be truthful or accountable, to the Athletics Program continued, demonstrated low moral code – not from students, not from student-athletes – from Athletics Department administration and coaches, proves one simple truth, change is necessary.
Collectively, they've lied, they've cheated, and they've stolen from the college sports world.
More from Wildcat Blue Nation
For Kentucky fans, it's all just more proof of what defines us on the other side of this great divide in this epic rivalry. For Kentucky fans, we're more than ready to take great pleasure in this latest of Louisville scandals.
But for Louisville fans, you should demand better.
---
---