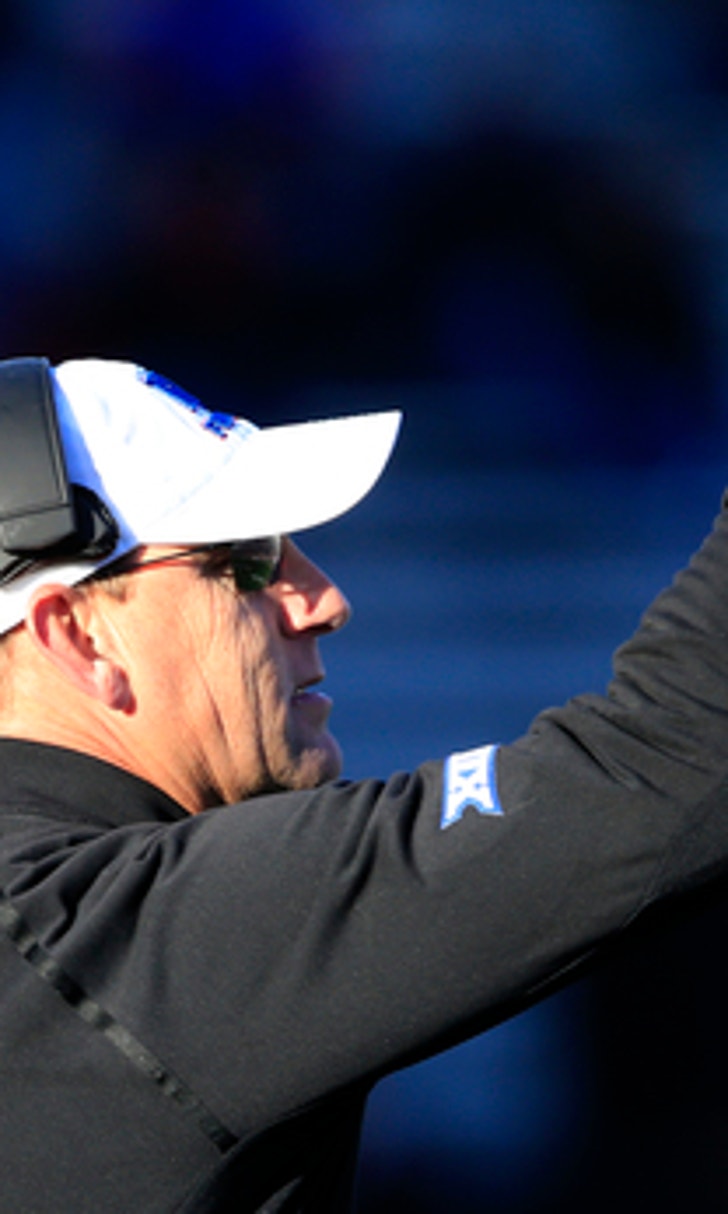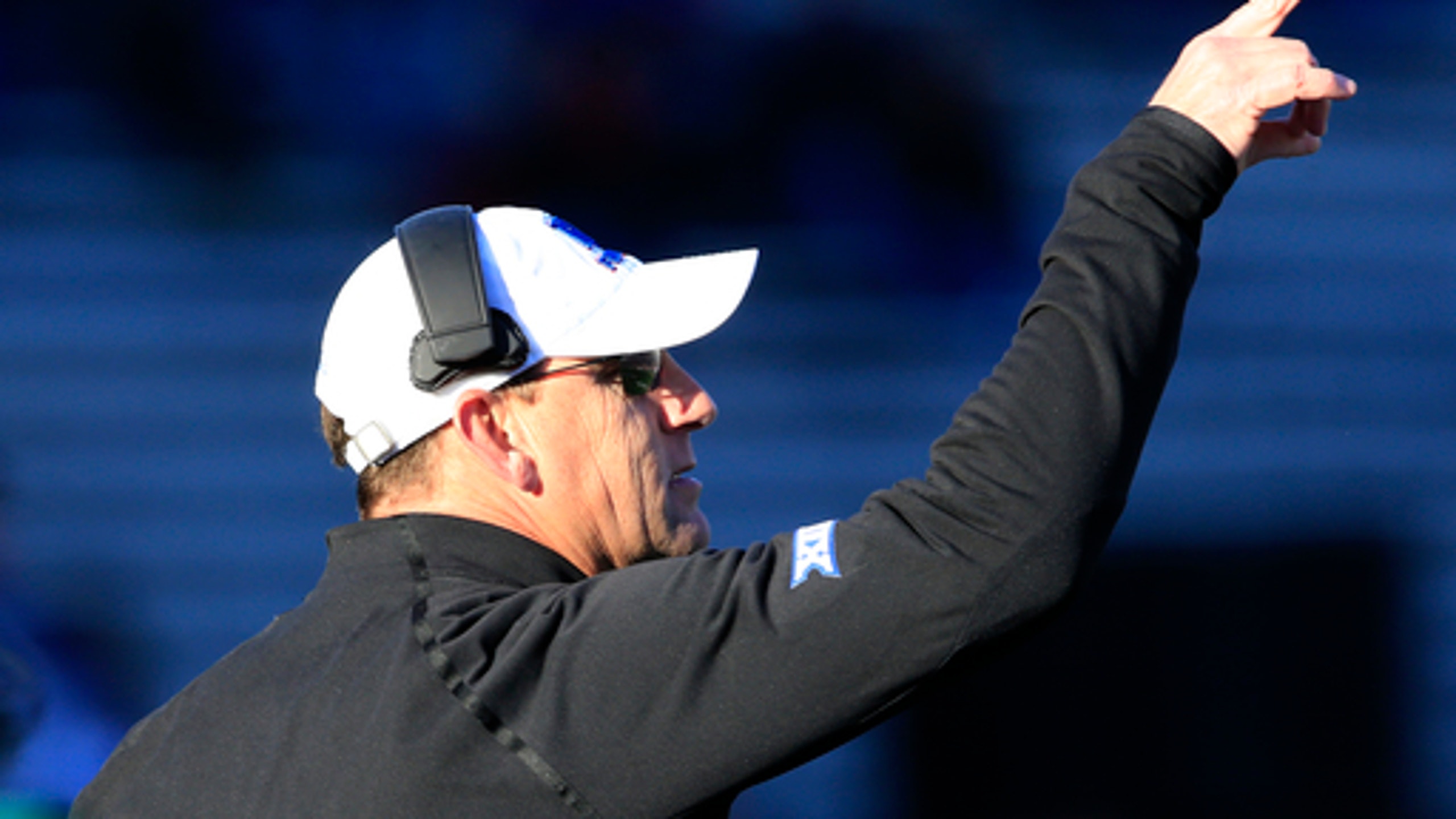 Kansas State tries to give coach Bill Snyder win No. 200
BY foxsports • November 25, 2016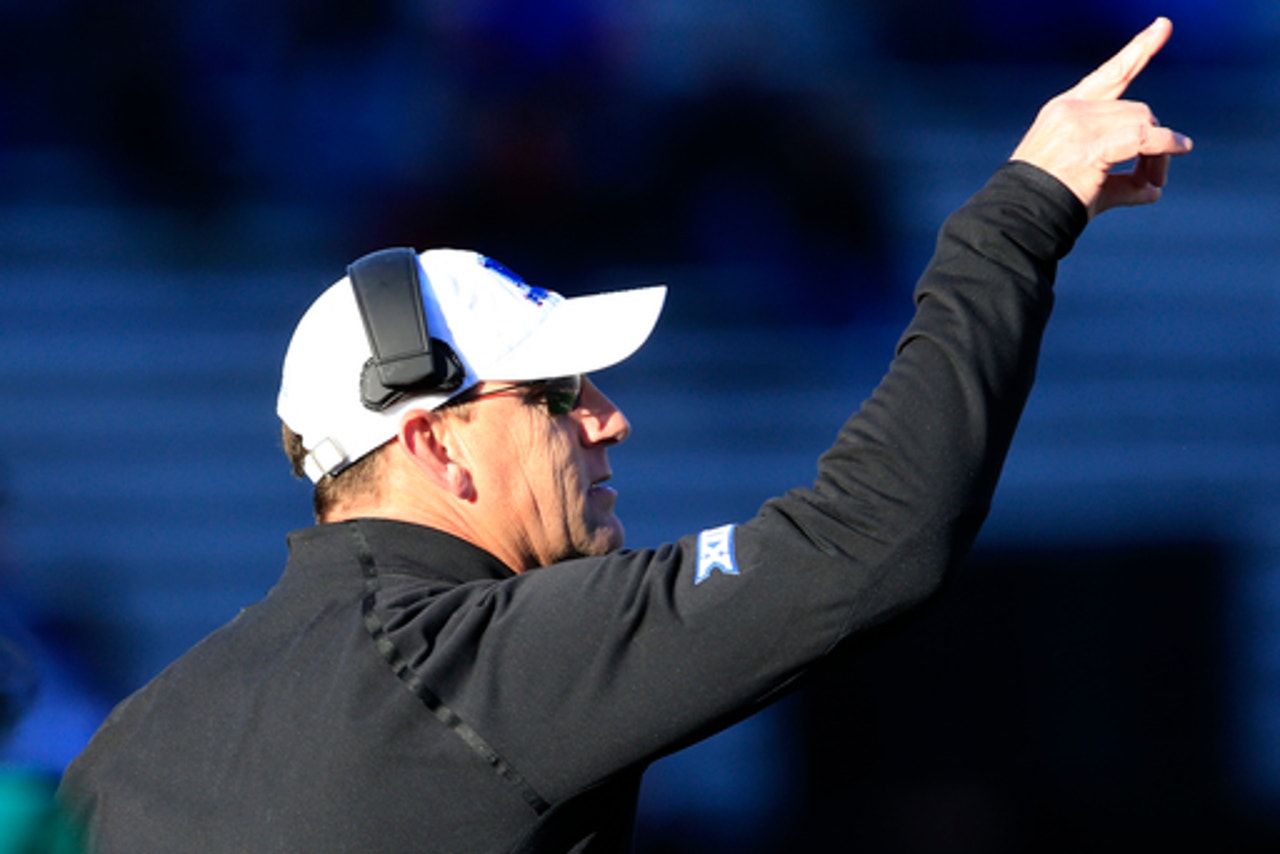 MANHATTAN, Kan. (AP) When he arrived at Kansas State nearly three decades ago, Bill Snyder was inheriting what can only be described as a mess - one of the worst programs in the history of major college football.
It's something to which Kansas counterpart David Beaty can relate.
Snyder quickly built the Wildcats into a perennial contender, though, with his unrivaled work ethic and sheer force of will. He won conference championships, went to bowl games by the bushel and more than once had the once-downtrodden school on the cusp of playing for a national title.
Now, a win over the Jayhawks on Saturday would be the 200th of his career.
''It would be pretty cool for us, especially these guys from Kansas that have grown up watching him,'' Kansas State quarterback Jesse Ertz said. ''That would be pretty cool and a big accomplishment.''
The success was slow to come at first. Kansas State only one once in Snyder's first season. But the momentum began to pick up in his second year and by the third, the Wildcats had a winning record.
It's a blueprint that Beaty has tried to follow.
''The way in which he resurrected a program, or basically built it, is the thing that's most interesting to me and most impressive,'' he said. ''The guy to me is the picture of class. Everyone in our conference respects him. They respect him highly.''
So highly that they tend to follow his lead at Big 12 meetings.
''Because he's done it so well for so long, and you know he's thought about it. When you get on a plane with him and you see a notebook about that thick,'' Beaty said, holding up his hands to show, ''and he's writing the whole time, you're like, `OK, no wonder. No wonder.'''
Beaty's rebuilding job has also been slow, but just like Snyder at Kansas State, it appears to be finally picking up steam. A winless first season was followed by a victory over Rhode Island in this year's opener, and last week's upset of Texas was a major mile-marker in the progress of his program.
Now, Kansas (2-9, 1-7 Big 12) is aiming for back-to-back wins for the first time in five years.
''If you look at the games they have played, they have led the games multiple times,'' Kansas State safety Dante Barnett said. ''They've been in a lot of big games. They have the big-play capabilities. We just have to make sure that we do what we do to stop them.''
As the Wildcats (6-4, 4-3) prepare to meet Kansas in the Sunflower Showdown, here are some keys:
MORE ON SNYDER
The 77-year-old coach already has 160 more wins than any other coach in Kansas State history. He is first among major college coaches in wins at his current school, second in total wins among active coaches and would become the sixth to win 200 games at one school.
BOWL BOUND
Kansas State assured itself a seventh straight bowl game with last week's romp over Baylor, but it can improve its destination with a win over the Jayhawks. The Alamo, Texas and Cactus bowls are all possible depending on how things shake out.
AWARD WINNERS
Kansas Defensive end Dorance Armstrong was Big 12 defensive player of the week and kicker Matthew Wyman was special teams player of the week. Armstrong had two sacks, forced a fumble and had a fumble recovery against the Longhorns, while Wyman kicked the field goal that sent the game to overtime and the winner in the extra session that sent fans spilling onto the field.
GROUND AND POUND
The Wildcats have piled up 582 yards and 10 touchdowns rushing the past two games, and have topped at least 200 yards rushing in four straight. Their rushing attack has resulted in 31 of 49 scoring drives this season spanning at least seven plays, including 15 of at least 10 plays.
SEASON FINALE
After their Senior Day win over Texas, there will be a bunch of seniors playing their final game for Kansas on Saturday. Many of them were recruited by Charlie Weis, weathered an interim coach and have concluded their careers with Beaty, trying to lay the foundation for the future.
''You just see a sense of pride in them in terms of that accomplishment of finishing that game off the other day,'' Beaty said. ''It's just one game, and for it to be a turning point, it's going to - the future is going to tell you that, whether it's going to be a cornerstone or not. We don't know that yet, and that is what I talked to them about. Our challenge is not to let that be just one game.''
---
More AP college football: www.collegefootball.ap.org and https://twitter.com/AP-Top25.
---