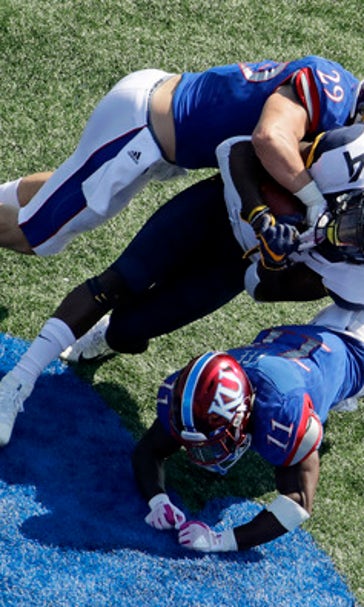 Kansas' Meacham faces No. 4 TCU's defense for real
October 20, 2017

FORT WORTH, Texas (AP) Doug Meacham is as familiar as anyone with TCU coach Gary Patterson's unique 4-2-5 defense. This time, it won't be practice.
After the past three seasons as TCU's co-offensive coordinator, Meacham will be on the other side running the Kansas offense when the Jayhawks play Saturday night at the fourth-ranked Horned Frogs .
Patterson and the Frogs (6-0, 3-0 Big 12) also know Meacham pretty well.
''We understand what he's going to do with their offense and how he's going to attack us. We're having to do all of our self-evaluation making sure we're watching everything that we think that he would do,'' Patterson said. ''But the thing you have to do is you just still have to play. ... You have to respect your opponent.''
Especially these Jayhawks (1-5, 0-3), who have surprisingly played close against TCU even while losing all five of their Big 12 meetings. The last three have been decided by a combined 11 points, including TCU's 24-23 win last year - ''They should have beat us,'' Patterson said. The Frogs made a go-ahead field goal with 1:21 left before Kansas' third missed field goal of the fourth quarter.
''We felt like we let one get away against these guys last year,'' third-year Kansas coach David Beaty said. ''We've been looking forward to this game for a long time.''
All those close games against TCU certainly should help the Jayhawks, coming off a 45-0 loss at Iowa State and going into a game when most everyone else will consider them a huge underdog.
''A lot of guys feed off that energy, knowing that we played well against them,'' said defensive end Dorance Armstrong Jr.
Some other things to know about the prime-time matchup:
LONG LOSING ROAD
Kansas has lost 43 consecutive true road games, one short of the matching the NCAA record. Western State from Colorado lost 44 in a row between 1926 and 1936.
''Most of these kids, they have no idea about this streak. ... The streak is not the issue for them,'' Beaty said. ''We absolutely won't focus on anything like that.''
When counting neutral site games, Kansas has lost 46 in a row away from Lawrence since a 34-7 win at UTEP on Sept. 12, 2009.
TOP TACKLER
While TCU has the league's best overall defense, the Jayhawks have the top tackler in Joe Dineen Jr. The junior linebacker's grandfather played football at Kansas and his great-grandfather played basketball for coach Phog Allen. The young Dineen leads the Big 12 with 12.8 tackles per game, and 12 tackles for loss.
FINDING HIS GROOVE
TCU defensive end Ben Banogu felt he was playing a ''bit tentative'' early this season after having to sit out last year following his transfer from Louisiana-Monroe. But the 6-foot-4, 240-pound Banogu leads TCU with four sacks and eight tackles for loss. ''You kind of lose like the flow of the game whenever you have to sit out a year,'' Banogu said. ''I feel like I'm kind of coming into my own, and I'm starting to help my team in ways they didn't really have last year.''
TEXAS TIES
Beaty was born and raised in the Dallas area, and outside his three stints as Kansas - two as an assistant before becoming the head coach - the rest of his coaching career has been spent in Texas. He was a high school coach from 1994-2005 before going to Rice and later Texas A&M. There are 37 Jayhawks players from Texas, 15 from the Dallas-Fort Worth area.
RECRUITING HILL
Before becoming Kansas' head coach, Beaty was the receivers coach and recruiting coordinator at Texas A&M when TCU senior quarterback Kenny Hill started his college career with the Aggies.
''He's developed nicely. He really has,'' Beaty said. ''He's been doing this for a long time. ... You can see the growth and maturity in him.''
---
More college football coverage at http://collegefootball.ap.org and www.Twitter.com/AP-Top25
---
---