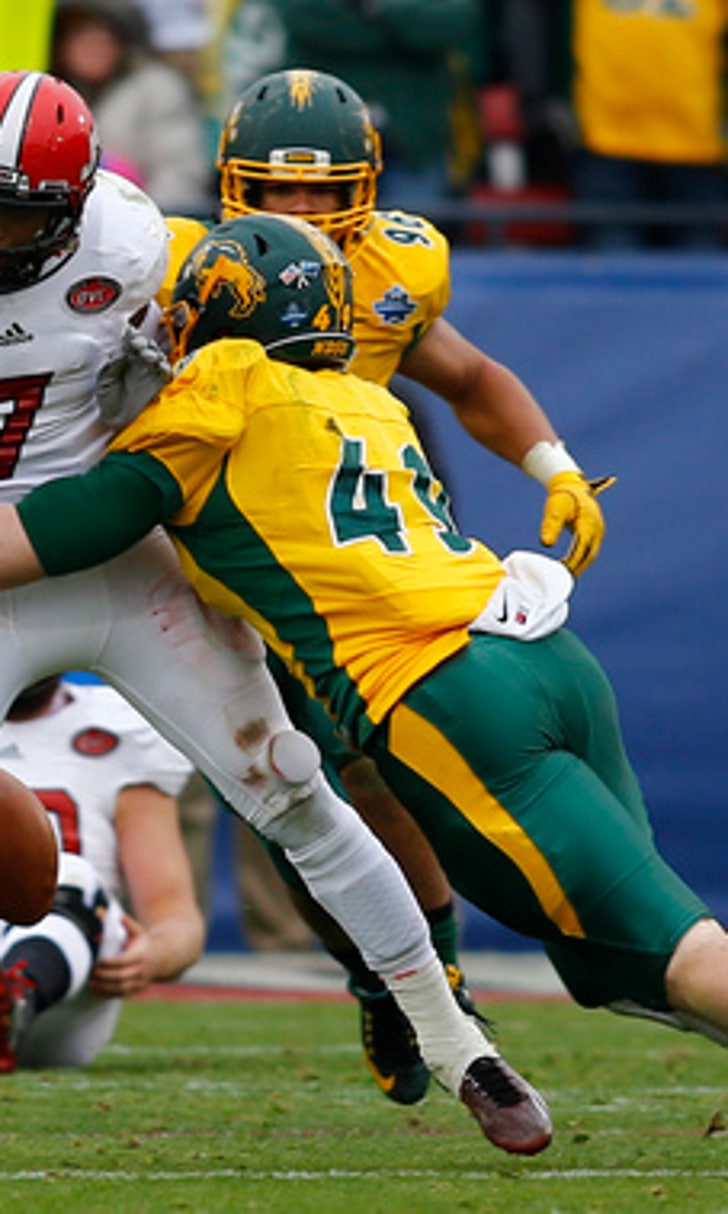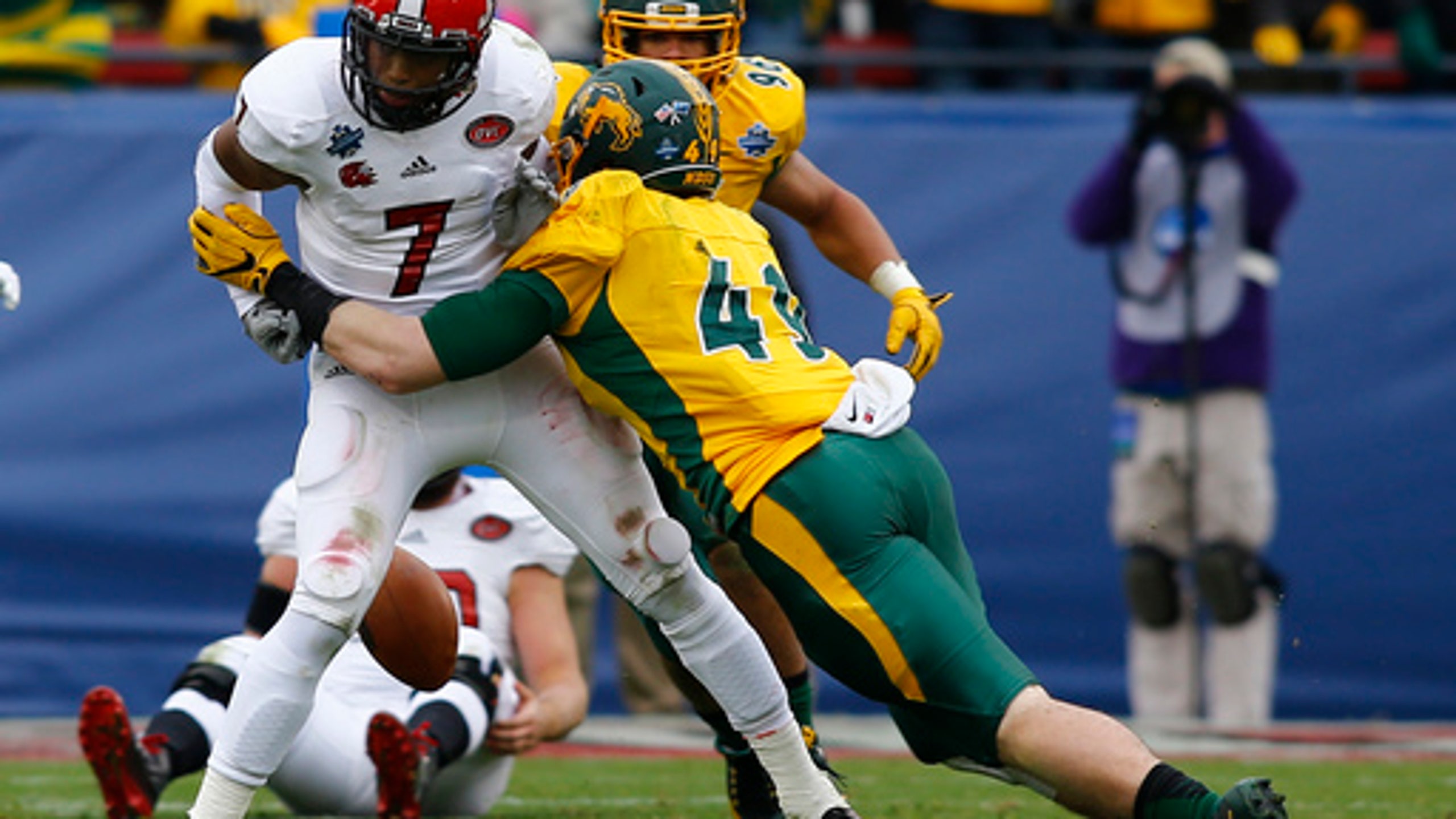 Jenkins, Gamecocks eager to begin quest for return title-game trip
BY foxsports • January 9, 2016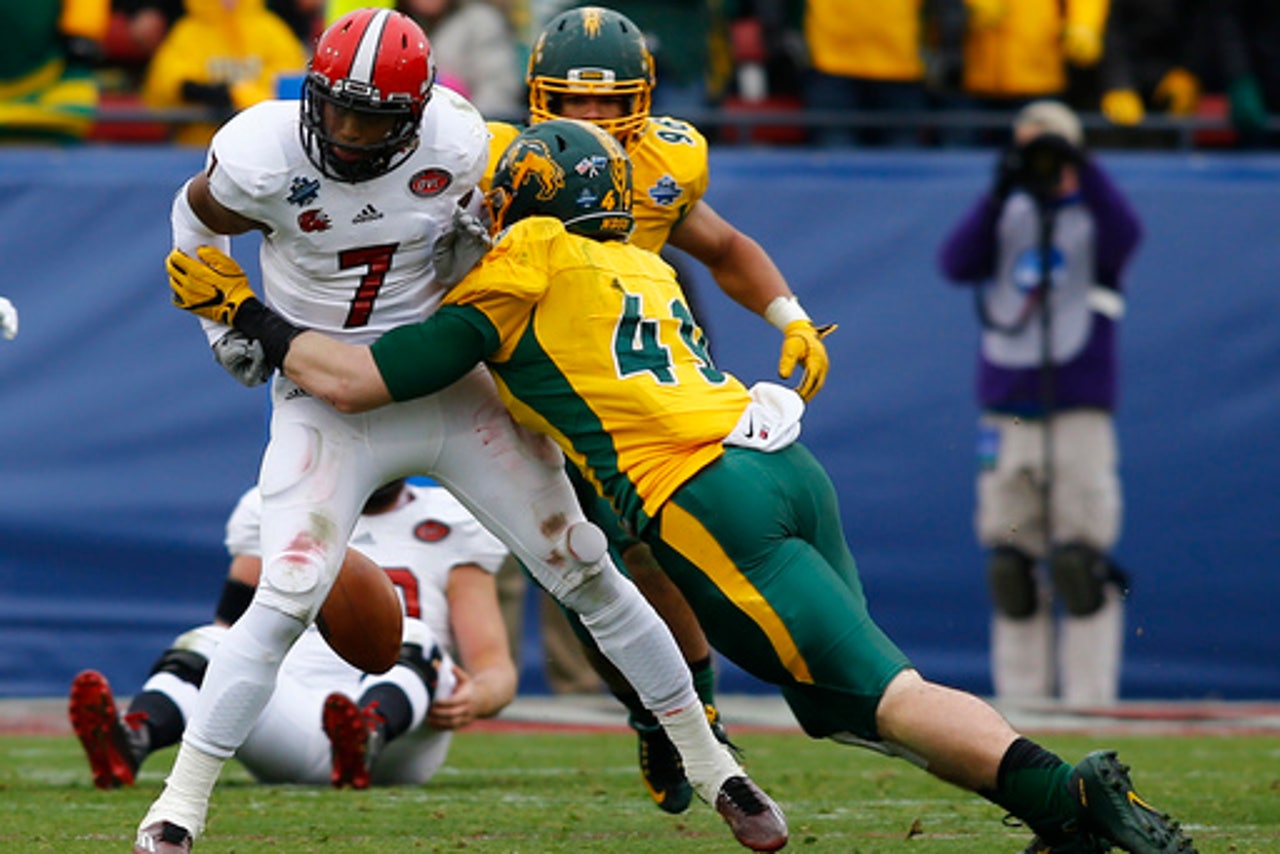 FRISCO, TEXAS (STATS) - As Eli Jenkins stood in a cramped hallway, still wearing his pads and obviously sullen from his performance in the biggest game of his football career, the junior Jacksonville State quarterback had an eye on the future.
Though fresh in his mind, Jenkins certainly didn't want to rehash Saturday's 37-10 loss to North Dakota State in the FCS Championship game at Toyota Stadium.
"No days off," Jenkins said. "When I get back, right away I'm starting. The same with the other guys."
Jenkins enjoyed one of the best seasons of any FCS player for the Gamecocks (13-2) in 2015, earning STATS All-American first-team honors while becoming the only player in the subdivision to pass for at least 2,500 yards and rush for 1,000.
However, Jenkins might have played the worst game of his brilliant three-year career on a blustery, raw North Texas day against the Bison, the FCS power who claimed their unprecedented fifth straight national championship.
On consecutive drives in the second quarter, Jenkins threw an interception and fumbled a handoff exchange. North Dakota State (12-2) made him and the Gamecocks pay by finding the end zone after each miscue. Jenkins also had the ball stripped and recovered by the Bison in the fourth quarter, and was again intercepted on the Gamecocks' next possession.
It was only the third time in 40 career games Jenkins threw two INTs and the second occasion he was picked off twice without throwing a touchdown. When it was all done, Jenkins went 7 of 20 for 57 yards - his fewest with at least 18 pass attempts. He ran 15 times for a game-high 88 yards and that score.
"I felt like I didn't play up to my standards," said Jenkins, the school's leader in total offensive yards. "That's why we didn't win the game. I've got to play better."
Jenkins did manage a couple of memorable moments in Jacksonville State's first title game appearance.
On the first drive of the second half, he darted 46 yards for the game's longest run. He capped it two plays later with a 6-yard touchdown run.
The Gamecocks' 204 total yards were their fewest against an FCS opponent since gaining 192 in 2003 during a 45-7 loss to Western Kentucky, which was in the Gateway Conference at the time. They averaged 529.2 heading into this contest.
"I don't think our defense gets a lot of credit," said NDSU coach Chris Klieman. "They just execute."
Though it wouldn't be unheard of in today's college football climate for a versatile quarterback like Jenkins to consider transferring to a FBS school or even take his chances and declare early for the NFL draft, the FCS hasn't seen, or heard, the last of this talented signal-caller.
"I love this team," said Jenkins, who matched Ed Lett's school record of 65 combined touchdowns - rushing and passing - from 1979-82. "I wouldn't do anything to hurt our family. They are great guys and great players."
It's certain JSU John Grass can't wait to start gameplanning for his stud quarterback in 2016.
"It's been fun to watch him mature into the quarterback he is now," said Grass, who is 16-0 in Ohio Valley Conference play.
The disappointment Jenkins feels now will soon subside and eventually turn into eagerness. An excitement to build on the most successful season in the program's history to perhaps take care of some unfinished business.
And Jenkins won't be alone in the cause.
Receiver Josh Barge, who has caught at least one pass in a school-record 40 games and already owns the school record with 206 receptions, will join him. Returning center Casey Dunn was a STATS All-American second-teamer in 2015 and left tackle Justin Lea earned first-team All-Ohio Valley Conference honors.
Defensively, the Gamecocks will lose the services of linebacker Chris Landrum, lineman Devaunte Sigler and cornerback Jermaine Hough. However, defensive end Darius Jackson was a second-team OVC pick while tackle Desmond Owino and linebacker Joel McCandless were named to the league's Newcomer of the Year list.
"Hopefully we'll be able to continue the success we're having here now," Grass said. "We got (to the championship game). Our goal will still be the same. Get here and win."
---
---