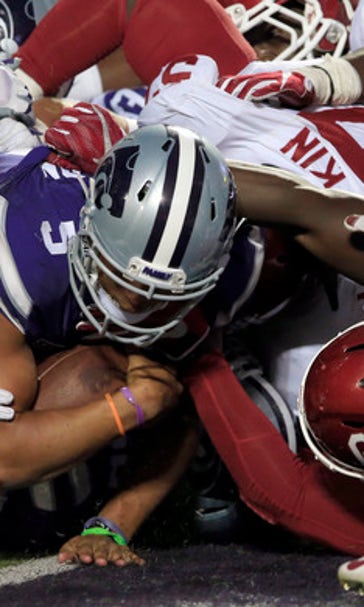 Jayhawks, Wildcats desperate for win in Sunflower Showdown
October 27, 2017

LAWRENCE, Kan. (AP) Good luck determining which team in the Sunflower Showdown is more desperate for a win Saturday.
Kansas State is coming off a last-second loss to Oklahoma that could have turned around a season that began with great expectations. Instead, the Wildcats (3-4, 1-3 Big 12) have lost three straight as they head down Interstate 70 to play their biggest rival.
Kansas, meanwhile, has not scored in two straight games after a 43-0 rout at TCU that was every bit as lopsided as the final score. The Jayhawks (1-6, 0-4) managed four first downs - two of those thanks to penalties - and 21 yards of total offense.
''We need to do something better than what we've been doing,'' Kansas quarterback Peyton Bender said. ''Obviously just two really bad games from our standpoint, so we've got to start doing something different to get this offense going, get a spark on this team.''
Defensive lineman Daniel Wise tried to give the Jayhawks a spark with an impassioned speech to his teammates earlier this week. But whether it sunk in will not be clear until Saturday.
''It was just strictly from the heart. Just something that the guys need to hear,'' he said. ''No one likes losing, so the environment in the locker room was obviously not the best. Just something to keep the guys going, keep the guys motivated, keep them uplifted.''
The Wildcats could have used a similar pep talk last weekend.
Playing without starting quarterback Jesse Ertz for the second straight week, they managed to take an early 21-7 lead on the Sooners. And it wasn't until Oklahoma scored with 7 seconds left in regulation that the Wildcats were finally resigned to their fourth loss in five games.
Alex Delton showed improvement against Oklahoma, but Ertz could also be back from injury.
''It has been tough coming of a loss when we were close,'' Delton said this week. ''It still stings a little bit right now. Our focus right now should be, and still is, Kansas and just doing our best to get after those guys Saturday.''
As the Wildcats and Jayhawks try to get their seasons on track, here are some key story lines:
RUNNING THREAT: Regardless of whether it's Delton or Ertz under center, Kansas State coach Bill Snyder wants to see a bit less of the QB run game. Delton carried the ball 27 times against the Sooners.
''Sometimes that's just what you have to do in order to get some movement out of the ball,'' Snyder said. ''He ran the ball well. We got very positive yards from him, and his average-per-carry was good. But I would rather him carry it 12 times, yes.''
STAYING POSITIVE: Bender was 7 of 16 for 38 yards against the Horned Frogs. He was 8 of 19 for 18 yards with an interception the previous week against Iowa State. And for the season, he's completing just 54.4percent of his passes with eight touchdown passes and nine interceptions.
''I'm still confident. We just got to clean things up,'' he said. ''It just feels like on every play, we have nine guys doing the right thing, two guys not doing the right thing, or 10 guys doing the right thing, one guy not. We just got to get everyone on the same page.''
LOPSIDED SERIES: The Wildcats have won 21 of the last 26 meetings, while Snyder is 21-4 against the Jayhawks. The ties Snyder with himself for most win by an active coach against any opponent; he has also beaten Iowa State 21 times since taking over for the 1988 season.
SEEING RED: The Jayhawks' offensive struggles have mostly come between the 20s. They've scored on 19 of 20 trips into the red zone this season, tying for the eighth-best percentage in the Football Bowl Subdivision. But only seven of those scores have been touchdowns.
GROUND AND POUND: Delton ran for 142 yards and Alex Barnes ran for 108 yards in last week's loss to Oklahoma. Even if Ertz is back under center, look for the Wildcats to pound the ball against Kansas.
''I don't think it's really much difficult to defend,'' Jayhawks defensive end Dorance Armstrong Jr. said. ''They have a big O-line and two quarterbacks that can run, a good running back and a good receiver. That's just basically what it is. Kind of a basic offense that depends on certain people.''
---
More AP college football: www.collegefootball.ap.org and https://twitter.com/AP-Top25
---
---