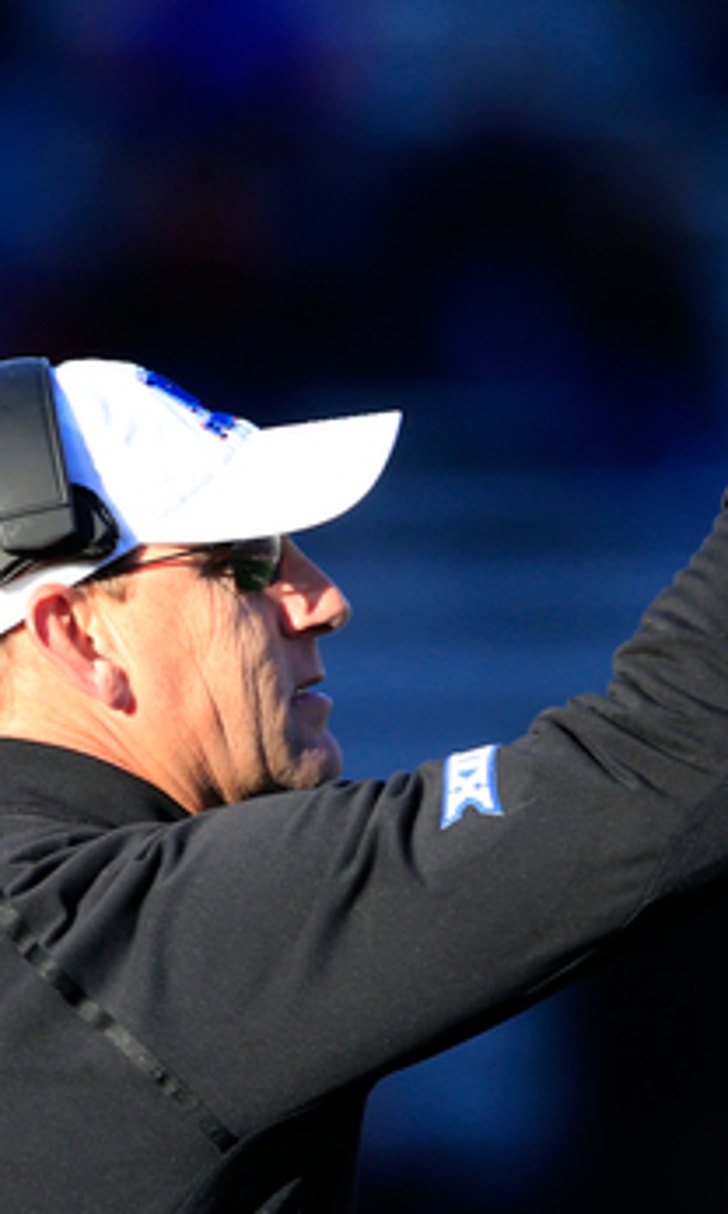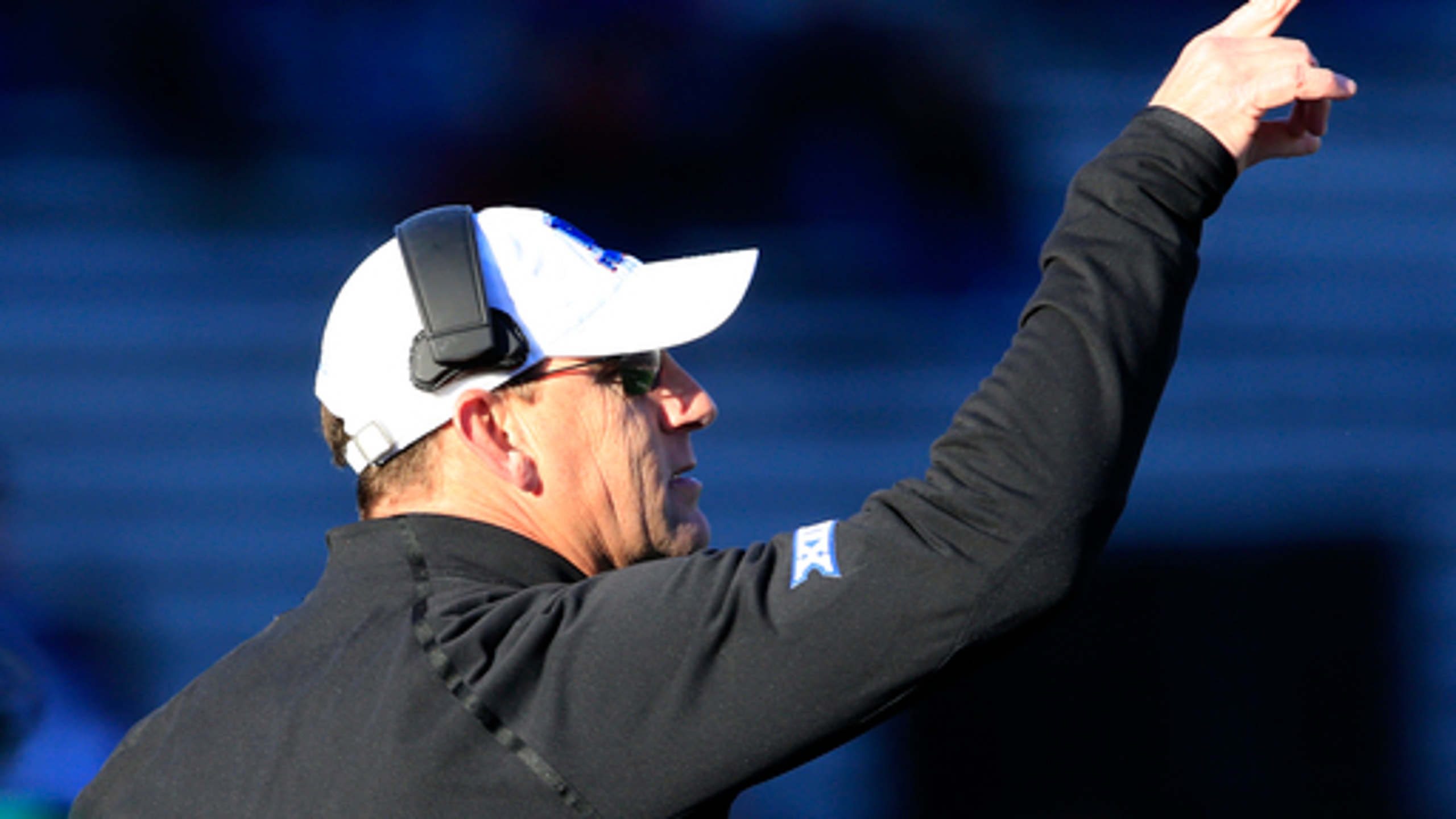 Jayhawks relish rare Big 12 win, try to make it 2 straight
BY foxsports • November 21, 2016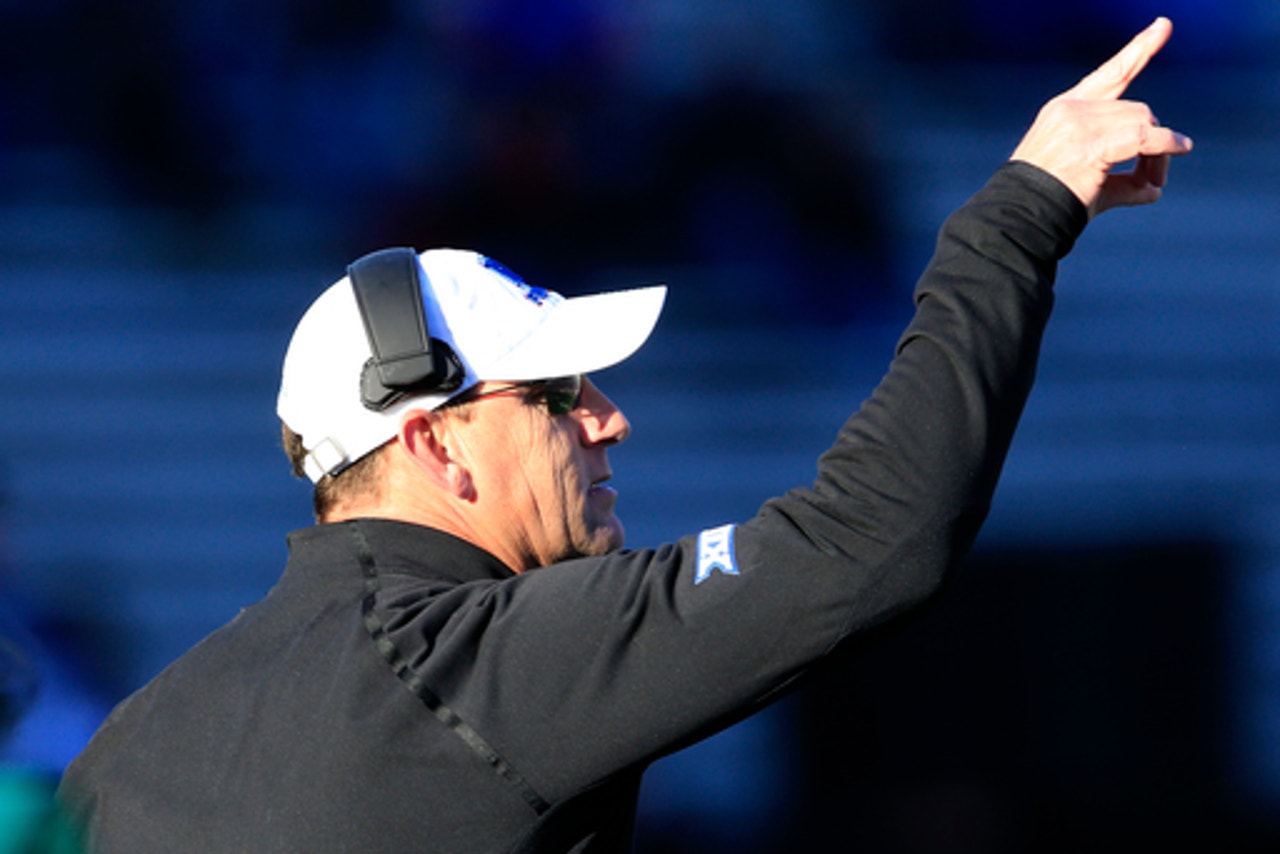 LAWRENCE, Kan. (AP) After he had finally waded through the mass of humanity at midfield, and survived more back slaps than a mixed martial artist, David Beaty walked into the Kansas football complex and exhaled.
''I feel better being in here right now,'' he said, ''than a few of the other showings.''
Pretty much every other showing.
After taking over arguably the worst program in major college football, Beaty endured a winless first season that tested the resolve of even the most optimistic of coaches. And after a season-opening win over lower-level Rhode Island, nine more losses followed in quick succession.
The signs of progress were evident, but close losses to TCU and Iowa State only seemed to underscore the monumental building job that Beaty had undertaken.
Not to mention raise the frustration level surrounding the program.
So when the Jayhawks rallied from a 21-10 second-half deficit to beat Texas in overtime on Saturday night, there was a palpable release of pent-up frustration. Many fans took it out in the most joyous of ways on Beaty, engulfing the personable coach on the turf in Memorial Stadium.
''Man, it was awesome. It was so cool to see them smiling and to see them having fun and enjoying themselves,'' Beaty said. ''They kept coming. They kept coming. Every week there was a ton of students up in that student section. And as a coach you keep thinking, `You know, man, are these kids going to continue to do that?' And they did. They did. They kept coming.''
In black-and-white terms, it was only one victory against a downtrodden program that seems likely to fire its coach . But in grander terms, it was an important benchmark for the Kansas program.
The Jayhawks had not beaten a Big 12 opponent in 19 tries. They had dropped 23 consecutive games to fellow Football Bowl Subdivision members. They hadn't beaten the Longhorns since 1938.
''It feels like more than just a win,'' Kansas safety Fish Smithson said after Matthew Wyman's field goal gave them the 24-21 overtime victory. ''You get all the aspects into it - senior day, conference win, our first real win for Coach Beaty. We thought about all of that.''
The win should pay dividends going forward, too.
Beaty cobbled together his first recruiting class in a compressed timeframe after being hired to replace the failed Charlie Weis. His second class was recruited on the heels of a 0-12 season, when all he had to sell prospective athletes was a promising vision and some blind faith. Now, Beaty can point to a victory over one of college football's blue-bloods.
''It says a lot about the direction our program is headed,'' he said. ''The coaches that we have around here, these coaches are terrific. Our administration, all the support we get from these people even when you don't think they are - man, our administration, they support us like you wouldn't believe.
''Our kids, they're treated like gold,'' Beaty added. ''If you're a recruit and you don't want to come here, you're crazy, because, man, we take care of our guys like nobody else.''
Beaty made it a point to thank those who laid the foundation for his first Big 12 win, including the senior class of a year ago. Many of them, including defensive lineman Ben Goodman, sat in the stands on Saturday, then joined in the delirious celebration on the field.
But like any coach, Beaty also sought to keep things in perspective.
The Jayhawks are still 1-7 in the conference, 2-9 overall, and have a tough test ahead of them in their season finale Saturday. They'll head down Interstate 70 to face Kansas State, their bitter rival, a team that's coming off an impressive win over Baylor on Saturday.
''We've got a lot of momentum on our side,'' Kansas defensive lineman Dorance Armstrong said. ''If we just execute our game plan for both sides of the ball like we did this week, we can get the win.''
That would be back-to-back wins for the Jayhawks for the first time in five years. Another benchmark for a program now seeking the next one.
''We got a huge, huge mountain we got to climb to get ready to play these guys,'' Beaty said, ''but it's a lot easier and a lot more fun preparing with the result we got.''
---
More AP college football: www.collegefootball.ap.org and https://twitter.com/AP-Top25
---