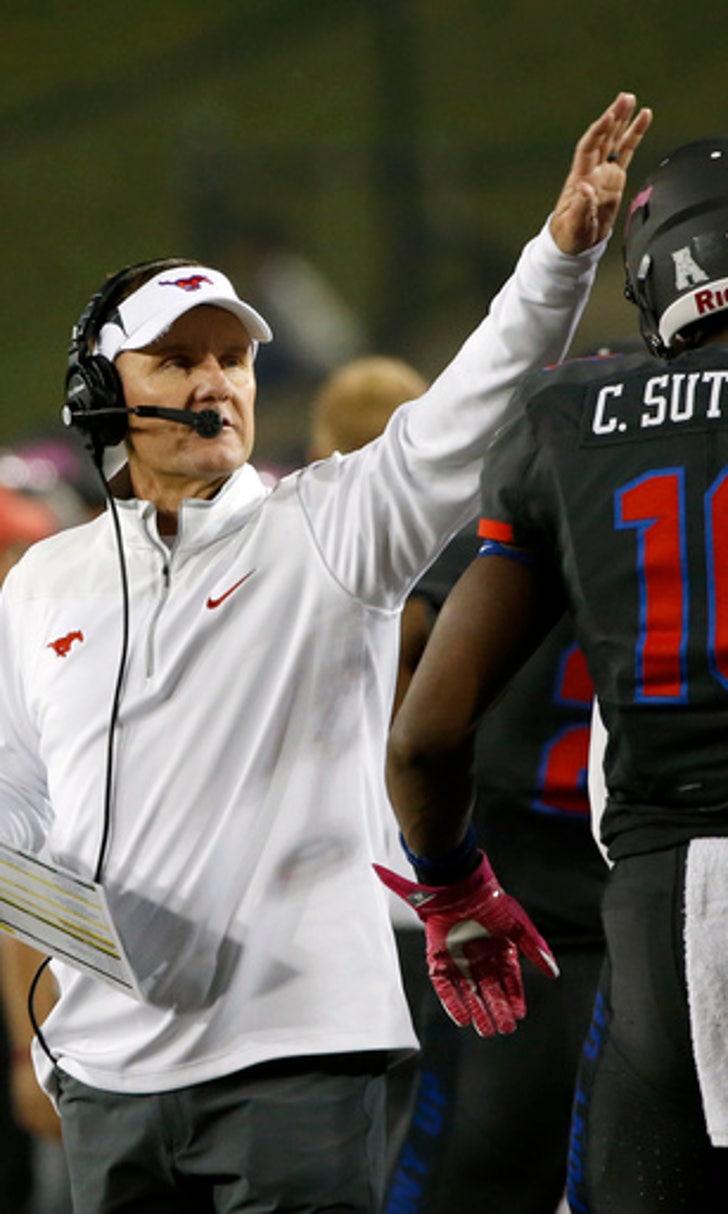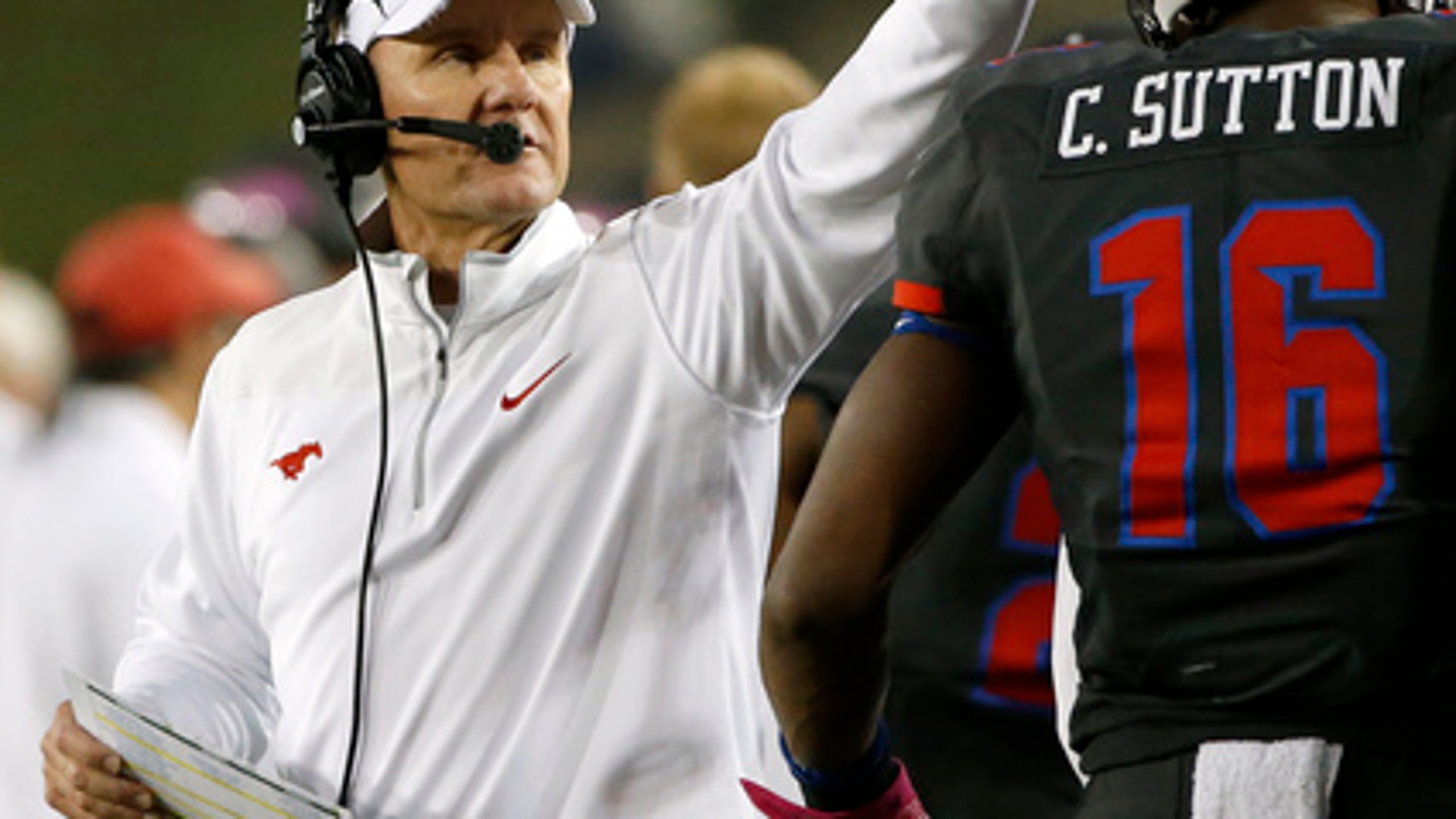 Is SMU's win over Houston enough to revive the program?
BY foxsports • October 23, 2016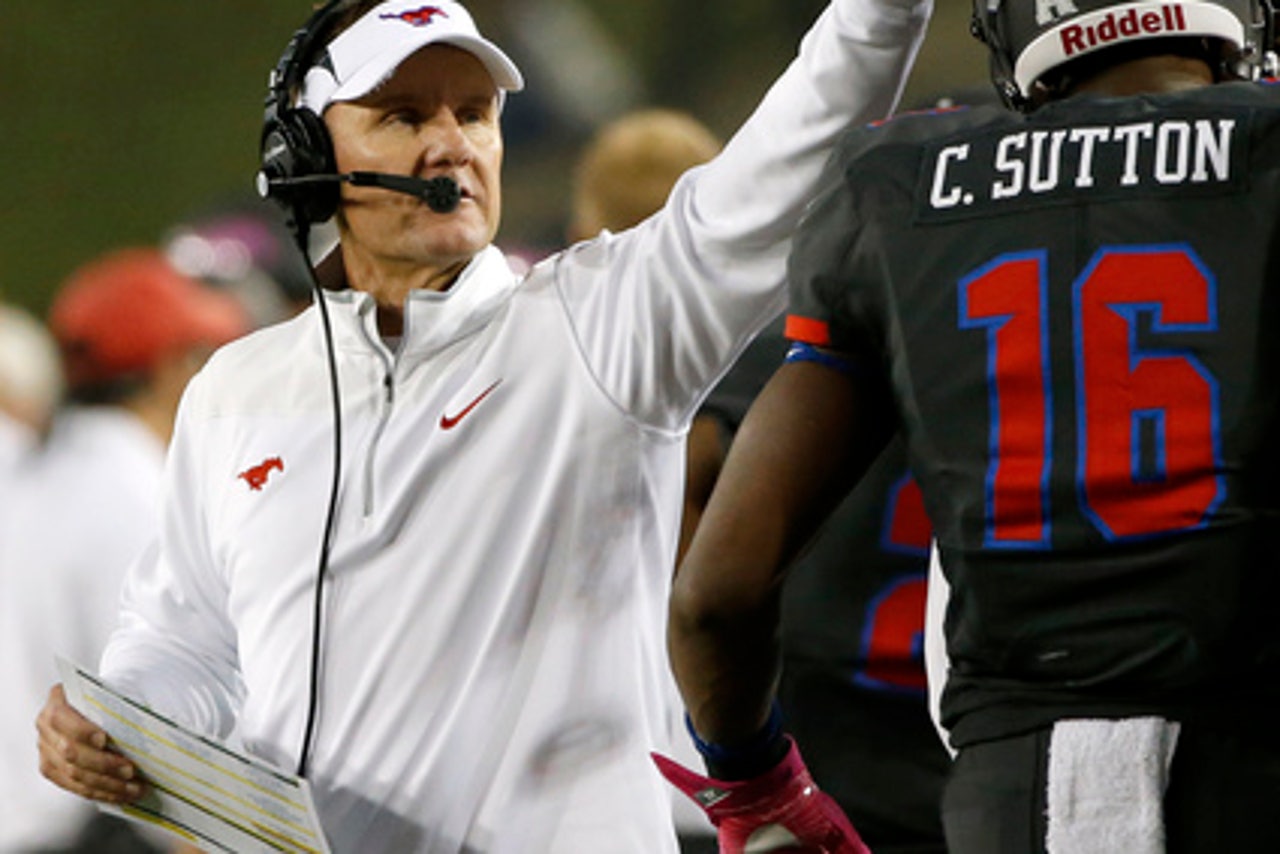 DALLAS (AP) Fans chanted ''S-M-U'' when the Mustangs, three-touchdown underdogs against No. 11 Houston, took a lead that big in the first half.
They were chanting again in the final moments of a 38-16 victory Saturday, one of the biggest for a program that's been mostly moribund in three decades since getting shut down by crippling sanctions under the NCAA's so-called death penalty.
''It means everything,'' said redshirt freshman quarterback Ben Hicks, who threw for three touchdowns and ran for another score. ''We just needed one. We've been saying it all along. Now we got that one, and now we have to flip the script and get ready for Tulane.''
But let coach Chad Morris and his gang enjoy this one for maybe a day at least. Morris, a Dallas native, took the job after the program collapsed following several promising seasons under June Jones.
The laid-back former NFL coach took the Mustangs to their first bowl game since the program's shutdown - and they went to four in a row.
But a losing season in 2013 was followed by an embarrassing start in 2014, and Jones abruptly quit two games into the season. With a season-ending win at Connecticut in 2014, SMU avoided a second winless season since 2003. It was the seventh one-win campaign, though.
Morris' debut last season was as rough as Jones' in 2008, but the Mustangs showed promise early this year by staying with high-scoring Texas teams Baylor and TCU before fading in the second half of both games.
There was no fade against the Cougars in SMU's fourth win in 20 tries against Houston since returning from the death penalty. The first game was a 95-21 loss.
The last time the Mustangs (3-4, 1-2 American) beat a team ranked 11th or higher, they were No. 4 and finishing off a near-perfect 1982 season (11-0-1) with a 7-3 victory over sixth-ranked Pittsburgh in the Cotton Bowl. SMU tied No. 7 Texas A&M in 1994.
''After the game, to see our student body and our former players and some of the alumni out there, I don't know how long I stayed out there taking pictures with them,'' Morris said. ''But the `Thank yous.' `Coach, we thank you. We've been waiting on something like this, to give us life back in this program.' They were so close a few years ago and it went down from there.''
The Mustangs lost senior quarterback Matt Davis to a season-ending knee injury, and Hicks threw nine interceptions in his first four starts. Now he has 486 yards with five touchdowns and no interceptions the past two games. The first game was a 43-40 overtime loss to Tulsa two weeks ago.
''When we came off the field against Tulsa that was as hurt of a locker room as I've ever been part of,'' Morris said. ''For two weeks we've had to respond. And I shared with them that if we could all respond the right way, great things were coming.''
Great things came quickly.
---
More AP college football: www.collegefootball.ap.org
---