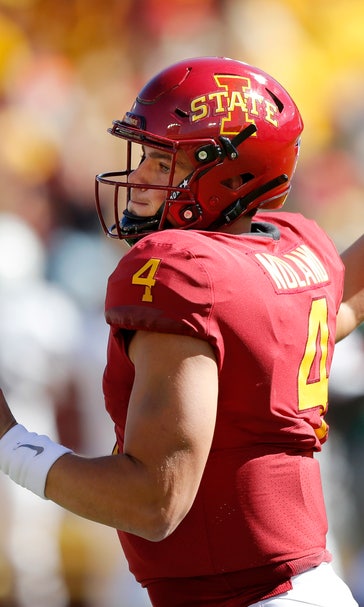 Iowa State seeking TDs, not FGs, in the red zone
September 25, 2018
AMES, Iowa (AP) — Iowa State kicker Connor Assalley earned national recognition for the four field goals he made in last week's victory over Akron.
That was a great sign for the Cyclones' special teams — and a troubling one for their offense.
Iowa State (1-2, 0-1 Big 12) is thrilled that Assalley, a sophomore walk-on in his first season as a starter, has been 7 for 7 on field goals since taking over for Garrett Owens. But the bigger takeaway is that the Cyclones already have had to settle for field goals seven times in the red zone, a clear indication of an attack that has yet to find its footing.
Iowa State, which ranks 120th out of 130 teams nationally with 18.7 points a game, travels to face TCU (2-2, 0-1) on Saturday.
Coach Matt Campbell isn't panicking about his red zone offense yet.
"It is too early to sit here and say, 'Gosh, where are we with only three games so far being played,' and playing some good opponents," Campbell said. "But I see some areas of improvement where we wanted to make improvement, and time will tell where we get to."
The Cyclones have played mostly strong defense in 2018, allowing just 21 points a game after a breakout season a year ago. So it looks like Iowa State can lean on its defense more often than not and still push for an upper-division finish in the Big 12.
But the Cyclones have simply got to get more out of their offense.
The only Power Five team averaging fewer points per game than Iowa State is Louisville, which is in transition after two seasons of leaning on Heisman Trophy winner Lamar Jackson. And what's such a head scratcher about the Cyclones' struggles on offense is that they have a star of their own in running back David Montgomery, who is as electric in space as anyone in America.
The problem is that they haven't gotten Montgomery in space nearly enough.
Iowa State's offensive line was supposed to be better in 2018. It hasn't been, and never is that more evident than when the Cyclones try to get Montgomery going between the tackles.
Montgomery is averaging just 3.8 yards a carry and has sprung only one run longer than 20 yards. But he also had his first 100-yard game and a 1-yard TD in the 26-13 victory over Akron, giving Campbell hope that the Cyclones are getting closer to freeing Montgomery up.
"The key to success is continuing to find ways to get your best players the ball in critical situations," Campbell said. "I think that's where I felt really excited about what I saw (last) Saturday, that we could get (Montgomery) the ball and force feed it in his hands."
All the attention that opponents are paying to Montgomery has allowed Iowa State to get its other offensive star, wide receiver Hakeem Butler, the space he needs to make big plays.
Butler has caught 14 passes for 297 yards and three touchdowns, including two of over 50 yards in a loss to Oklahoma.
"If I make plays, hopefully it will open (space) up for him, and I know a lot of people are keying on him so it's been open for me," Butler said of Montgomery. "It's vice versa for both of us."
---
---