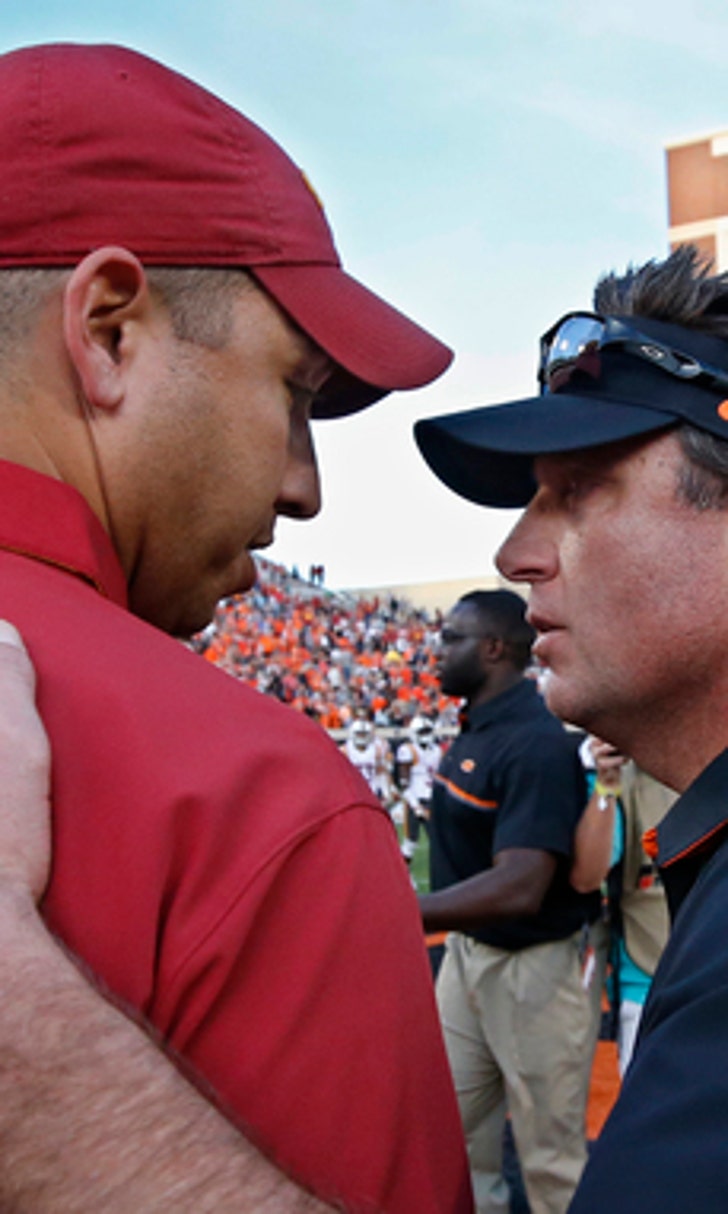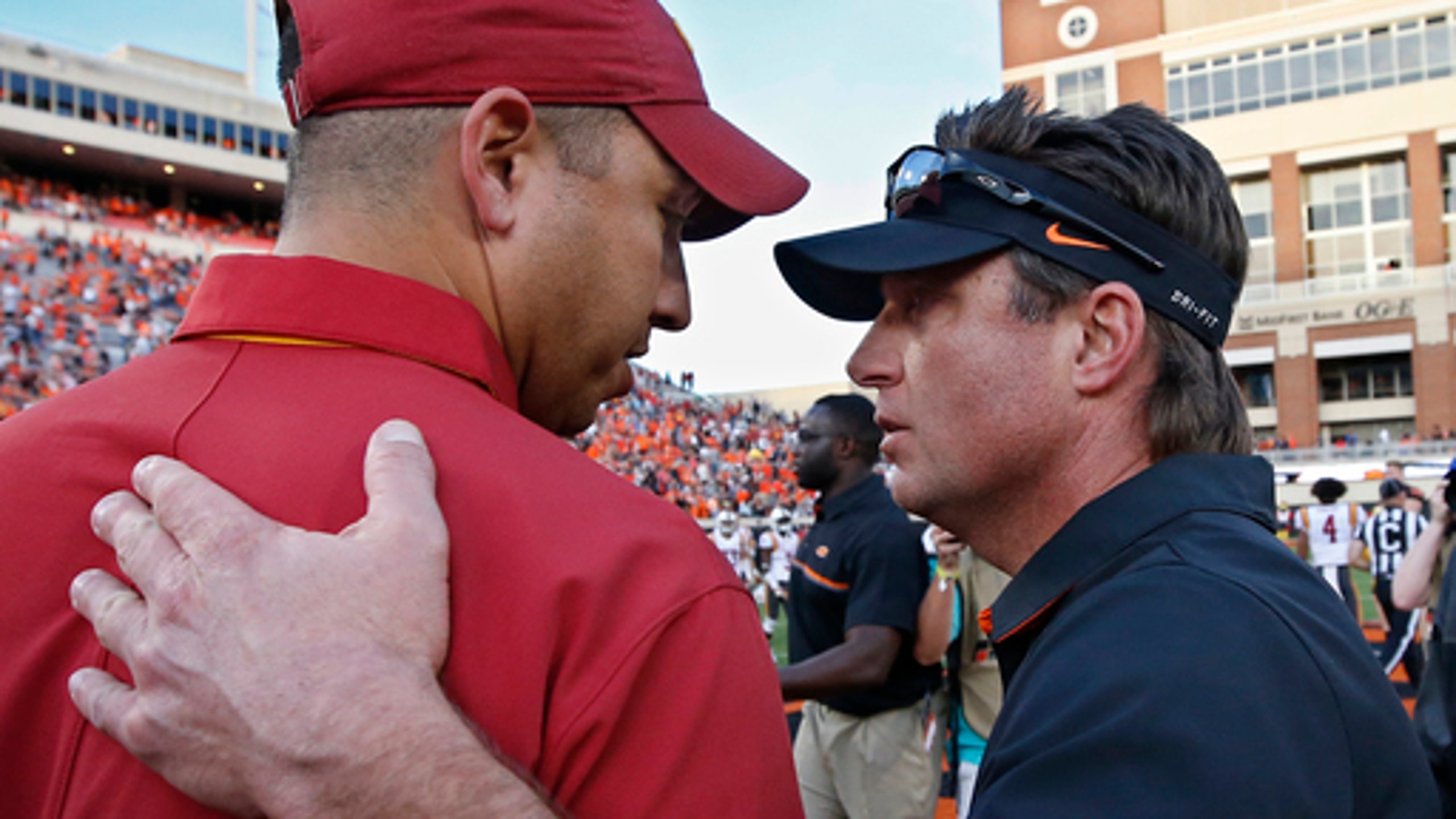 Iowa State plagued by fourth-quarter collapses
BY foxsports • October 10, 2016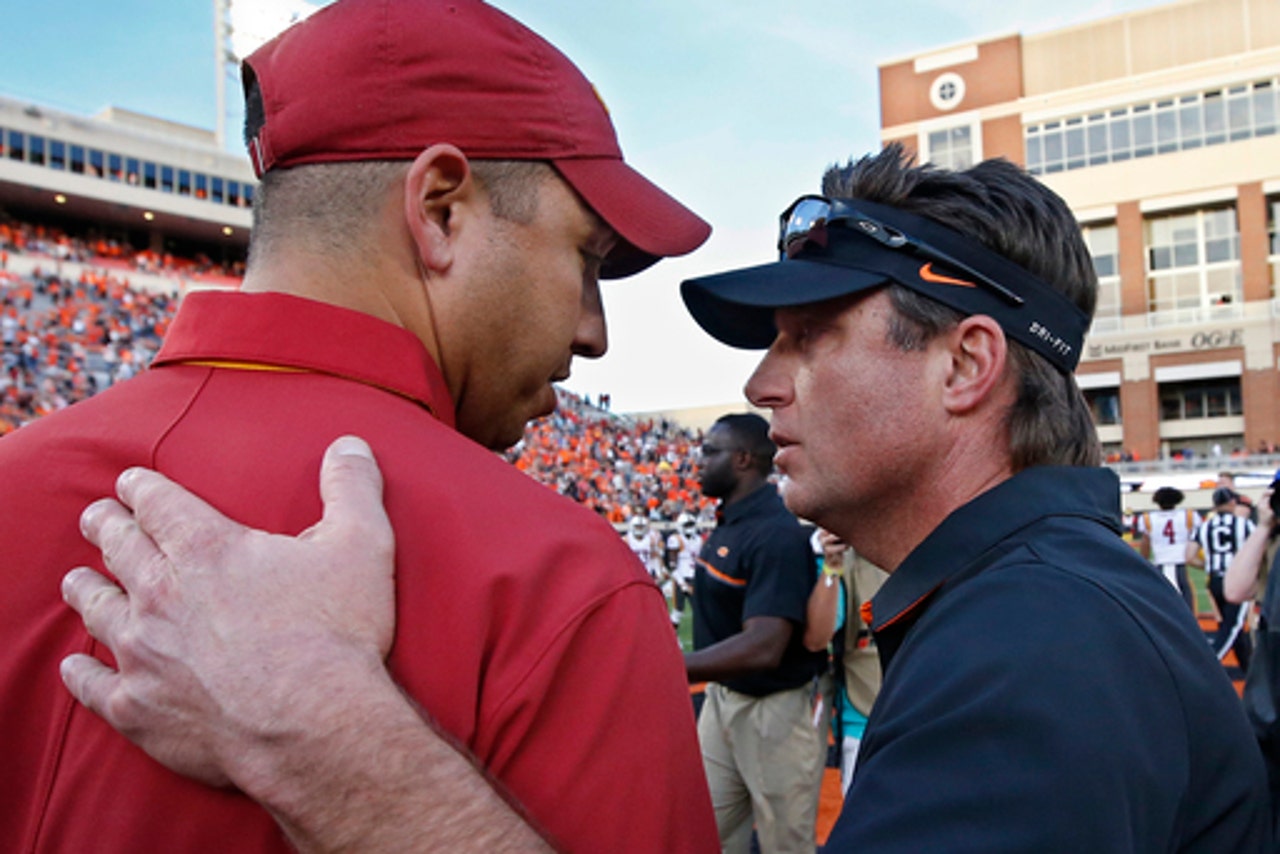 AMES, Iowa (AP) Rookie Iowa State coach Matt Campbell has often implored his team to ''trust in the process.''
The process has been agonizing so far.
The Cyclones (1-5, 0-3 Big 12) have taken double-digit leads into the fourth quarter of their last two games against teams they were expected to lose to by double digits. What happened in those final 15 minutes is a painful reminder that there's a big difference between improving and winning.
Iowa State was outscored 17-0 by both Baylor and Oklahoma State in the fourth quarter, turning what seemed like near-certain victories into devastating defeats.
''I'm ticked. I think I kind of made that known, and I hope our kids are ticked, too,'' Campbell said as the Cyclones prepare for a visit to Texas (2-3, 0-2) on Saturday. ''Everybody's just a little ticked off, and I think that's permeating through our doors right now.''
Iowa State's recent meltdowns have obscured the fact that the program, especially on offense, is trending in the right direction.
The Cyclones scored just 20 points against Northern Iowa in their opener, but is averaging over 42 in its last three games. Its rushing attack, a disaster in early September, has progressed to the point where defenses have to respect it - opening up space for quarterbacks Joel Lanning and Jacob Park to make plays.
Iowa State has also been fantastic inside its opponents' 20-yard line, scoring on all 18 chances with 14 touchdowns.
''People are just starting to get a full grasp of the offense now, and what (the coaches) are trying to do. Tempo, understanding the entire scheme,'' wide receiver Allen Lazard said. ''Now it's completely on us players and us leaders on the team. We have to go out there and finish in the fourth quarter.''
Like most struggling programs, Iowa State has been plagued by mistakes like turnovers, missed tackles and dropped passes in key situations that can rob players of confidence.
Lanning pointed to an Iowa State fumble last week when they were up by 10 as an example. The Cyclones know they should have just forgotten about it and moved on. Instead, Iowa State followed with a pair of punts and an interception as the Cowboys pulled away .
''Right now, as a team, we're too caught up in -- if one bad thing happens to us, it just (unravels),'' Lanning said. ''For whatever reason, we're letting that one little thing affect us when it shouldn't.''
The Cyclones' first three Big 12 opponents are a combined 13-4. Their next five are just 16-13. So while a bowl bid is unlikely, Iowa State can realistically look for a few wins.
Campbell isn't worried about his players pressing too hard, despite the fact that they're perhaps a few plays away from being 3-3 instead of 1-5.
''Eighteen- to 22-year-olds have a memory of about two seconds,'' Campbell said. ''Do we have to learn from our mistakes, and do we have to realize that we can't turn the ball over and do some of those things that we did to lose a game? Yes. We have to. But worrying about (them pressing) is foolish.''
---
Online: www.collegefootball.ap.org
---