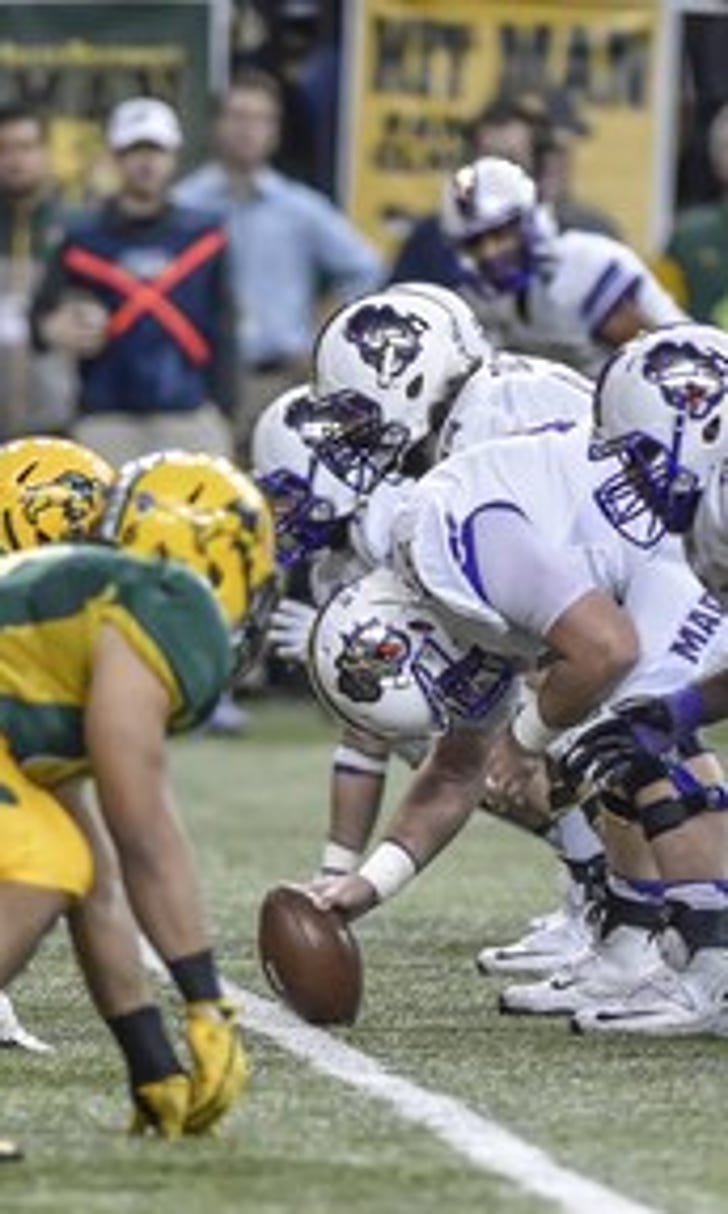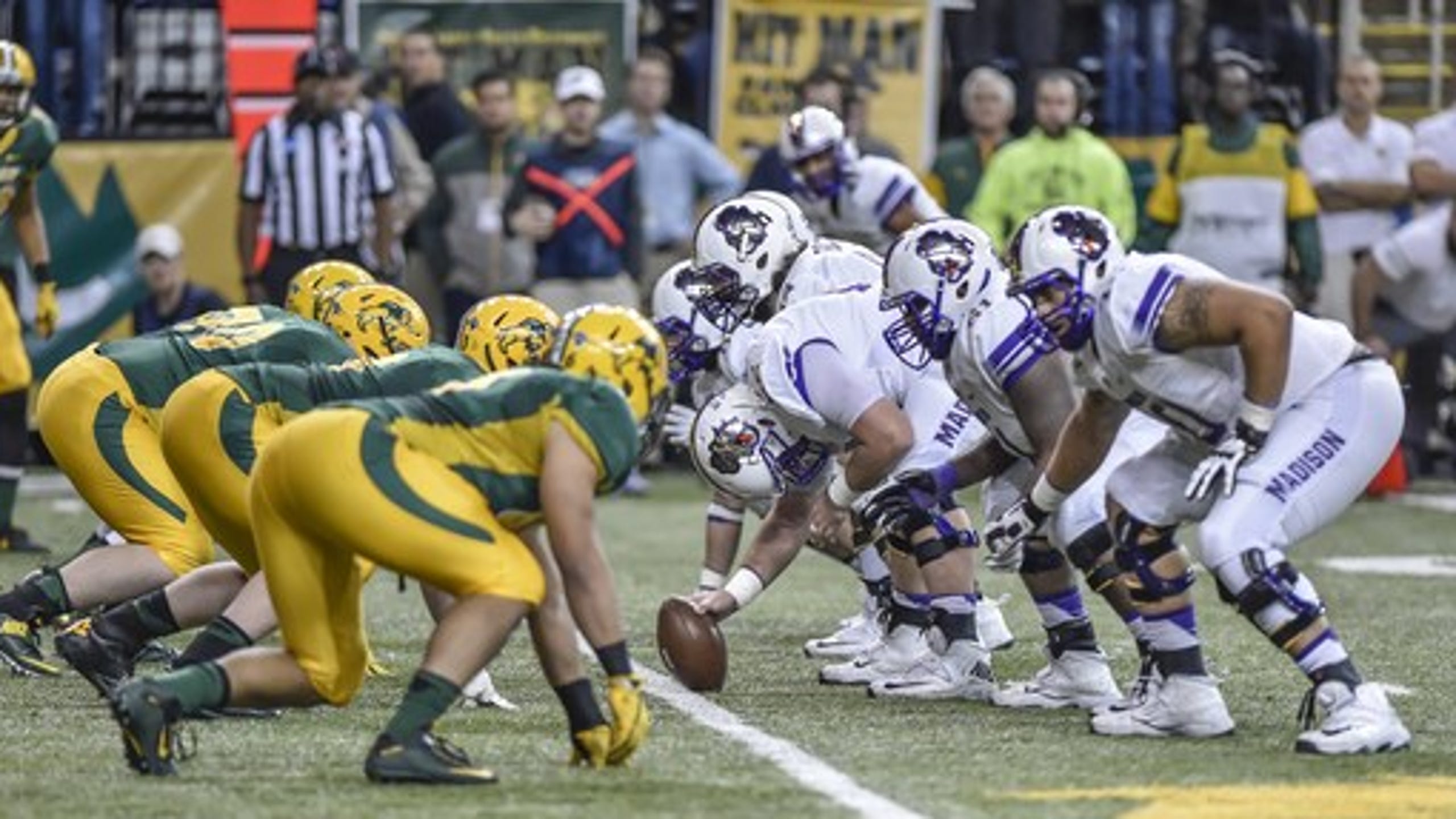 In epic FCS title game, Bison edge James Madison to regain throne (Jan 06, 2018)
BY AP • January 7, 2018
FRISCO, Texas (STATS) - They saved the best for last in the FCS this season.
Add in the unmatched intensity and physicality and the 40th FCS championship game showed why it was one of the most anticipated in history.
North Dakota State returned to its familiar throne atop the subdivision with a 17-13 victory over defending champion James Madison before 19,090 at Toyota Stadium on Saturday, but not before the Bison gave a nod of respect across the line of scrimmage to a Dukes program that had stopped their run of five straight national titles last season.
While ending top-seeded James Madison's 26-game winning streak, North Dakota State (14-1) made it six championships in seven years, tying Georgia Southern for the most in FCS history. The Dukes dropped to 14-1 with the loss.
"A lot of institutions can have a great team here or there, but those are two great programs," fourth-year Bison coach Chris Klieman said.
"One thing we talk about all the time is leaving a legacy. How are you going to be remembered? The 2017 Bison are going to be remembered as a group of guys that had great resolve, smacks adversity right in the face when adversity hit us and, lo and behold, we became national champions for the sixth time in seven years."
The game was nothing short of epic.
The Bison, the Missouri Valley Conference champs and No. 2 playoff seed, built a 17-6 halftime lead, scoring twice off turnovers, and then desperately held on in the final 30 minutes after Marcus Marshall's 1-yard touchdown run early in the third. Fittingly, James Madison had a late drive with a chance to take the lead, but after punter Harry O'Kelly's 24-yard run on a fake kept it alive, the Dukes didn't make it past the Bison 18.
Under heavy pressure on fourth down, Dukes quarterback Bryan Schor heaved a high-arching pass to the North Dakota State goal line, but the ball was knocked to the ground. The Bison then ran out the final 58 seconds.
The Bison employed two new starting cornerbacks because of injury, so Schor attacked the secondary, but he was continually scrambling against the NDSU pass rush. Sacked four times, including twice by defensive end Derrek Tuszka, Schor was 14 of 32 for 148 yards with a pair of interceptions and no touchdowns.
"We found a way to play red zone defense, which is a staple for us," Klieman said. "I say this all the time, field goals aren't going to beat you."
Said James Madison coach Mike Houston: "They made the plays. We made too many mistakes."
Bison junior quarterback Easton Stick was named the game's most outstanding player, totaling 165 yards of offense, including a 50-yard touchdown pass to Darrius Shepherd in the second quarter.
In the bruising matchup of the two best defenses in the FCS, the Stick-to-Shepherd score was the biggest offensive play of the game. On 3rd-and-17 from midfield, Shepherd slipped behind the James Madison secondary and Stick lofted a pass to him at the 10, which Shepherd turned into his first touchdown of the season and a 14-3 Bison lead with 4:14 left in the half. It marked the first time all season the Dukes trailed by double digits.
"Great time to get a first," Klieman said.
"We got the coverage that we wanted and really it was all on Darrius running away from that backside safety," Stick said. "Offensive line protected really well, (running back) Lance (Dunn) sold the fake well and Darrius was able to run underneath it and get us in the end zone. That was a huge play for us."
James Madison scored on its first possession of the third quarter to close within 17-13. D'Angelo Amos' 33-yard punt return to the Bison 33 set up the drive and Marshall capped it with a 1-yard run.
As the two powers combined for only 505 yards of total offense, North Dakota State never trailed in holding a nearly 15 1/2-minute possession advantage. Bruce Anderson carried the ball 18 times for 63 yards with a 3-yard touchdown, while Dunn returned from a midseason injury to gain 50 yards on 13 carries.
The Bison got some redemption for their 27-17 semifinal-round loss to James Madison that spurred the CAA Football champ to last year's FCS title.
Senior linebacker Nick DeLuca missed that game because of injury, so he'd been waiting for over a year to get another shot at the Dukes.
"It's an expectation to get back to this game and to get back to the national championship," he said. "We take that on as a responsibility and it's something that we set as a goal every year. We're really excited that we were able to get it done this year."
The FCS dynasty continues.
---
---