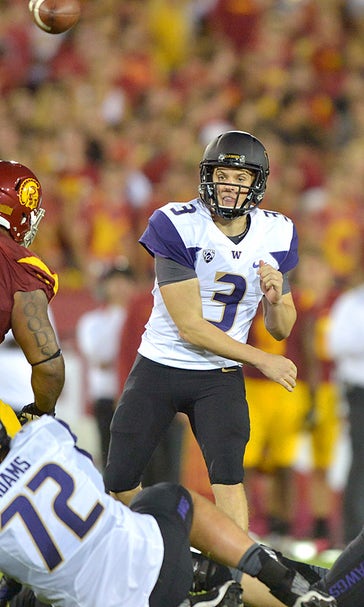 If there were any questions about QB Jake Browning, they got put to bed on Saturday
November 2, 2015

After missing last week's game against Stanford, true freshman QB Jake Browning returned for Washington on Saturday, despite dealing with a sore throwing shoulder.
Based on his performance against Arizona, no one would have ever guessed the QB was less than 100 percent. Browning threw for four touchdowns and rushed for another in the Huskies' 49-3 dismantling of the Wildcats. Browning also caught a pass, the first reception of his career.
"He looked fresh and sharp," UW offensive coordinator Jonathan Smith said, per the Union-Bulletin. "I still don't think he's 100 percent, but he played pretty well."
Browning was chomping at the bit to come back for the Huskies. The freshman could barely stand to watch his team lose last week to Stanford when there was nothing he could do about it.
"It sucked," he said of the Stanford game. "You just sit there and watch and it's pretty miserable. But it made it feel that much better to come back this game."
Browning will face a stiff test this week as the Huskies host No. 13 Utah.
(h/t Union-Bulletin)
---